by Savannah
I've been trying to catch up with my sleep so I'm sorry I haven't posted anything new the last couple of days.
"Mad Professah" on
Craig Hickman On Tennis
has posted his predictions on the semi finals so yes I'm aware they're happening.
But a lot of stuff is happening. First of all that new MC YuriS was caught making a throat cutting gesture after his meal ticket, I mean child, beat the current number one. Maybe I should rephrase that.
MariaS
didn't just win her match against
Justine Henin
she served up a hot steamy bagel, something almost unheard of. Anyone who knows me knows I am not a fan of MariaS or Justine Henin but right now MariaS is playing lights out tennis. Big ups to her.
It just vexes me that if
Richard Williams
showed up on court looking like this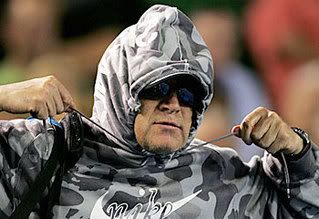 and did this after one of his daughters won a match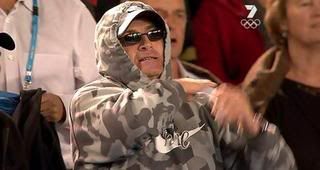 There would be calls for him to be banned from tournaments where his children were playing. As it is no lesser being than
Larry Scott
has declared that the throat slashing movement made by YuriS was just a joke and is not something the WTA will investigate further. Of course he's right. Sony just made MariaS their worldwide spokesperson. Short of YuriS or members of his posse machine gunning someone on court Maria is free to swig from bottles, brown or otherwise, and take bathroom breaks to her hearts content.
As for Richard Williams daughters the less said the better. They both had off days. It feels weird not having one of them in the semi finals. As it is we have the first all Eastern European semi final. Congratulations to the four women left standing.
Dani Hantuchova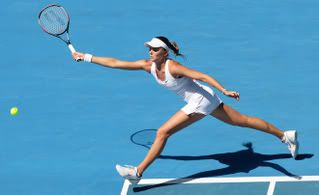 Ana Ivanovic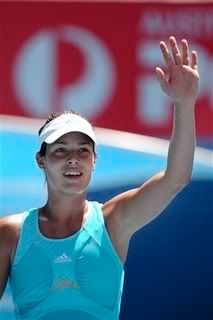 Maria Sharapova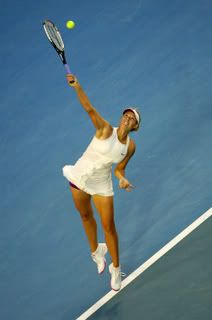 Jelena Jankovic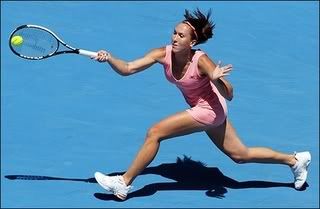 The Tennis World Beyond Melbourne
Donald Young has left IMG and signed with the Octagon Agency. I like it. The last thing Donald needs right now is the pressure of being repped by IMG.
The Fed Cup team nominations are out and surprise, surprise

Marion Bartoli

is nominated for the French team. Really.
Serena Williams

has committed to playing Bangalore.
Li Na

made comments to the effect that she'd like to see what is now called the Australian Open move to Shanghai. The Chinese are working very hard behind the scenes to make this a reality. We all know money talks and what walks. Australia is sure to fight this tooth and nail. Remember what walks.
Lindsay Davenport

will head the American Fed Cup team. Neither Venus nor Serena will be playing.
Non Tennis News
Rest in Peace Heath Ledger, an actor who was just coming into his own.