Not even one full week had passed and there was enough juicy stuff to start a column. Keeping up with tennis trends I too have started a notebook. Notes to myself appear in this post.
The LTA has given
Peter Lundgren
a leave of absence for "personal reasons" after he allegedly slurred his words while addressing his fellow coaches at a LTA meeting last week. The leave is supposed to last until the Davis Cup Tie in September.In other LTA news apparently the British players were miffed because thanks to the suspension they had no coach available to them today(June 26).
Isn't that expression about throwing good money after bad a British expression?
Once again the a US sports writer has declared that if there are no American superstars the sport of tennis is dead. Filip Bondy's article in the Sunday June 24 New York Daily News, while focusing on tennis, damns it with faint praise. He goes on and on about the state of American tennis and asks where are the McEnroe's and Connors of this generation. He then says outreach in the inner cities has not born fruit. I have to object to that comment. As a USTA member I get their magazine. I see plenty of people of color in the ranks of the USTA. I also know a woman of color who is on the Board of the USTA in her region.It may come as a surprise to people like Bondy that many of the people living in America's cities go to work everyday, put their kids in the best private schools (religious or secular) that their budgets allow, and actually play tennis. In Harlem there are tennis courts at the Harlem River Houses that have been there for years. Last year Serena visited them. Here's a newsflash. The local people play on them.
It may also surprise him that the sport of tennis is not dead everywhere and it's not dead in the United States unless all those people who come to New York for the US Open and make it the most profitable sports event in the city are actually beamed down from Mars or Planet Mongo. Are those aliens that flock to Mason, Ohio every year? And just who are those people in Miami every spring?
A column talking about why American tennis is in trouble would've been much more interesting but not as heart warming to the powers that be.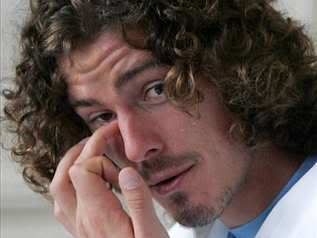 Marat Safin
, when asked if he has confidence going into a possible third round match against Roger Federer said no. His confidence left him some time in March he said. Not quite what I wanted to hear from Marat going into this match.
I like how the Wimbledon officials decided to put Marat's rain delayed match on court 13 and how the fans were hanging from the rafters. The ESPN announcers railed about the tags on his shirt being out and how that showed lack of respect for the event. Guess he should've worn off white trousers and a matching jacket. Oh yes, and carried the now essential manpurse.
Speaking of purses there are thieves in the mens locker rooms.
Jonas Bjorkman

, who usually doesn't get steamed about anything except cold Swedish meatballs, is furious about an increasing amount of wallet theft in ATP locker rooms, including a handful of incidents at the Sony Ericsson Open on Key Biscayne earlier this year.

"It's happened at Indian Wells, Key Biscayne, the Australian Open, the French Open, Queens. It's become a very serious problem and we're going to be bringing it up at the players meeting at Wimbledon," said Bjorkman.
Entire Article
There is also a report about this in L'Equipe which states that the following players have also been victimized:
Paul-Henri Mathieu
,
Richard Gasquet
(wallets in Miami),
Allegro
(wallet in RG),
J. Murray
(cell phone and wallet in Queen's),
Grosjean
(money, Queen's),
Butorac
(prize money in Surbiton),
Mahut
(iPod during the Wimbledon qualies),
Carlsen
(Rolex during the Wimbledon qualies).
Serious stuff. The L'Equipe article is not available on line but is quoted from on
Mens Tennis Forums
Maria Sharapova
has stated that after Wimbledon is over she is taking three weeks off so that her shoulder can continue healing. If her shoulder is injured why is she playing? Remember Venus playing in 2003 with a serious injury Maria? Here's the link.
BBC
Apparently the same scheduling genius who put Marat on Court 13 on June 26 scheduled Ana Ivanovic for Court 18 today. Not only are they hanging from the rafters but the press has taken up residence on the court. Distracting much?
The scheduling should not be an issue during a Slam but when you see something like this you have to wonder what they're drinking during High Tea.
Justine - Centre Court
Serena - Court 1
Jelena - Court 2
Daniela - Court 2
Marion - Court 4
Golovin/Mauresmo - Court 5
Nicole - Court 11
Dinara - Court 13
Martina - Court 13
Michaella - Court 13
Golovin - Court 14
Pe'er - Court 14
AnaI - Court 18
Someone please explain that to me. And while you're at it please explain Ms Sharapova's gills. Thanks
Note to self:
Sooo when I go to Wimbledon sometime in the near future for the first week make sure to get ground passes unless a fave is
playing on Centre Court. Pack a lunch and camp out on Court 18, the poor fans Centre Court. The list of high quality players on that court this week is stunning. Some of them are mentioned above. And the matches have been pretty good as well.
Oh, and pick up a small dog for Roger's bag. Hope Mirka likes small dogs.


David Nalbandian
hasn't played a five setter yet. Just when fans had gotten used to his matches really taking off after he'd managed to lose the first two sets he pulls this. Wonder if that means he's changed his diet?
Speaking of diet
Marion Bartoli
beat
Shahar Pe'er
in what to me is an upset. I wonder if it's occurred to Marion and her team that she's there on semi final day of she drops about twenty pounds. We're not saying she has to become a stick insect but if she's lighter the better her movement and all that goes with better movement.
Martina Hingis
lost her match on Court 2. Unless Martina has morphed into another human being I doubt her post match attitude is one the public would want to see. Some are speculating she may re retire. I was one of those who said from the beginning she shouldn't come back because the game had changed so much from when she was dominating. The women are bigger, smarter, and just as mean if not more so. Her delicate shots and finesse are quaint reminders of what the women's game was during the transition from the Evert/Navratilova era and the modern era which was ushered in by Monica Seles. Martina never could handle raw power. At least she's got someone to share her misery with now.
Thefts Continue
Whodunnit? Sneak thief strikes in the Wimbledon locker room

Last updated at 22:41pm on 29th June 2007

The thief who has plagued the men's tennis tour all year has finally struck in the men's locker room at Wimbledon.

Players and coaches are watching each other with heightened suspicion after two incidents in the last two days, one of them involving the coach of the man who knocked out Tim Henman.

Former French Open champion

Albert Costa

, who works with Henman's conqueror

Feliciano Lopez

, had a bag stolen containing 1,700 euros and $1,000 in cash — a total of around £1,650. That followed the disappearance of a wallet belonging to French player

Michael Llodra

, who was away from his locker for only 30 seconds when the theft took place.

The issue is kicking up a storm in the locker room, especially as the players and coaches feel one of their own must be responsible.

There has been a spate of incidents this year, despite strict checks on admission to locker rooms around the tour.

The players want the All England Club to step up security in time for next year, while a meeting of the Association of Tennis Professionals players' council is likely to be held before the next Grand Slam, the U.S. Open, to discuss the matter.

In the meantime, a Wimbledon spokesman said: "We are aware of the incident and we have told our staff in the locker room to be extra vigilant, but it is difficult with so many people in the area. It is up to the player concerned to inform the police."

By some estimates the number of thefts in the men's locker room this year is around 20. The incidents go as far back as January at the Australian Open but these are the first at Wimbledon.
Daily Mail

Has

Juan Carlos Ferrero

had enough? He didn't just beat Blake yesterday he BEAT him. Is he poised to make a serious run in London? And is Blake about to be replaced on the Davis Cup team? PMac's commentary was brutally frank yesterday (June 29). I want to see how he calls an

Andy Roddick

match before I think he's decided to be a real commentator and not a cheerleader.

Will

Jo-Wilfried Tsonga

be the biggest surprise of this tournament?

I lost some respect for

Darren Cahill

after the Venus Williams shoe comments in Paris but his pre match comments about Marat proved prophetic. I was hoping Marat would show up but when I read what he said about his confidence I thought he was already looking for the exits. Cahill just confirmed my suspicions.
Cahill has also been the one beacon of hope for fans wanting to hear an expert discuss what is going on during a match. I hope he never drinks the ESPN water and starts thinking all we fans want to hear are the IMG talking points.

About Brad Gilbert.

Rafael Nadal

is back to being Rafael Nadal and not Ralph Nadle. It's now Dickie Gasket.

Nice to see

Laura Granville

being interviewed on ESPN by Cahill and Fowler.

Note to womens tour:



Venus and Serena are playing doubles and they're unseeded. Pass it on.


The Shallow End of the Pool

Roger looks like this walking on court.




Anna Wintour does this



By the way there is no truth to the rumor posted by one fan that she purses her lips to make sure all the nasties stay inside. That movie was fictitious no?



Janko Tipsarevic

has writing on his arms. Was he in "The 300" too?



And maybe it's because I'm old. Do these piercings mean anything anymore or are they simply a fashion statement?


He also uses a racquet with red strings. You have been served.

I want to take a minute and give props to

Danai Udomchoke

of Thailand. He could've come into his match against Andy Roddick with slumped shoulders and the attitude that

Milagros Sequera

seemed to bring to her match against Serena but he didn't. He is a good player and it showed. He went out in straights but he didn't roll over and play dead. His play deserved more commentary than his name which is foreign to American ears but I take it not in Thailand. Good for you Danai.































Am I the only one who hates the David Ortiz "Big Papi" ESPN commercial?



Marcos Baghdatis

for those who haven't seen his new look.



Note to self:

When watching ESPN don't forget to hit the mute button when either Sharapova/Roddick/Federer is playing.



UPDATE:

I didn't want to go public with this but MV and HFPY have had a falling out. As m8 over on TAT noted this could be the only reason The Captain showed up inappropriately attired. As any fashionista knows the large man purse does require the proper environment in which to be shown off to full effect.
As all tennis fans know MV has been occupied of late firing coaches, uh, making sure The Captain has the proper environment in which to ponder his greatness and hone his formidable skills. I think she sent Tommy Haas a bouquet of flowers in thanks for his unswerving dedication to the Captains cause. It is not true that she and the Captain did the Popcorn upon hearing of Tommy's injury which did plague him through his match against Tursunov.
As someone who is neutral in the MV vs HFPY wars I present this picture to MV and hope that she makes sure her captain doesn't make a fashion faux pas like this again. I think a little "F" on the sailor hat would be divine don't you?
And MV, I'm sure Mr. Gaulthier will be happy to assist.