I'm not doing a section by section review of the women's draw. Craig has done a great overview
HERE
.
A draw is a living breathing document. It is a statement of belief presented by the men and women who run the event giving fans an idea of who the organizers think has the cojones to make it through a two week tournament where the Finalists will have played six matches and must now play and win a seventh in order to stand alone as winner of Wimbledon. The All England Lawn and Tennis Club does not use any special formula for the Ladies draw the way it does for the Gentleman's draw. There have been a lot of questions as to why this isn't done but that is a discussion for another time. The English have their reasons and mere mortals aren't expected to question them.
The tennishead or fantard, in reading the draw takes into account who has been hot so far this year, what is known of the players physical condition and adds in what has happened between the lines coming into the event. Has the player done well? Has she played too much, too little or not at all? Would you compare her mental state to Baccarat crystal or a beer mug from your local watering hole?
The fantard is focused on who he/she likes most and either curses or pans the draw based on how well his/her favorite has fared. The more casual fan who may only pay attention to the Slams may just be focused on who they like or don't like based on what they've seen or heard of a particular player.
The draw came out while I was on my way to work so when I arrived, breakfast be damned, I wanted to see what they did to whom. It's taken me awhile to digest the women's draw. I've read commentary by other bloggers much more famous than I among tennisheads. Some of the predictions are bizarre to say the least. Mine may be too for some readers. I'm going to look at the draw focusing on the women who have been hot coming into the grass season or are expected to do well here. Please keep in mind I'm not ranking them in any way.
Jelena Jankovic
(3)Jankovic vs (WC)Keothavong
Shaughnessy vs Gadjosova
Dulko vs Daniilidou
Ondroskova vs (26)Safarova
(18)Bartoli vs Pennetta
(Q)Govortsova vs Arn
Kanepi vs Malek
Tanasugarn vs (16)Peer
(9)Hingis vs (WC)Cavaday
Nakamura vs Sucha
Wozniak vs Granville
Lepchenko vs (20)Bammer
(31)Krajicek vs Obziler
Kloesel vs (WC)O'Brien
(WC)Kutuzova vs Poutchek
Kerber vs (8)Chakvetadze
The women of interest here other than Jelena are Marion Bartoli, Lucie Safarova, Shahar Pe'er and Anna Chakvetadze. Martina Hingis has not done much so far this year. She is ranked at number nine I'm assuming for past performances here.
A lot of people are looking for a Jankovic vs Chakvetadze showdown to come out of this section. Thing is I'm not so sure Jelena will make it past Safarova. Jelena has played 50 matches so far this year. She won last week at Birmingham. Jelena's fans have been begging her to take some time off. We're not going to forget you if you don't play a week or two. Everyone knows the mental and physical toll tennis takes. Clay takes a bigger toll than any other surface. As play starts keep the above picture in mind. It may mean Jelena's body is telling her "enough". She should win her first round match. After that it may be an early exit for Jelena. Hopefully she'll take a few days off and not run off to play a $10k challenger as her fans often joke.
From this section I see
Safarova vs Pe'er
and from the bottom section
Hingis vs Chakvetadze
. Martina may be looking to resurrect what has been a dismal season so far for her. I'm not willing to say Chakvetadze will beat her. She should, but I'm still not impressed with her. I give Martina a very slight edge.

Serena Williams and Justine Henin
(1)Henin vs (Q)Cravero
Baczinsky vs Dushevina
Sun vs Loit
Vesnina vs (30)Poutchkova
(24)A.Bondarenko vs Craybas
(Q)Szavay vs Birnerova
Harkleroad vs Vinci
Pin vs (15)Schnyder
(10)Hantuchova vs (WC)Pavlychenkova
Likhovtseva vs Camerin
(Q)Ozegovic vs Groenefeld
(WC)Baltacha vs (19)Srebotnik
(27)Stosur vs (Q)Brandi
Sequera vs Schruff
Molik vs Rodionova
Domingues lino vs (7)S.Williams
This is the matchup everyone is looking forward to. Everyone was looking for it at Roland Garros too. Some say Serena's pathetic outing there was based on her belief that she can't beat Justine on clay. I don't buy it. She came out flat, of that there is no doubt, and was never in that match. Whatever was going on Serena, who has been seen around London in a fabulous red dress (maybe someone told her about professional stylists?) should be looking forward to meeting Justine on the lawns of the AELTC as much as we fans are. I don't see much here to stop it from happening. Serena played Domingues Lino at last years US Open and handled the junk she dishes up. Some are saying the junior sensation Pavlychenkova may upset Daniela Hantuchova. I've never seen Ms Pavlychenkova play so I have no opinion on that. Alona Bondarenko has also been playing well and could stage an upset depending on which Patty Schnyder shows up. Either way she should lose to Justine. I say should. This is grass not clay and Justine is vulnerable here. I said vulnerable. I didn't say she'd lose early. And again it depends on which Patty shows up.
Venus Williams, Svetlana Kuznetsova, Maria Sharapova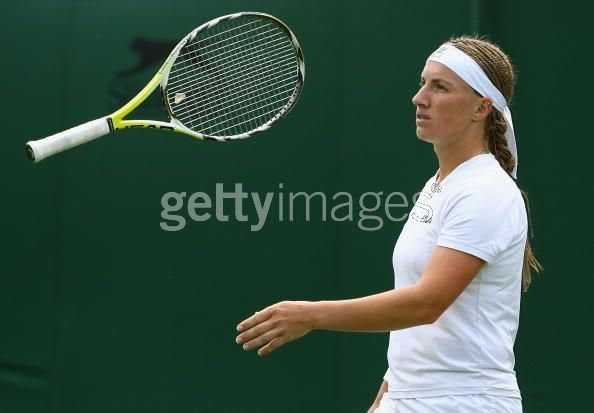 (5)Kuznetsova vs Vakulenko
Mattek vs Bardina
Pironkova vs A.Radwanska
Smashnova vs (32)Muller
(17)Golovin vs (Q)Hsieh
(Q)Zahlavova Strycova vs Paszek
Castano vs Benesova
Dechy vs (12)Dementieva
(13)Safina vs K.Bondareno
Brianti vs Morigami
Peng vs (Q)Sromova
Kudryavseva vs (23)V.Williams
(26)Sugiyama vs (WC)South
Kirilenko vs (LL)Cornet
Bremond vs Bychkova
Chan vs (2)Sharapova
Sveta has apparently been auditioning for the women's chapter of the Headcase Club. She's making a lot of noise in the Wimby run up because of her corn rows styled, as she has said, in the ghetto of Barcelona. Maybe she's shaking up her image to try and shake up her game. She played one brilliant match this spring showing form she hasn't exhibited since winning the US Open. The next day she played as if she'd never seen a tennis court before. She has a very easy section here and should play Elena Dementieva who should win her quarter despite not having a serve. Golovin hasn't played much at all due to injury and could go down to Tamira Paszek who has been playing.
The big story in this section is the chance of Venus Williams playing Maria Sharapova. It could happen. There is no one in Sharapova's quarter who will cause her any problem whatsoever. Bremond has played brilliantly in spurts but I'm not sure which one of her persona's will show up here. Venus has Dinara Safina in her quarter. The Safin/Safina family, charter members of the Headcase Club drive tennisheads nuts. You never know if they've come to play or if they're composing odes to blades of grass while those fuzzy yellow balls whiz past them. A focused in form Dinara will be good test for Venus. Pay attention to how Venus is dressed. She's been looking rather sharp in the pre Wimby pictures I've seen. If she's sharp on court though I expect her to make an early exit. I hope she proves me wrong on this by the way.
End Notes
Marion Bartoli
– Get fit young woman. You've got the potential to be top ten.
Ana Ivanovic
– They're giving you an easy row to hoe. Forget what happened in Paris. No one here should be able to stop you from meeting Nicole Vaidisova.
Nicole Vaidisova
– The clay season is over Nicole. Was Australia a fluke? I hope not. When you play Amelie play to win.
Amelie Mauresmo
– Last years champion is not expected to repeat. Abdominal surgery and weak showings so far make her chances look dim. They're serving you a slice of cake almost as big as Maria's. Eat it.