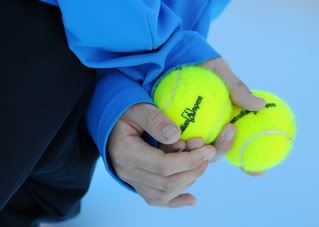 by Savannah
Oh all right. All the outfits the men wore didn't look like they were designed by crackheads. Here are some examples of the best that I've seen so far.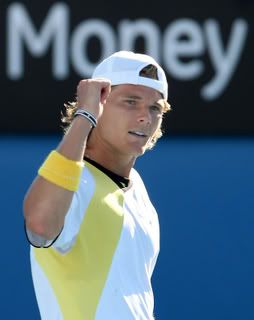 Peter Luczak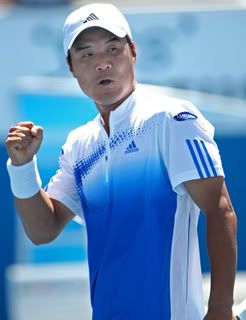 Hyung Taik Lee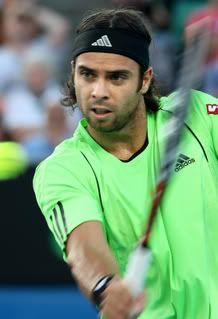 Fernando Gonzalez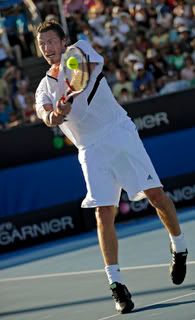 Marat Safin
Lleyton Hewitt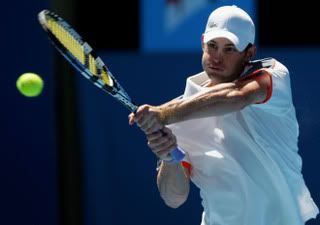 Andy Roddick
All of these men looked quite nice in the summer heat down under. Adidas seems to have the best outfits for both men and women this year. Lacoste is doing well by it's clients too. I'm ignoring Golovin's still worst of the lot outfit.
I really can't decide about this next outfit. I mean I should like it. I'm a New Yorker. We live in black clothing. I don't hate it but I can't warm up to it.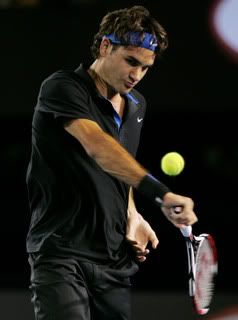 Roger Federer
As for the best I saw today, and I emphasize that I saw
Nicolas Massu
playing against
James Blake
, the Adidas version of the muscle shirt looked simply fabulous on him. This picture does not do it justice.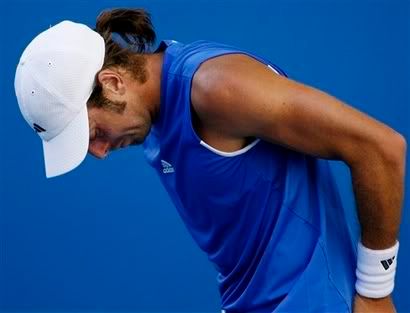 Then there's this. I'll give you two looks at it.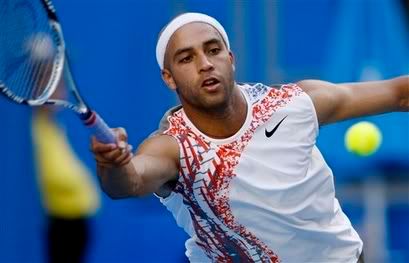 Blake in the shirt.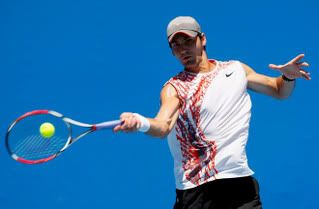 Amer Delic in the shirt. Crackheads designed this I tell you. Or tweakers. Stoners? No one in their right mind would create a shirt like this.
As for the ladies conservative ruled for the most part.
Akiko Morigami
looking cute as a button.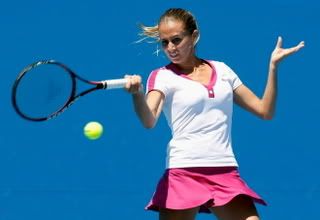 Gisela Dulko
in a classically cut outfit that flatters her body.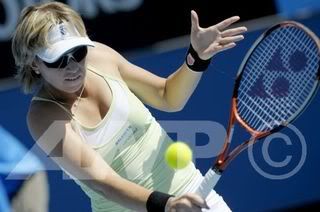 Misa Krajicek
and
Agnes Szavay
showing an edgy but flattering style.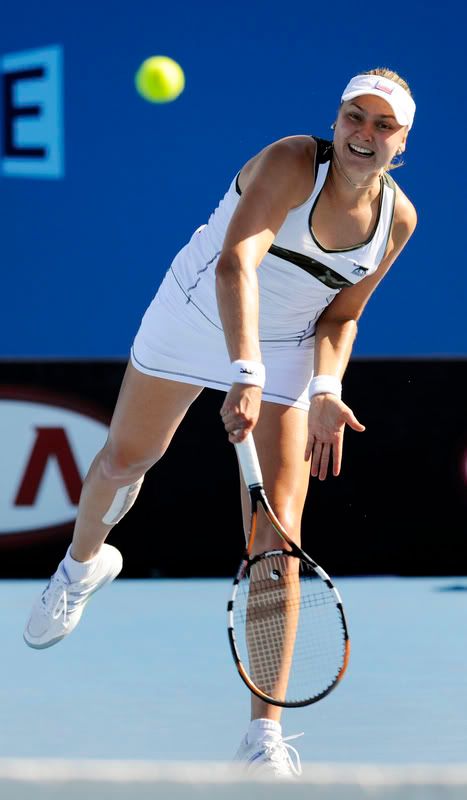 I've seen
Nadia Petrova
live. She's not out of shape. Wearing clothes that make her look out of shape is a no no.
I hate this dress because it shows sweat in all the wrong places in a very unflattering way.
Ana Ivanovic
looks fine until she starts to play. And don't get me started about the bubble hem.
The outfit of the day though belonged to one
Ms Venus Williams
. Controversial? Yes? Could anyone else pull this off? No. Venus is working her show here. And please people, don't try this at home. On second thought keep it at home. Don't inflict it on an unsuspecting public.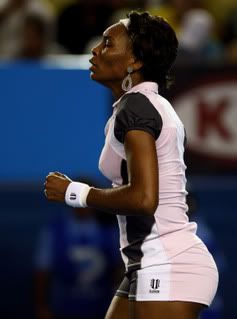 Miscellany
A mini riot broke out in the stands between Greek, Chilean and Serbian fans during
Fernando Gonzalez
match against
Constantinos Economidis.
It's been reported that Gonzalez was taunted racially and allegations were made about his sexual orientation. It's also being treated by some fans as "boys will be boys" and the Australian police are being taken to task for using pepper spray in a crowd.
By that logic the bigot who taunted Serena last year should've been allowed to stay because after all he was just having a little fun.
To her credit
Ana Ivanovic
has appealed for calm from fans of Serbian tennis.
While I'm at it I also have to say that I hate listening to tennis commentary by Americans. I wonder what would happen if they were given a mandate to discuss the mechanics of the match and nothing else. Can you imagine PMac on the BBC? It would be nice to know just what is Roger doing on the court instead of commentary that makes the most rabid fangirl appear normal. Why did Yan Zi give Venus a strong challenge? What about her style as compared to Li Na? All we hear are the same platitudes over and over and over. A regular viewer can almost tell when certain phrases will pop out of someone's mouth. The only one who is "keeping it real" is Pammy which is why they ship her out to do courtside duty. Can't have analysis get in the way of mindless chatter. I know PMac thinks he's some kind of philosopher king now that he's got his Davis Cup win but give it up dude. You're the same guy you were before.
No I haven't forgotten that
Craig
is giving the thoughtful analysis. Sometimes you have to speak up when something vexes you.
Now back to the shallow end of the pool. Here are some nice pics of Venus and Hank in Melbourne.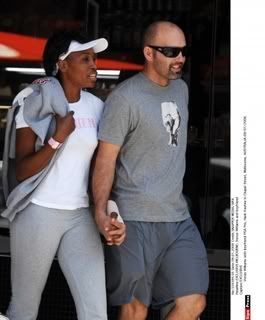 To quote Bugs "ain't love grand?"
Picture of the Day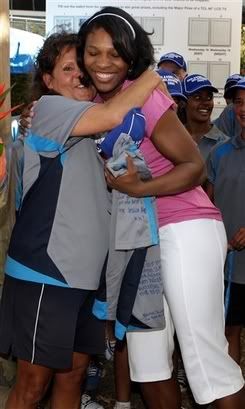 Serena Williams
and
Evonne Goolagong-Cawley
at Ms Goolagong's tennis academy for native Australian children.