by Savannah
I started, stopped and now have decided to go ahead with this very brief pre Australian Open post.
I've learned to look away from the main event and find out what else is going on while the smoke and mirrors routine is taking place. I thought you might want to know too.
Biggest Deal Ever?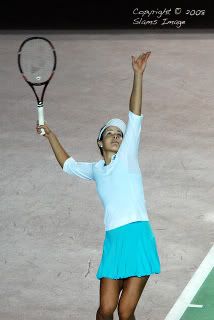 It's been announced that

Ana Ivanovic

signed a huge deal with the Japanese firm Yonex and will use their racquets and gear effective immediately.
Ana has signed potentially the biggest racket endorsement deal in the history of tennis. The 20-year-old has agreed a four-year contract with Yonex and will use the Japanese manufacturer's products immediately.

"I'm delighted to join Yonex," said Ana. "I spent a lot of time testing their rackets and I was thrilled to discover that they add something to my game.

"It was the first time I was trying new rackets, and it was a great feeling to be able to play so well with them. I'm very excited about playing with this new racket."

Ana will become the global face of the brand and will play with the black RQiS-1 TOUR racket. She will also use Yonex accessories, such as racket thermos and grips. Both Ana's rackets and bag will have her name written/embroidered on.

"We are very excited to have Ana in our team," said Yonex International Division General Manager Wataru Hirokawa. "Yonex always demands young prospective players who can win Grand Slam titles and capture the No.1 ranking. We believe that Ana is the one who can do that in the very near future.
Source
There are no accurate reports on the dollar amount of the deal but it's being reported that if Ana is ranked number one for two of those four years she will receive considerable remuneration.
The Chosen One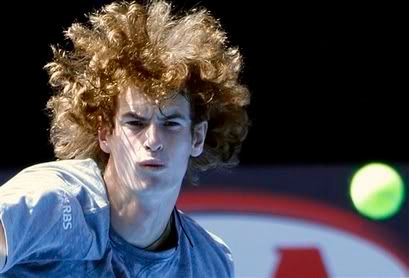 Believe it or not this is the headline of an article found on British
Eurosport
in it's Australian Open preview of
Andy Murray
This is some of what is stated in the article.
So high are the expectations for Murray in Britain, that former Davis Cup team-mate and British number one Greg Rusedski has backed the Scot to reach the world number one ranking sooner rather than later.

"He is playing the best tennis of his career and, to my mind, right now he is the third best player in the world," the former US Open finalist told the BBC.

"If he continues as he is, he can be the number one and win a major in the next few years."

The claim that Murray - currently ranked ninth in the world - is the third-best player on the planet would probably be disputed by Djokovic, owner of the number three ranking since last July.

But Rusedski is adamant that only Federer and Nadal can rightfully claim to be better than the top-ranked Briton.

"Only they are above him at the moment."
Pressure much? I saw some of the matches at Doha and while Murray will never be Mr. Excitement on the court he played well. My favorite memory from his Doha campaign took place when Andy was going through a rough patch and he stalked over to his seat and glared towards his camp as if he was ready to curse his coach out. The "oh wait" moment was hysterical. It does appear that Andy has brought someone with him to Australia to assist with his coaching needs. He's drawn
Jo-Wilfrid Tsonga
first round. Let's hold the parade until that match is over okay?

The Charmed One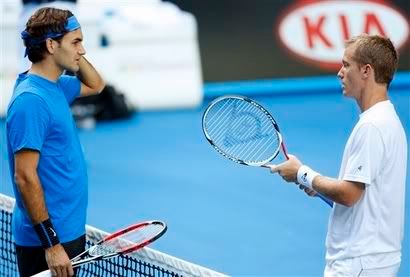 To segue from the Chosen One to the Charmed One isn't easy.
John Pye
of the AP posted this otherwise good post from Melbourne on
Yahoo Tennis
It should be noted that on it's main tennis page Yahoo elected to call Roger "Charmed".
Without the glare of the cameras, or the roar of an appreciative crowd, Roger Federer shanked forehands and hit some backhands long inside Rod Laver Arena.

His girlfriend,

Mirka Vavrinec

, was with him at Melbourne Park's center court, wearing flip-flops in the intense heat and collecting wayward balls as Federer hit with Swiss Davis Cup captain Serevin Luethi.
(...)
That's as close as the 12-time Grand Slam champion got to a match situation this week before beginning his bid for a third consecutive Australian Open title.

It's a radically different buildup to the tournament for Federer.

Unable to enter his regular tuneup, the Kooyong exhibition tournament, because of a stomach illness, Federer has been easing himself back into shape for his first competitive tennis in two months.

Federer isn't worried, saying he wouldn't have hung around Melbourne if he didn't believe he could win the Australian Open, which starts Monday.
(...)
Taking a more realistic tone,

Roddick

later said Federer would cope better than most put in the same situation.

"If there's anybody who can take care of himself and play his way into form, it's Roger."

The Golden Girl
Get used to it tennis fans. Sony Ericsson, the sponsor of the WTA tour, has sighed the golden child to a four year deal as it's world wide image. Again no reliable figures are available but the announcement goes like this:
Commenting on today's announcement, Dee Dutta, Corporate Vice President and Head of Marketing at Sony Ericsson, said: "Now in our seventh year as a company, the brand has evolved significantly and securing a global brand ambassador is a natural progression to take our brand to the next level in an increasingly competitive market place."

"Maria's iconic status, determination, dynamism, success and charm match strongly with the Sony Ericsson brand, which prides itself on innovative and cool design with substance."

"Our alignment with Maria's global iconic status, combined with our brand expertise and innovative thinking aims to provide something new and something different to our customers around the world."
Source
I know people will say I've had too much haterade but isn't this an inherent conflict of interest on the part of Sony Ericsson and the WTA tour? I mean Sony Ericsson sponsors the
WTA Tour
which consists of many many women, "old" and young. For the tour's sponsor to say only one player is worthy of speaking for it, especially after investing a rumored $88 million dollars in the tour, just doesn't seem right to me. If Sony was going to use the women of the WTA as it's spokespeople in a world wide campaign I wouldn't feel the way I do and would think it was a step to promoting women's tennis around the world. Instead we have Sony saying women's tennis is
Maria Sharapova
. Justine Henin is the current number one player on the WTA tour. She's been the top player for about 100 weeks now. She won just about everything in sight last year. Maria won one tournament. I wonder what incentives are built into this contract?
Evonne Goolagong Cawley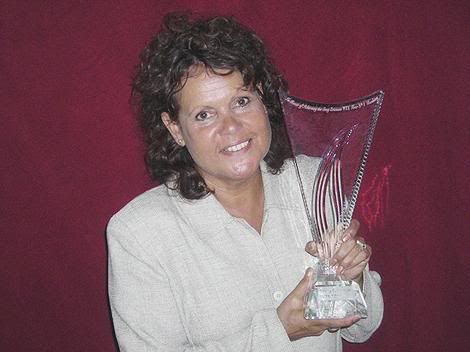 One of my early favorites Ms Goolagong has just recently been found to have actually been the number one woman for two weeks in 1976, a major achievement for this native Australian. The tour sent her a Waterford Crystal trophy to commemorate her achievement which is what current number ones receive.
The belated ranking adjustment makes Ms Goolagong Cawley the first Australian woman to be ranked number one. Ms Goolagong Cawley won seven Grand Slam titles among 18 finals and 92 tournament titles overall.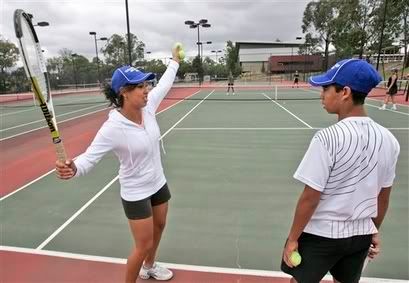 The above picture shows a young player being coached at one of the Goolagong National Development Camps where young native Australian players are being developed.
Final Shots
Evonne Goolagong Cawley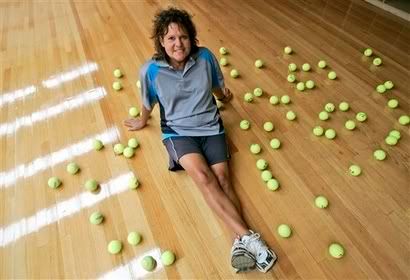 Marcos Baghdatis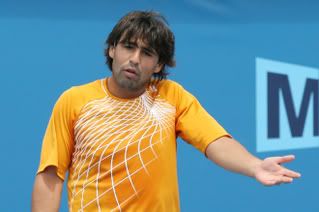 Svetlana Kuznetsova
Novak Djokovic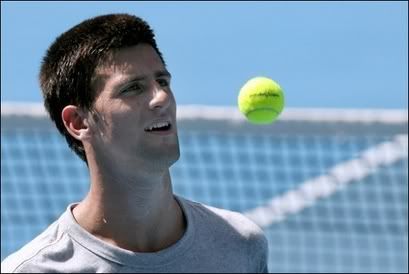 Patty Schnyder
David Nalbandian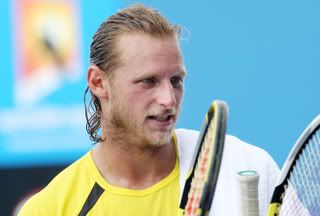 Lleyton Hewitt
Fernando Gonzalez and Larry Stefanki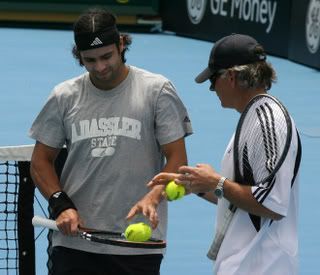 Justine Henin and Carlos Rodriguez