by Savannah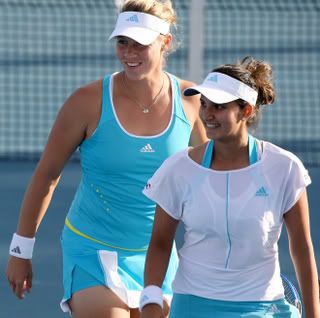 My oh my what is a blogger to do? There were no drunken riots in the stands. There were no slow motion "posterior" shots of
Venus Williams
for
Roger Rasheed
to drool over. Wonder what his wife cooked him for dinner last night? When it comes to Venus posterior no lesser being than
Shamil Tarpishev
was caught admiring it at one point. Since Venus posterior is now taken I guess they'll have to content themselves with Serena's.
WTF?!
The day was so quiet the "b" as in boring word comes to mind.
Then again there was the wailing of
Andy Roddick's
fans who were wondering what the hell he was doing trying to imitate a patient thoughtful player out there? I have to admit seeing Andy hit a moonball or two or three did give me pause but could it be Andy is just trying to do what tennisheads have been whining that he should do and play at a less frenetic pace, think about what he's doing on the court and to accept that hard and harder are not the only two speeds at which a ball can be hit? Not doing it for you kiddo? You say he's sick or injured or something? Coming off a bender? Whatever.
Jimmy Connors
didn't seem to mind. If he plays like that in his next match we'll talk.
Hype Ova
There was also the much anticipated match between Mama Lindsay and the BanSidhe. The only memorable thing about the match is that Maria's version of the dress has the pockets on the side so there is no unsightly vajayjay bulging. Shoulda known Nike would make the Golden Girl look good. The dress does look good on television where you can't see that it's made from that fabric usually reserved for inexpensive curtains. I think the folks on "Project Runway" would've given the designer an "F".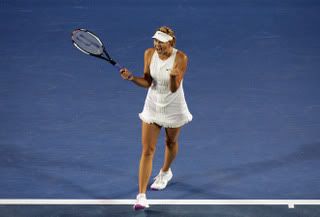 Notes on an Ego
Yahoo Tennis
posted a picture of
Roger Federer
kicking back during a practice session reportedly attended by hundreds of fans. I hope he did more during that practice than he did during the one I observed during the US Open. Of course
Rafa
was practicing at the same time so I can't say my attention was fixated on Roger but when I did tear my eyes away from Mr. Nadal-Parera (And his uncle. Let's not forget his uncle) all Roger was doing is pretty much what he's doing in this picture except he was staring at Rafa. Mirka wasn't there to scurry around and pick up balls for him while wearing flip flops like it's reported she did during one practice session in Melbourne but then again she didn't need to be.
It's rare that I post a picture with the caption but this one left me speechless - well obviously not totally speechless since I'm busily writing this for you but you get the idea. I guess his opponents will soon have to enter the court prostrate in the presence of His Royal Highness. His consort will be at his side in designer flip flops.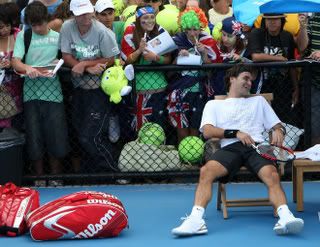 Swiss tennis player Roger Federer (R) is watched a large crowd while taking part in a training session on an outside court at the Australian Open tennis tournament in Melbourne, 16 January 2008. Federer dispelled any doubts about his fitness with a straight sets first round demolition at the Australian Open, 15 January. The

incomparable

Swiss was in

imperious

form, reeling off a 6-0, 6-3, 6-0 victory in just one hour 14 minutes in the night match on centre court. Federer is vying for his 13th Grand Slam crown, which will edge him to within one of the record held by American Pete Sampras.He pulled out of his customary lead-up Kooyong Classic exhibition last week with a virus and there had been concerns about his limited match preparation heading into the year's first Grand Slam.
Maybe they should say the imperious form that got him such a stunning victory was against a much lower ranked player? Nah. Why ruin it for a casual fan?

Fashions of the Day - Or Not
Juan Carlos Ferrero's
Lotto outfit was sophisticated and fit for tennis. Great look for Juanqui.
Aravane Rezai's outfit made her look like a housewife in the burbs making a quick run to the store in her house clothes.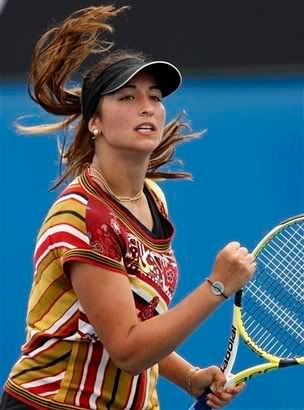 End Notes
Tennis is frustration. Tennis is joy.
Yuan Meng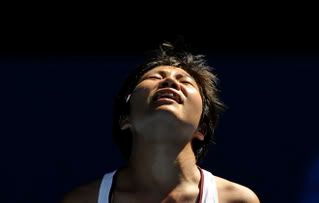 Elena Dementieva