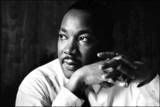 by Savannah
The quarter finalists from the top half of the mens draw and the bottom half of the women's draw are set. Good luck to everyone!
ATP
Roger Federer
James Blake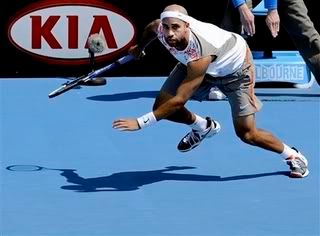 Novak Djokovic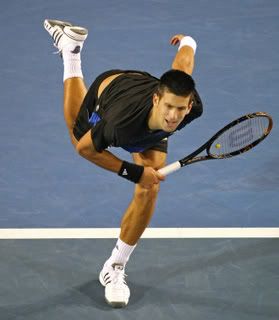 David Ferrer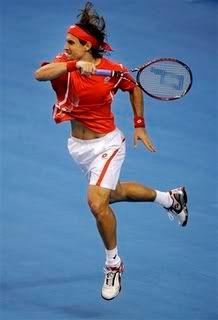 WTA
Ana Ivanovic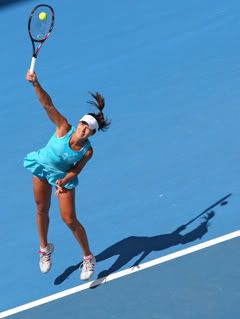 Venus Williams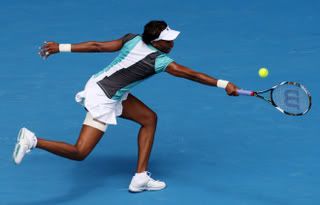 Daniela Hantuchova
Aggie Radwanska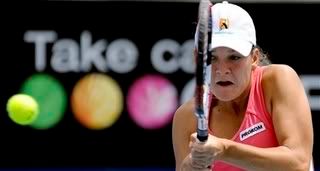 The Great Debate
So
Venus
and
Sania
are the cause of poor
Lleyton
and
Marcos
having to play so late and by implication the reason Lleyton couldn't beat Novak and progress to the quarter finals. Really? Well if
Roger Federer
says it's true then it must be right? I mean in this article he manages to bring up how humble he is while at the same time saying that if he requests something the tour asks how high it needs to jump and back to the fact that the women should have capitulated and moved.

Roger Federer says a women's match should have been moved on centre court to prevent the farcical circumstances that led to the latest finish in Grand Slam history at the Australian Open.

Ramifications continued Monday over the organisers' decision to schedule a midnight start to a third round match between former finalists Lleyton Hewitt and Marcos Baghdatis that ended at 4:33am (1733 GMT) Sunday.

Hewitt won in five sets in four and three-quarter hours, giving his fourth round opponent, third seed Novak Djokovic, the benefit of an extra night's rest.

Tournament director Craig Tiley said he had consulted with Venus Williams and Sania Mirza on the possibility of moving their preceding match off centre court to allow for an earlier start to the men's match, but they refused.

The Herald Sun newspaper claimed Williams and Mirza were involved in an 25-minute "running row" with Tiley over the issue.
(...)
"I'm a pretty relaxed guy. Look, I don't ask for much in tournaments. If I ask for something they (organisers) know it's for real and they trust me, whatever," he said.

"But if they would come and tell me, 'You've got to move'. Honestly, I think the players shouldn't have too much of a say.
(...)
Hewitt's match was running so late on Saturday because Federer was unexpectedly taken to five sets in an earlier match on centre court that ran to over four hours.
Roger Explains It All
When
Mary Carillo
of all people manages to get hot and bothered in defending Venus and Sania for holding to the schedule you know something big is going on here. Couldn't they have asked Hewitt to start on Vodaphone? I mean since it was soooo "unexpected" that Roger was taken to five sets by
Janko Tipsarevic
couldn't both matches that were scheduled afterwards have been started - one on Vodaphone and the other on MCA? I'm just sayin' you know? Maybe the women remember what happened during Wimbledon 2007 (and no I'm not letting that one go folks) and how one player got not one night but five full days of "scheduling issues" rest and decided to stand up for themselves. Maybe the Slams have a history of disrespecting women players. I don't know and none of us do. The Aussie media, the same folks who perpetrated the "light in the eyes" fraud last year when Serena played Nicole, is not to be trusted to tell the truth in my very humble opinion especially when it comes to sacred cow and de facto tournament director Lleyton Hewitt. Either both matches were moved or neither one was moved. Case closed. Moving on.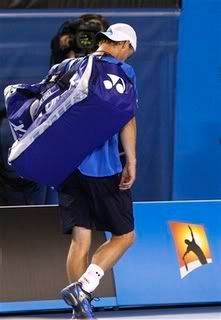 In a side note mmmm8 over on
TAT
captioned this picture perfectly saying Tomas Berdych, who went out like the proverbial biyatch to Roger Federer in their round of sixteen match appears to be asking Roger if there is anything else he can do for him? That, Mr. Berdych, would have to be done behind closed doors thank you very much.
Melt Downs and Other Perplexing Occurrences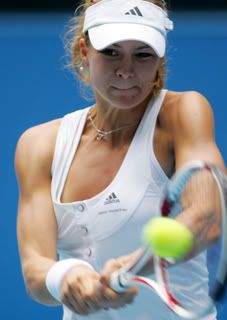 Maria Kirilenko played Daniela Hantuchova in what was dubbed the match of the cutey pies. Ahead and apparently cruising towards the quarter finals Ms Kirilenko took a walkabout and completely left the stadium. Back issues that appeared when her mind was on, oh I don't know, Pluto perhaps? As a Venus fan I've seen my share of these things. Venus name is on the list of quarterfinalists.
Makiri's isn't.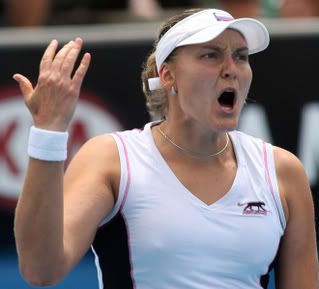 As for Nadia Petrova I don't know what to say. Way back when I said I saw her crashing out of the top ten. She's still in free fall. Her collapse was not totally unexpected I'm sorry to say. Nadia we're as frustrated and perplexed as you are.
Miscellany
Rumors are still swirling about Matchgate. Bonnie D. Ford in her
ESPN
blog says one involved Venus leaving the grounds if her match was moved. I think the following sums up what was really going on.
Postponing the Hewitt-Baghdatis match until Sunday could have resulted in some crowd-control issues, the last thing organizers wanted following an ugly incident early last week in which fans were pepper-sprayed.

As it was, officials are lucky the crowd was so well-behaved, given all the extra hours fans had to consume alcohol.





Hewitt and Baghdatis were told at one point that the women's match would be moved

, at which point they warmed up for 10 minutes to get ready to play. McKewen and tournament director Craig Tiley called the gaffe a "miscommunication." They eventually decided they would postpone the men's match to Sunday only if the women went three sets. For better or worse, it didn't turn out that way.
Hmmm. Wonder if Venus and Sania saw the boys warming up before they were "asked" and put 2+2 together resulting in their stance?
Story of the Week
The quiet story this week has been the showing by the Asian women, particularly the Chinese.
Hsieh Su-Wei
, who plays double handed from both sides and
Yuan Meng
, who lacked the experience to make good on really giving Serena a hard time, both showed that it's not only
Li Na
and
Peng Shuai
and
Yan Zi
making noise on the womens tour.
Look to hear more from these ladies as we approach Beijing.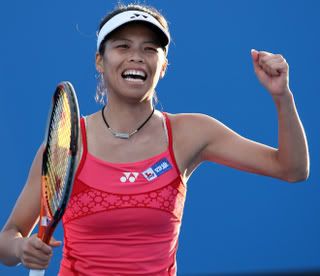 Hsieh Su-wei
Humorous Photos Oz Open Edition

David Ferrer
Maria Kirilenko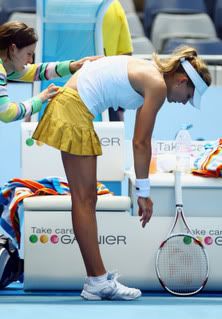 Commentary or just one too many?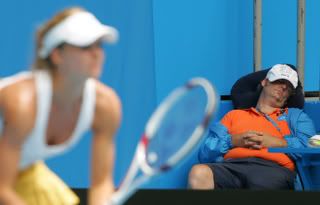 I'm too sexy for my clothes...
David Nalbandian
James Blake
Rafael Nadal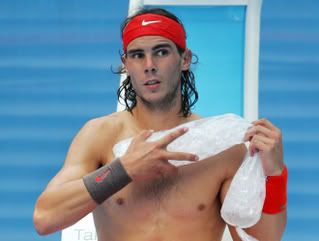 Juan Carlos Ferrero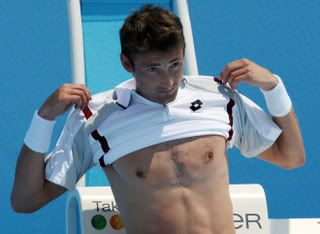 Feel free to caption...