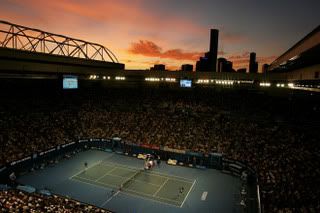 by Savannah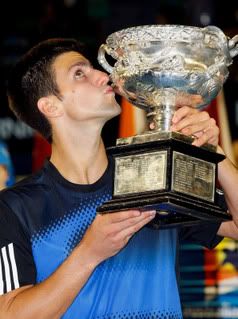 Novak Djokovic
won his first Slam. There are friends of mine who are big Novak fans so congratulations to them. When you beat Number 1 you should win it all. As a long time tennis observer and fan I wish I could say I've seen a family complain about fans cheering against their pride and joy but I guess there's a first time for everything. Tacky of Novak to make a complaint. Tacky of his family to call security. Tacky of Novak to ask Ramos to quiet the fans. Tackier of Ramos to do it. I'm stopping short of saying Ramos was biased towards Djokovic but this is the same man who had Sharapova fined for coaching. The same man who doesn't think twice about calling out Rafa for taking too much time. I swear you could get through half of "War and Peace" while Novak is preparing to serve.
But in the end the moment caught up with
Jo-Wilfried Tsonga
. He was never the same after three all in the second set. The kid can be excused for having a bit of nerves though. It's not often you contend for your first main tour title in a Grand Slam final. He got revenge on Rafa for that drubbing he took at last years US Open. It was doubtful that he could sustain that high throughout the Final against someone he'd never played before.
The Jinx Factor?
Haruka made the point that
Carlos Costa's
coming in for Rafa's semi final match was a jinx. Craig made the point that when people who have not been there all along come in for the semi final or final it throws things off. I was happy to see
Didier and Evelyne Tsonga
in Australia. I'm sorry it turned out the way it did after they made such a long trip but being a parent I know wild horses wouldn't have kept them away.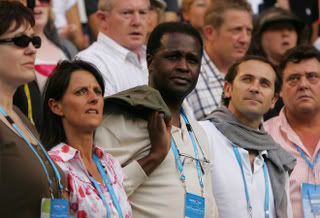 Speaking of tennis parents can anyone imagine
Lynette Federer
or
Ana-Maria Parera
making the following statement about their son after a victory?

As you say, the king is dead. Long live the (new) king," Djokovic's mother, Dijana, told FOXSports.com.
Unfortunately it's true.
Dijana Djokovic
Through the Rear View Mirror
This was one strange Open wasn't it? It went from ho-hum to riveting to must see in both singles and doubles play for both the men and the women.
Maria Sharapova

pushed her humiliating defeat in 2007 aside and was clearly the woman to beat. No one managed to do that. In the battle of The Shriek vs The Squeak the Shriek, while not playing her best tennis – that had been played against Justine Henin – still easily disposed of

Ana Ivanovic

who, instead of gaining more fans seemed to make more enemies.

Yuri Sharapov

– aka The Notorious YuriS – sunk to new lows making a throat slashing motion while dressed in Nike camouflage and dark glasses. If

Richard Williams

had shown up dressed like that and done that, well, we know what would have happened.
Ana Ivanovic's

teary reaction left me a bit cold. Until she shows she can show up mentally in a Slam final number 2 or no she's still got a lot to prove.
There was more action in the first set of the Men's Final than in the entire Women's Final. The WTA has to address the quality of it's product. So many fans either fell asleep or found themselves otherwise occupied during the Golden Girl's victory you have to wonder what will get fans back on the WTA bandwagon.
Can I say that watching the mens final gave me more of an appreciation for what

Roger Federer

and

Rafael Nadal

have given us over the last few years? It wasn't only the level of play it was another factor – professionalism – that was missing from the match this morning EST in the United States. Rafa has faced down hostile French crowds. Did he ask for security for his family or that the chair silence fans who were rooting for their faves? Would Roger have? People have been complaining about the duopoly for quite some time. Without either Rafa or Roger things were not quite right. They have both brought a very high level of play and set the standard high for on court behavior. They were missed.
Heard Around
It's being reported that
Roger Federer
was much more ill than he let on coming into Melbourne.

In an Interview to the Swiss Newspaper "le Matin" Federers Fitness Coach Pierre Paganini admitted that Federer suffered from heavy diarrhea for 6 days in the preparation for the AO loosing 7 pounds( three kilos) of weight!

After his impression this affected Federers power and movement on court

The media construed that the Fed Clan didn't talk about that as they didn't want to give the impression that Fed is not 100 % to the competition. Fed loosing early at the AO would have cost him the NO. 1 spot therefore the goal was to go as far a possible.

Fed will now go through a serious recovery training in Dubai.
Source
SonntagsBlick research show: Roger Federer was before the Australian Open far more ill than he admitted. He was in hospital, was six days with fever and diarrhea flat. With this history is his Halbfinalvorstoss no disappointment, but a willingness outstanding performance.

As Federer before the start to the Australian Open two weeks ago about his food poisoning said, which sounded like this: "I woke on Saturday with a fever, and the hospital was a slight food poisoning diagnosed. It was, however, I soon got better, and now I feel 100 percent fit. "

Even after the semi-final defeat on Friday against Novak Djokovic wanted disturbed his preparation as an excuse not apply. "Maybe it has played a role, but I do not know." However, he admitted that he is on the square quickly and less bubbly than usual felt. No wonder!

It pays tribute to Roger Federer that he is not looking after excuses, but the truth is another. A short hospital visit was the matter is far from fixed. According to reliable sources of Sunday gaze was Rogers disease deliberately kleingeredet tactical reasons. Man wanted over the opponents show no weakness. They were very pleased that it had succeeded, the real health problems of the Swiss to hide.
(…)
Under this aspect receives Federer's semi-final qualification a much higher value. Had Roger namely because of his illness Forfait declared it could Rafael Nadal in the coming weeks as the number 1 to replace. Now, however, the Basel area of opportunity, the body back into shape.

I don't speak a word of Swiss German so I have to accept the translations. I guess they knew mentioning gastric distress would lead to a bunch of crappy jokes huh? If this was the case why were all references to an alleged ankle injury erased from the message board on his official site? Oh well. At least he didn't blame the Russians. And he was determined to keep Rafa from getting that number one wasn't he?
Roger is scheduled to play Estoril as a clay warm up. Novak is the defending champion. Should be interesting no?
Serena Williams
is the only active woman player with a career slam. Both
Maria Sharapova
and
Justine Henin
are one away. Will Maria win the French? Will Justine win Wimbledon? Film at eleven folks.
Fed Cup News
The United States Fed Cup team will not feature either
Venus Williams
or
Serena Williams
.
Lindsay Davenport
will be leading the squad, which will include
Laura Granville
, A
shley Harkleroad
and
Lisa Raymond
. The German squad will feature up and comer
Sabine Lisicki
who has appeared on a lot of tennishead's radar.
The drama continues with the French ladies. When last checked
Marion Bartoli
was not going to play unless her father and coach
Dr. Walter Bartoli
was allowed to coach her. The French team now consists of The Maiden along with
Amelie Mauresmo
,
Virginie Razzano
and
Nathalie Dechy
. The P.R. of China team features
Li Na
,
Peng Shuai
,
Zheng Zie
and
Yan Zi
. Let's see who deplanes from France later this week.
Fed Cup
play begins February 2.
Idle Chit Chat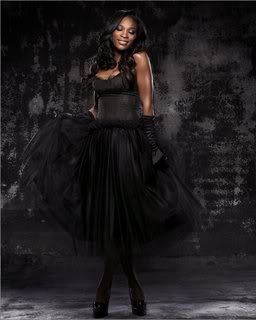 I think that's enough of that no?
A Final Look
Some of my favorite photographs from the 2008 Australian Open