by Savannah
Day one and so many things to snark about. Today will be the Day One Fashion Review. For a serious look at Day One please visit
Craig Hickman on Tennis
.
Thanks to the tennisheads over at
WTAw
for putting most of these pictures in one place.
The Dress Saga
Note to WTA Clothing Providers
If a dress is designed for a woman built like Venus Williams, Daniela Hantuchova or Maria Sharapova do not, I repeat, do not make it available to the general market. Otherwise you end up with this:
Not that this is tons better but it suits her body type padded bra and all.
It would also be nice if you acquaint yourself with the fundamentals of female anatomy when designing your frocks. Putting the pockets in the general area of a womans va jay jay is not, I repeat not, a good idea.
KTHNXBYE
This picture is just plain scary. I know if I saw this woman approaching me on the street I'd cross over to the other side. I guess no one learned from Serena's bow incident last year huh?
I feel bad beating up on a seventeen year old but Tamira, honey, were you trying to make Jelena think the girls were going to make their Grand Slam appearance? Get thee to a stylist. Stat
Moving right along...
What looked the best? What allowed you to focus on the tennis being played and not the player? Classic tennis dresses as worn by the following women:
Elena Dementieva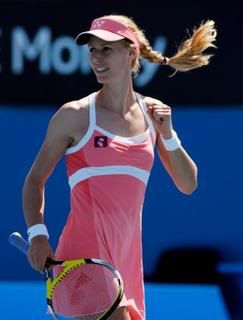 Nicole Vaidisova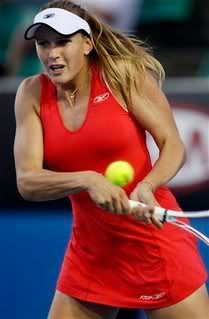 Yuan Meng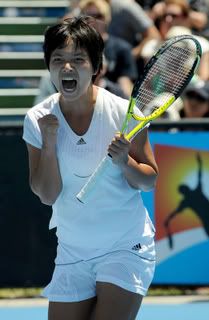 Sandra Kloesel Innovation done right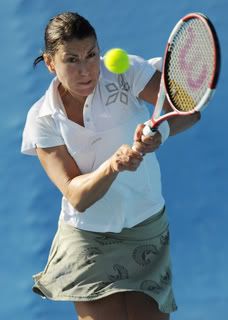 Lindsay Davenport Retro chic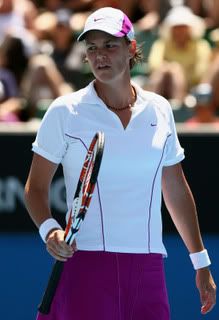 Lilia Osterloh Classic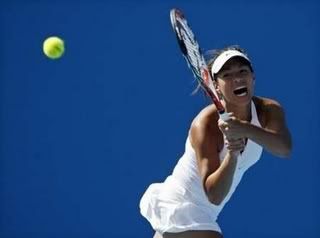 Ashley Harkleroad Sexy and chic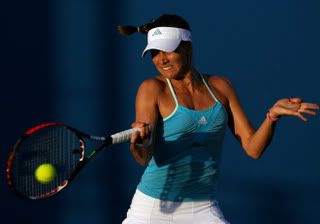 As for what not to wear:
Madison Brengle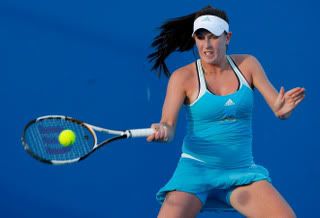 When did she dye her hair? And isn't she a tad too young to appear so unfit?
What makes someone win best dressed? Let's think about what a well made outfit should do for a woman.
Flatter and highlight what is best about her figure.
If something is "wrong" camouflage it so that someone seeing you won't exclaim about the worst part of your body.
In my opinion for Day One the Best Dressed was Serena Williams. Her outfit did everything a well made custom design should with no unsightly va jay jay bulging.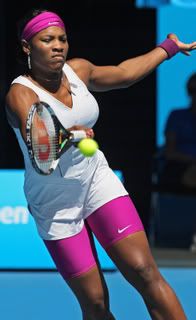 And for the absolute pits - the worst outfit ever...
Barbie. Please. No one except prepubescent boys and frustrated men want to know that much about you. Let your tennis do the talking.
As for the men...
Clothing manufacturers please let the crackheads go and hire people who know something about designing clothes that flatter a man's physique. Looking like you've just been run over by a bus is not attractive. I want to watch a man play not miss a great shot trying to figure out what the hell the design is on his shirt.
And Jo-Wilfried lose the hat cocked to the side.Wearing a baseball cap the way baseball players do isn't a fashion faux pas. Do that and you're the best dressed man from Day One