I have to say this draw is nice and balanced. Craig rightly predicted that Serena and Mauresmo would be in the same part of the draw but that doesn't make this draw look wildly unfair or out of kilter in my opinion.
There is one section of the draw that may give some surprises because of what is happening in Berlin but even there on paper the draw is balanced and mixes skill levels well.
Let's hope the era of cupcake draws is over for the WTA.
(1)Amelie Mauresmo (FRA) bye
Francesca Schiavone (ITA) vs Samantha Stosur (AUS)
Roberta Vinci (ITA) vs Meilen Tu (USA)
(14)Patty Schnyder (SUI) vs Vasilisa Bardina (RUS)

(11)Shahar Peer (ISR) vs Agnieszka Radwanska (POL)
Maria Kirilenko (RUS) vs Ai Sugiyama (JPN)
Olga Poutchkova (RUS) vs Q
(8)Serena Williams (USA) bye

It's not a given Amelie beats either Schiavone or Stosur. Patty could come out of this section of the draw and meet Serena. Radwanska did injure herself so coming in Pe'er may be favored over her. Pe'er should beat either Kirilenko or Sugiyama but she will not beat a healthy Serena.
Pick: Serena Williams
(3)Jelena Jankovic (SRB) bye
Nicole Pratt (AUS) vs Q
Alona Bondarenko (UKR) vs Julia Vakulenko (UKR)
(16)Tathiana Garbin (ITA) vs Flavia Pennetta (ITA)

(10)Elena Dementieva (RUS) vs Maria Elena Camerin (ITA)
Karin Knapp (ITA) vs Q
Meghann Shaughnessy (USA) vs Emilie Loit (FRA)
(5)Nadia Petrova (RUS) vs Q

I wonder if it's ever occurred to Jelena that the reason the top players don't compete week after week is because they need to study what they're doing and work on any flaws in their game. If she's in this just for the do-re-mi than more power to her and she should continue on her current path. If she wants to win a big one she is going to have to take some time off. It won't kill you Jelena and maybe, just maybe, the big one won't scare you so much.
That said Jelena could have to face Alona Bondarenko to get out of this section. That is a tough call in my book since Alona will have had time to rest. There's that word again Jelena. Rest.
Going out on a limb and picking Jelena.
Is someone getting off watching Elena and Nadia? Not much to stop these two from meeting again in this part of the draw. I'm an Elena fan so I pick her to get the chance to play Jelena. Who tired or not will beat her.
Pick: Jelena Jankovic
(7)Anna Chakvetadze (RUS) bye
Severine Bremond (FRA) vs Q
Sybille Bammer (AUT) vs Gisela Dulko (ARG)
(9)Daniela Hantuchova (SVK) vs Q

(15)Katarina Srebotnik (SLO) vs Martina Muller (GER)
Jie Zheng (CHN) vs Anabel Medina Garrigues (ESP)
Alberta Brianti (ITA) vs Q
(4)Nicole Vaidisova (CZE) bye
Sybille Bammer has as good a chance as anyone to come out of her section of the draw. I'm just not seeing it with AnnaC. It always amazes me that Daniela wins matches but if her opponent lets her control the court they're in for a very long day. I'd like to pick Sybille but I'll go with Daniela.
Daniela vs Nicole. If Nicole is healthy she should have no problem with anyone in her section. Srebotnik, so hot a little while ago, is not right now.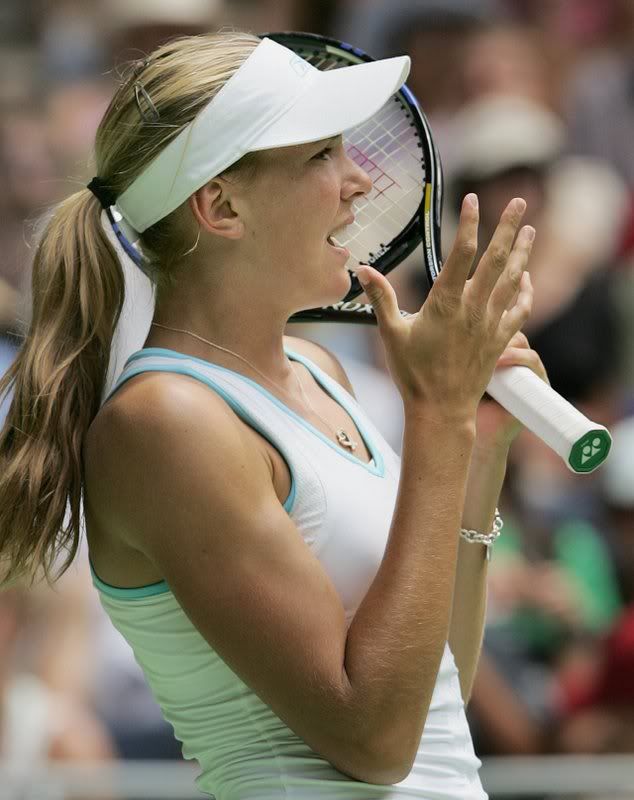 Pick: Nicole Vaidisova
(6)Dinara Safina (RUS) bye
Marion Bartoli (FRA) vs Kaia Kanepi (EST)
Eleni Daniilidou (GRE) vs Q
(12)Ana Ivanovic (SRB) vs Q

(13)Na Li (CHN) vs Romina Oprandi (ITA)
Anna-Lena Groenefeld (GER) vs Nathalie Dechy (FRA)
Akiko Morigami (JPN) vs Mara Santangelo (ITA)
(2)Svetlana Kuznetsova (RUS) bye
Marion is playing in a final Sunday and with her present physical condition is in no way going to be able to give her best here. I think she gets by Kanepi but loses to Dinara who will have to play Ana Ivanovic. Again going out on a limb and picking Ivanovic. Just a hunch. Nothing more.
Pick: Ana Ivanovic
Sveta is playing in that rain destroyed tournament in Berlin so she may be running on fumes when she shows up here. Li Na has gastric issues. Anna-Lena is in no condition to beat anyone right now but Mara Santangelo is. Santangelo plays Oprandi?
Pick: Mara Santangelo