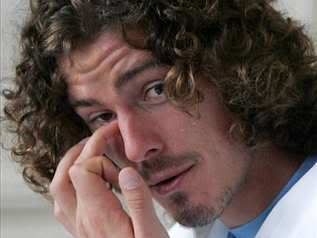 Everyone's wet dream Marat Safin added his voice to those of James Blake and Andy Roddick, the only two players who have come out publicly and supported Etienne de Villiers vision of a new and improved ATP which he calls Brave New World.
Safin, who is reported to have played a major role in ending the DeVilliers experiment with Round Robin play has now come out in favor of giving the other proposed reforms a chance.
Echoing the statements of the American players Marat said the following:
"We have to let it be and let the people at the top make their choices," he said. "We can play tennis but we can't change and make everybody happy. I'm sure whoever is taking care of it is making everybody happy.

"Once we have him, let's give him a chance for four or five years to see how it goes," he said, referring more directly to De Villiers. "It can't be worse than it used to be.

"When Mark Miles left we had no chances," Safin alleged. "It was going bankrupt, no money. At least we have a lot of sponsors. It is getting better. It's picking up but we have to believe in our people and make sure to support them, even though they make mistakes.
For the entire article
Go Here
The player's petition, said to have been signed by 60 players, calls on De Villiers to rethink his plans to downgrade both Monte Carlo and Hamburg which are presently TMS events.
Ya gotta love politics. You never know who will end up in bed with whom and for what reason. As of now the elected player reps Ivan Ljubicic and James Blake are on opposite sides of the issue. Ljubicic has sided with what is reported to be the majority of the European players. Blake, the vice president of the Players Council at the present time seems to have Andy Roddick and Marat Safin, both charismatic players in his corner in this fight which has been categorized as the USTA vs Europe.
I will keep posting about events related to this topic as circumstances warrant.