by Savannah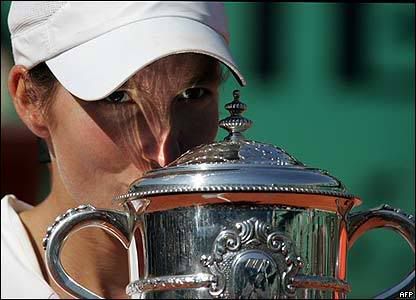 Justine Hénin BEL [1] vs. Elena Vesnina RUS
Tamira Paszek AUT vs. Aiko Nakamura JP
Tamarine Tanasugarn THA vs. Casey Dellacqua AUS [WC]
Agnieszka Radwanska POL vs. Mara Santangelo ITA [28]
The wild card in this section is Agnieszka Radwanska. She's had a pretty decent clay season and a lot of people will be watching her to see how she handles losing to Justine.
Sybille Bammer AUT [20] vs. Roberta Vinci ITA
Yaroslava Shvedova RUS vs. Qualifier
Pauline Parmentier FRA [WC] vs. Qualifier
Sandra Klösel GER vs. Na Li CHN [16]
Can Bammer pull another surprise out of her hat and meet Justine? Everyone likes the tours favorite Mom but Sybille has not handled the post AO pressure all that well. She's had some good showings but Justine is here to take names. Unless something drastic happens I see Justine coming out of this section with no problem. Too bad Li Na got stuck here.
---------------------------------------------------------------
Dinara Safina RUS [10] vs. Yuliana Fedak UKR
Melinda Czink HUN vs. Tzipora Obziler ISR
Qualifier vs. Jie Zheng CHN
Yvonne Meusburger AUT vs. Francesca Schiavone ITA [23]
Séverine Bremond FRA [31] vs. Michaëlla Krajicek NED
Olivia Sanchez FRA [WC] vs. Shenay Perry USA
Milagros Sequera VEN vs. Virginie Razzano FRA
Tszvetana Pironkova BUL vs. Serena Williams USA [8]
The other women must feel like sacrificial lambs in this section. Unless Serena has a major brain fart there is no one in the way of her meeting Dinara Safina. I've seen Razzano at her best. I've never seen Sequera play but she has a surprisingly dedicated fan base. I see her as a wild card here. Of course Dinara is capable of uninspired play but this is Roland Garros. Unless Safina remembers how she came from behind to take out Sharapova ( I mention that a lot don't I? I keep thinking that Dinara is going to show up again.) Serena takes this section.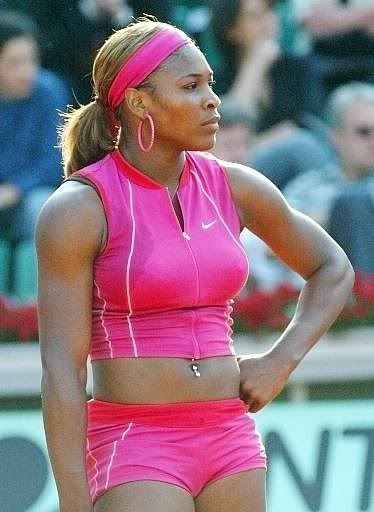 ------------------------------------------------------------------
Jelena Jankovic SRB [4] vs. Stéphanie Foretz FRA [WC]
Catalina Castaño COL vs. Qualifier
Aleksandra Wozniak CAN vs. Ashley Harkleroad USA
Alizé Cornet FRA [WC] vs. Venus Williams USA [26]
Marion Bartoli FRA [18] vs. Aravane Rezai FRA
Jarmila Gajdosova SVK vs. Qualifier
Mathilde Johansson FRA [WC] vs. Anna-Lena Grönefeld GER
Angelique Kerber GER vs. Elena Dementieva RUS [13]
Unfortunately for this Venus Williams fan I see Jelena winning that quarter. Aravane Rezai is playing a final on Saturday. Marion Bartoli just played very hard in Strasbourg. With her fitness issues I don't see her going far here even if she beats Rezai. Anna-Lena Gronefeld also has fitness issues. Even if Elena wins her quarter I think Jelena takes her out.
---------------------------------------------------------------------
Nadia Petrova RUS [11] vs. Qualifier
Anastasiya Yakimova BLR vs. Stéphanie Cohen-Aloro FRA [WC]
Nuria Llagostera Vives ESP vs. Anna Smashnova ISR
Akiko Morigami JPN vs. Tathiana Garbin ITA [19]
Samantha Stosur AUS [27] vs. Jamea Jackson USA
Maria Kirilenko RUS vs. Maria Elena Camerin ITA
Qualifier vs. Vania King USA
Emmanuelle Gagliardi SUI vs. Nicole Vaidisova CZE [6]
Petrova is in free fall and Nicole has been nursing an injury. Nadia should still be able to beat Garbin though. If Nicole is fit she will meet Nadia. For some reason I'm picking Nadia.
------------------------------------------------------------------------
Ana Ivanovic SRB [7] vs. Qualifier
Alberta Brianti ITA vs. Sania Mirza IND
Tatiana Poutchek BLR vs. Youlia Fedossova FRA [WC]
Qualifier vs. Julia Vakulenko UKR [32]
Anabel Medina Garrigues ESP [24] vs. Varvara Lepchenko UZB
Elena Likhovtseva RUS vs. Yung-Jan Chan TPE
Olga Poutchkova RUS vs. Eleni Daniilidou GRE
Jelena Kostanic Tosic CRO vs. Daniela Hantuchova SVK [12]
I'd love to see Sania Mirza rise up and take this quarter but I saw the pictures of that wrap on her right leg. I've never seen Vakulenko play. I have seen Ana play and think she's going to end up part of the new Royal Court in women's tennis.
I'm still not convinced about Daniela. I saw her win and was still asking myself how she did it. She probably will be able to assert her will over her quarter although Anabel Medina Garrigues has had a great clay season. This will be a lot of pressure for AMG. Daniela has been here before. But it will be Ana moving on.
--------------------------------------------------------------------------
Shahar Peer ISR [15] vs. Kaia Kanepi EST
Edina Gallovits ROM vs. Vasilisa Bardina RUS
Vera Dushevina RUS vs. Camille Pin FRA
Anastassia Rodionov RUS vs. Katarina Srebotnik SLO [17]
Martina Müller GER [32] vs. Qualifier
Qualifier vs. Tian Tian Sun CHN
Anastasia Myskina RUS vs. Meghann Shaughnessy USA
Ekaterina Bychkova RUS vs. Svetlana Kuznetsova RUS [3]
It's one thing wanting to be a star. It's quite another thing dealing with the reality of it. A lot of fans liked what they saw of Camille Pin in Melbourne. There hasn't been much to see since. Like Haruka said the AO is the freaky Grand Slam. There's a long list of people who have done well there and then slowly faded into the background. Shahar Pe'er should be rested and ready to go. If Sveta is healthy she should have no problem in her section. If she's not healthy Meghann Shaughnessy could end up playing Martina Muller. And that would give this section to Shahar Pe'er.
----------------------------------------------------------------------------
Amélie Mauresmo FRA [5] vs. Laura Granville USA
Caroline Wozniacki DEN vs. Nathalie Dechy FRA
Flavia Pennetta ITA vs. Nicole Pratt AUS
Yulia Beygelzimer UKR vs. Lucie Safarova CZE [25]
Ai Sugiyama JPN [21] vs. Eva Birnerova CZE
Romina Oprandi ITA vs. Meilen Tu USA
Anne Kremer LUX vs. Qualifier
Alicia Molik AUS vs. Anna Chakvetadze RUS [9]
Amelie is playing a final Saturday in Strasbourg against Aravane Rezai. She has Caroline Wozniacki and more importantly Lucie Safarova in her section. Lucie will be a very difficult opponent.
I'm waiting for Anna Chakevetadze to impress me. Wild card here would be Oprandi although Meilen Tu surprised a lot of people earlier this year. Not sure how she performs on clay. This section could really see some upsets with Anna Chakvetadze playing Lucie Safarova. I see a well rested Lucie taking this section although I wouldn't be upset if Amelie holds it together and gets through.
---------------------------------------------------------------------------
Patty Schnyder SUI [14] vs.Martina Sucha SVK
Kateryna Bondarenko UKR vs. Zuzana Ondraskova CZE
Karin Knapp ITA vs. Victoria Azarenka BLR
Iveta Benesova CZE vs. Alona Bondarenko UKR [22]
Gisela Dulko ARG [29] vs. Qualifier
Julia Schruff GER vs. Qualifier
Lourdes Dominguez Lino ESP vs. Jill Craybas USA
Emilie Loit FRA vs. Maria Sharapova RUS [2]
In one of my online incarnations I am known for saying that Maria Sharapova always has cupcake draws in order to guarantee her an easy road to the quarterfinals. I don't see anything different here.
Gisela Dulko is a good player. She should beat the qualifier in the first round and whoever wins between Schruff and another qualifier. I see Lourdes Dominguez Lino beating Jill Craybas and Maria Sharapova beating Emilie Loit. If it comes down to Dulko vs Sharapova I'll pick Sharapova, serving woes and all.
Patty Schnyder says she has a leg injury. Alona Bondarenko pulled out of her last match with an injury. If they end up playing each other I like Bondarenko to ignore Patty's machinations and beat her for the chance to play Maria. We'll know then if what happened against Rezai today was a result of rusty play or not. Unless Bondarenko plays with no fear, this is a Grand Slam after all and makes sure to do to Sharapova what Rezai did to her today this part of the draw is as predictable as sunrise.