by Savannah
I never go to the US Open on Opening Day. The way they used to do the order of play no one I wanted to see played on Day 1 so I could laze on the couch and listen to the announcing team as well as see how the court is playing. So when I say I splurged and got very very good seats and enjoyed the view you won't get on me too much will you?
We got there just as
Elena Dementieva
could be seen on the jumbo tron taking the court. Her opponent was
Akgul Amanmuradova
from Uzbekistan. This turned out to be important information to have since most people of the people sitting around me thought she was African-American. Makes you wonder who the hell the people are who sit in the expensive seats and why those seats are wasted on people who know zip about tennis or the players. I chose not to enlighten them since I found it hilarious. I guess Akgul's surname didn't clue them in.
Most of us were pulling for Elena to win the match - there did seem to be a few tennisheads around who knew Elena had just won the gold in Beijing - and despite Akgul's efforts - the second set went to 7-5, Elena did win.
What is there to say about Elena? Her serve sucks. Her groundie's are awesome. Her shot placement is excellent. She is solidly built and in shape. It is painful to watch her serve though. And someone needs to update her wardrobe. Hands down - unless Serena shows up in one of her get-ups again - Elena's dress is the hottest mess on the court. It looks like a Project Runway loser designed it. The skirt is denim, with loops for a belt. It's a one piece outfit. Not fitting attire for a contender at the US Open.
As for Akgul she needs to play more top level players. She has a solid game. It was hard to judge her fitness due to her outfit but she appears to be fit enough to play the top women. She just needs more play.
The second match was between
Lindsay Davenport
and
Aleksandra Wozniak
. I was anxious to see Aleks who has been playing very well of late. I also wanted to see Lindsay who may be playing her last US Open. I don't know about that. I do know that Lindsay was said by many to be hobbled by injury and there were rumors that she might even pull out before the match began so when Lindsay walked on court to the cheers of the crowd with not a leg wrapping in sight I figured she was ready to play. She did. I guess Aleks was disconcerted by the crowd's shameless cheering for Lindsay's every move on court and maybe, just maybe, she had read the injury reports and expected a different player. Neither woman will ever be described as a gazelle on court but Lindsay's experience deflated Aleks' hopes from the beginning. Every time she thought she had an opening Lindsay let her know that she didn't. The score reflects quite accurately what happened in the match.
Wozniak is considered one of the up and comers of the tour. If that is the case someone should talk to her about working the crowd and the kids who come down at the end for autographs, oversize yellow balls in hand. When the match was over instead of Wozniak signing a few balls she stalked out the other entrance with nary a wave to the fans or a nod towards the kids. Very poor form Aleksandra. We know you were not happy to lose. New Yorker's don't like being stiffed. Keep that in mind.
The third match of the day was between
Rafael Nadal
and
Bjorn Phau
of Germany. The outcome of the match was never in doubt but Phau did not go out like a punk. He had nothing to lose and he fought as hard as he could. There was one guy sitting near me for whom Phau's efforts seemed to be a tad personal. When Phau was serving from our side of the court he would shout at him that this was the match of his life, that he had to win, that his testicular fortitude would be in doubt if he lost. Creepy.
There were also three men who appeared related, grandfather, father and son, who were quieter but just as intense in their support for Phau. All four of these guys were gone before the second set was over. Creepy and weird.
Since we had day session tickets we debated eating dinner at the BJK center and watching some of the night matches on the outer courts and on a jumbo tron. Because of the opening ceremony we decided to come back into Manhattan where we got dinner at the Cellar Restaurant in Macy's before heading home. We got in just as
Jelena Jankovic
was finishing up the second set of her match against USA junior
Coco Vandeweghe
who is not ready for prime time. Tracy was hyping her game but the game I saw was still only fit for the juniors. How she got a wild card and ended up playing the opening night match on Ashe is beyond me. Well actually it isn't. The name Vandeweghe is a big one is US sporting circles, her father Kiki having been a top basketballer back in the day. I think they did Coco a disservice last night. I hope she goes on to have a decent career but she is just not ready for the big stage.
After freshening up we sat down as the
James Blake
vs
Donald Young
match began. I was too tired to post the blog so I did some surfing and made a drink preparing to possibly doze as James wiped the floor with Donald. Thank goodness I was still awake when Donald won the second set, something totally unexpected. I can't tell you how he did it because I happened to check the scoreboard and saw that he had won. When I sat down to really watch it was to see the Match of the Day.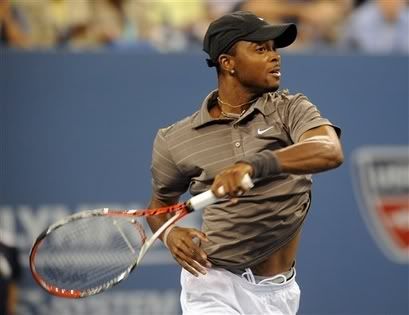 If you like high wire, fast paced balls to the wall hard court tennis that was the match for you. Even if that style of tennis is not your favorite is was a joy to watch. Both men played with unbelievable speed and accuracy, daring each other to hit a better shot than the one his opponent had just hit. Young didn't seem fazed by the court or his opponent and going into the fifth set it was anybody's guess as to who would win the match with many of the fans still in attendance - it was a work night after all- and many at home pulling for Donald.
As it turned out the match hung on two very close line calls that shot spot showed were rightly rewarded to Blake. Donald netted a forehand he'd been making all night and Blake took the match 6-4 in the fifth set after they split the first four 6-1, 3-6, 6-1, 4-6, Blake taking sets one and three.
What does the match mean? A lot for Donald Young who, after working so hard to get into the mix so he could get direct entry into majors is now going to see his ranking drop. But now he, and we, know that he is capable of playing very well on the big stage. I can't imagine him wanting to continue playing Challengers. I hope Donald continues to hone his game so that it works on all surfaces. Matches like last night's don't happen that often and rarely repeat in a career. But it was still a wonderful match.
Meanwhile
Juan Marin del Potro
continues on his winning way. He was down a double break to
Guillermo Canas
before wresting control of the match from his country man and winning 4-6, 7-6 (0), 6-4, 6-1. This match was going on at the same time as the Blake/Young match. It's what makes the first week of the Open so great.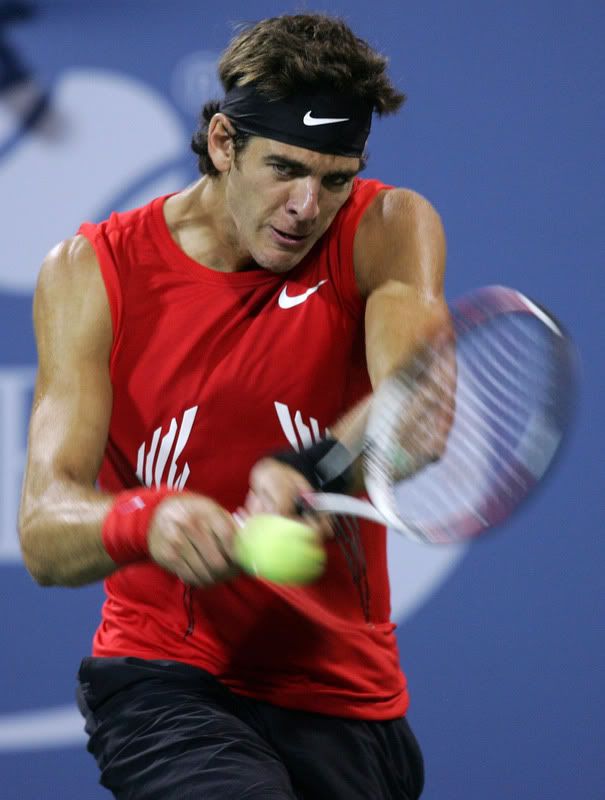 I'm at home today watching the day action and got the chance to see a young woman named
Kristie Haerim Ahn
of the United States. I don't claim to be up on Junior Tennis but I have heard of
Madison Brengle
, the above mentioned Coco Vandeweghe and
Asia Muhammad
to name a few. I had never heard of Kristie until today. She's listed as 5'2". She played
Dinara Safina
who is about a foot taller. And she played her. There was no doubt Safina would win over the sixteen year old but keep her on your radar. She's not getting the hype but she showed more game than the junior who was given the wild card. Kristie came through the qualies. Kristie Ahn people.
Ana Ivanovic
dodged a bullet in winning her opening round match against
Vera Dushevina
of Russia. It's going to be interesting to see how she does here since she didn't play the Olympics although she made the trip to Beijing.
The most interesting match this afternoon is on and I'm going to sign off and watch it is taking place between
Richard Gasquet
and
Tommy Haas
. Louis Armstrong is just about full while cavernous Ashe stadium is sparsely populated despite Marat playing at the same time. Who says New Yorker's don't know tennis?
End Note
Here's the Class Picture from last nights Opening Ceremony which honored all the past champions.
Who is missing? Sampras, Agassi, Graf, Connors and Henin.