by Savannah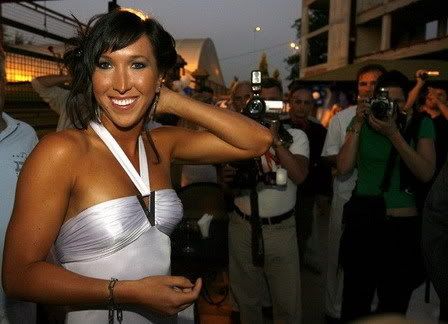 Remember
Kim Clijsters
? You remember her, the young woman who recently retired to pursue the joys of motherhood with her basketball star? Sure you do. But do you remember when she reached number one without benefit of a Slam victory and how universally welcomed it was because Saint Kim as she was known in some circles was just such a nice person and tried so hard. She did eventually win a US Open so people shut up about her.
Then there was
Amelie Mauresmo
. She also reached number one sans a Slam victory but she was AMELIE so while there was some grumbling by purists no lynch mobs were formed (figuratively speaking of course) and she too eventually won a Slam. That stopped people talking about her being as mentally tough as a piece of Baccarat crystal.
So why the uproar about
Jelena Jankovic
? I mean it is funky that she's never reached a Slam final or won anything other than Roma. Roma is no Mickey Mouse tournament (No pun intended. I'm not discussing the ATP in this post.) but every time Jelena gets to the threshold she has one of her meltdowns and for a few minutes the world ceases to spin on it's axis. Things return to normal when she gets up on her feet and scampers off to the next tournament where the pattern is repeated.
So let's look at how Jelena put her name in the record books. It started with
Justine Henin
leaving the sport for awhile. Retired you say? Uh huh. She'll be back next year. Larry Scott may not have lost any sleep about her retiring but he took care of his product. Moving on.
That catapulted
Maria Sharapova
into the number one spot. She immediately got the vapors and found it more pleasant to gallivant around Europe with her close personal friend than to play tennis. This happened after she bit the hand that's been feeding her and allowing her to live large. Again, not the subject of this piece. Again moving on.
The next woman to sit on the WTA throne was the fan boys wet dream
Ana Ivanovic
of Serbia. She promptly proved her fitness for the crown by stinking up the joint in London but because no one seemed to want the scepter and crown she retained the number one ranking. She disappeared from the scene citing "fatigue" and the "stress" of adapting to the number one spot but during her sabbatical found time to traipse off to Mallorca.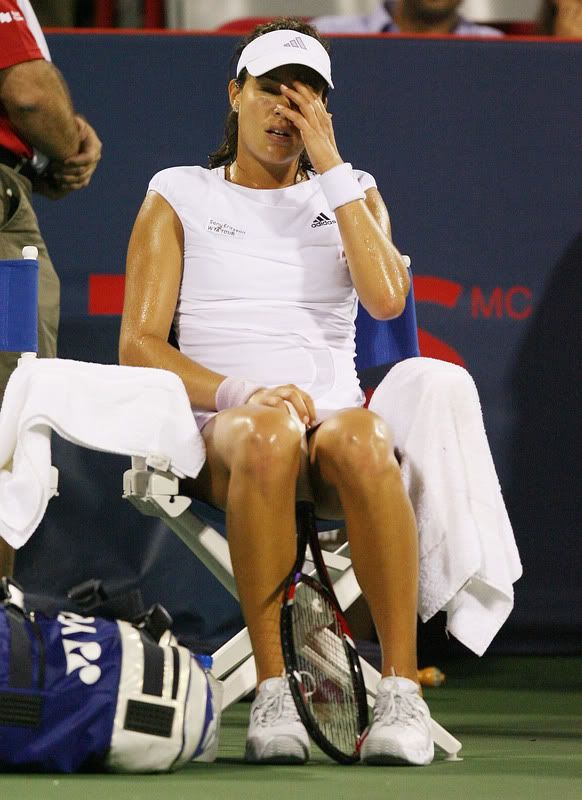 When she reappeared in Montreal it was with a taped thumb. Maria Sharapova managed to show up in Montreal too. Maria complained of a shoulder injury. She's seemingly had this shoulder injury since forever. Maria, wearing a get up that probably made HFPY swoon fought her way to a three set win in her first match and then had an MRI done which apparently showed that she had a torn rotator cuff. That's her story and she's sticking to it. A torn rotator cuff is not something that is taken lightly by any athlete. Being an American and therefore born with more than a passing acquaintance with baseball and it's vagaries torn rotator cuffs usually lead to surgery. A few weeks off resting with your bff is not going to heal it. Do you come back at 100%? Depends. Not the adult incontinence product you sillies. It depends on the athlete.
But I'm digressing again. So Ana is in Montreal bravely carrying the WTA banner into the fray. Then she runs into
Tamira Paszek
a seventeen year old who suffered a devastating defeat in Melbourne against - you got it Jelena Jankovic. She'd been in a tail spin since then but somehow found her mojo again when playing the WTA Number One in the World Ana Ivanovic. It took three sets. I only saw some of the last set because I found a live stream. Ana sucked. She was spraying balls all over the court and just seemed not to have a clue what to do out there. Of course it was the thumb which was lightly taped. I say lightly because I had seen
Nenad Zimonjic
play with a heavily taped and supported broken wrist. Now that is an injury. He did manage to win the doubles championship at Toronto last week...sorry. The ATP just keeps shoving it's way into this conversation doesn't it?
It won't happen again.
What was our heroine doing while all of this was going on? Losing of course. Her loss at Montreal seemed to take her out of the running for number one. This put the weight on that bastion of mental toughness
Svetlana Kuznetsova
. Everybody likes Sveta. She's so cool with her love of gangsta rap and living in Spain. She's everyone's friend. She's the 2004 US Open Women's champeen. Gee, 2004 was an Olympic year too huh? Anyway with a win Sveta would move into the running for the top spot. All she had to do was beat a young woman named
Dinara Safina
. And no I'm not going there. I think Mr. DeVillier's comments about Dinara's older brother being a fave of boys and girls and children of all ages should stand on it's own. Sorry.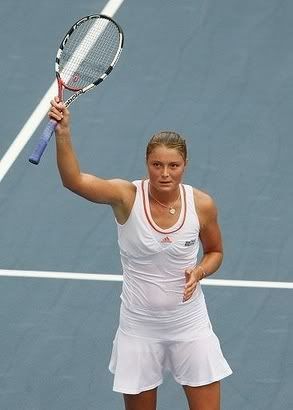 So Sveta and Dinara play this match last evening. Sveta, who when she is on is one of the best players ever seemed more interested in getting up close and personal with the court. That's where she spent most of her time. Meanwhile Dinara, who has apparently taken up primal scream therapy to get the tension out, managed to hold herself together and win in three sets.
And that my friends is how Jelena Jankovic has been put in the position of becoming the WTA number one on August 11. I hope you followed all of that because I don't ever want to have to type anything this sorry ever again. There are those of us who have been saying for a few years now that the WTA product is weak. No amount of hype about swimming pools or cup cake draws can hide that now. Where is the sport that
Chris Evert
,
Martina Navratilova
,
Monica Seles
and
Steffi Graf
put on the road to greatness? Where are the players like
Venus Williams
,
Serena Williams
,
Lindsay Davenport
and
Martina Hingis
? At least the Brits have their bought and paid for
Laura Robson
to look forward to.
Alize Cornet
of France,
Caroline Wozniacki
of Denmark,
Aleks Wozniak
of Canada,
Michelle Larcher de Brito
of Portugal, and
Tamira
Paszek
who has already been mentioned all hold the promise of being bright and shining stars of women's tennis. Can
Dominika Cibulkova
of Slovakia force herself into the conversation? They're all tough as nails and somehow I don't see any of them wanting to be known as mentally fragile.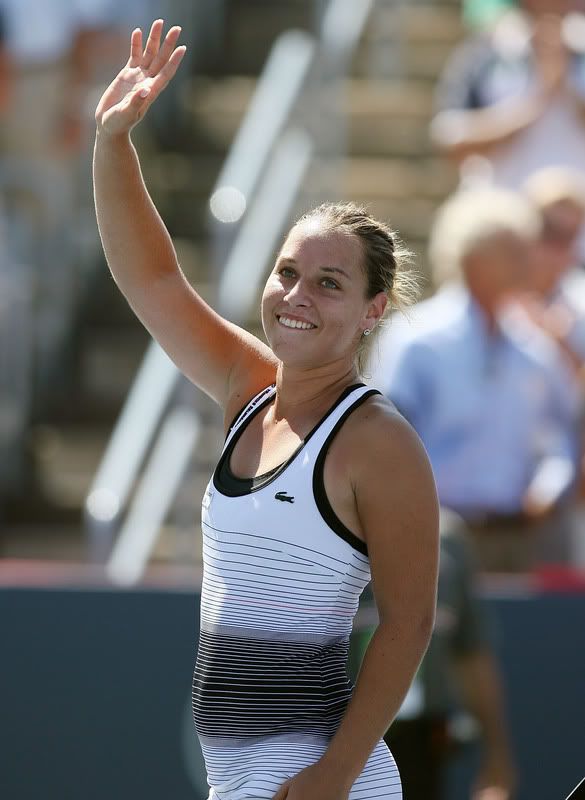 Of course where the WTA will be two or three years from now is anybody's guess. Does Jelena deserve the number one ranking? No, but she is the only one left standing, or should I say cowering. I don't think we'll see Maria until the YEC where she will have a miraculous run. Until then it's going to be a game of hot potato between the top ranked women. Of course Dinara and her primal screams might decide it's time for the Safin family to reclaim it's past glory. And we know little sister is not scared of her countrywoman from Siberia.