by Savannah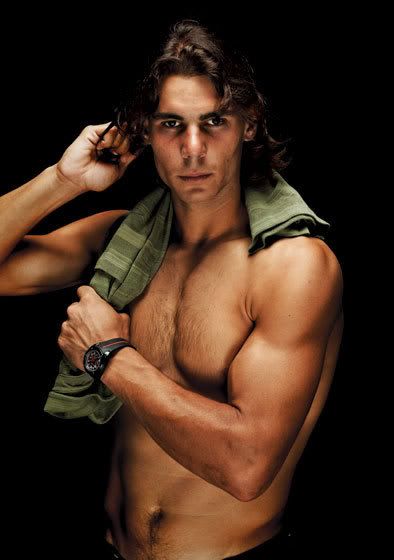 Yes that is how
Rafael Nadal
appears on one of the covers of the current
New York Magazine
. It's their fashion issue so they have a front and a back cover. Depending on how you look at it Rafa is the back cover. There are more pictures inside that will also set a Rafa fan's heart to racing.
There's this,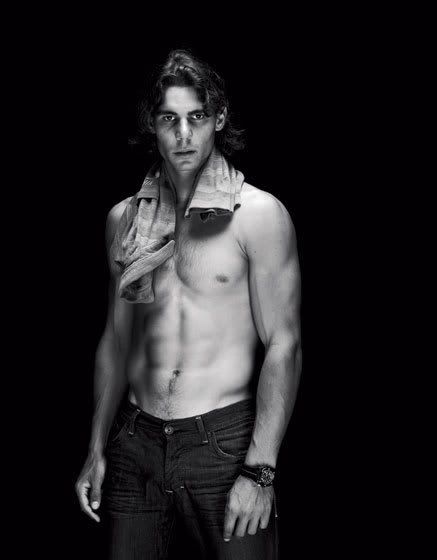 and this.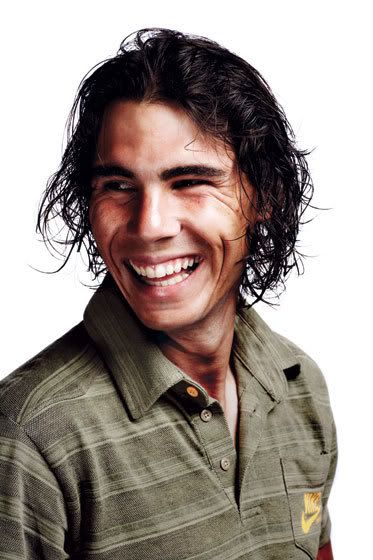 It's nice to see him getting some attention although I hope they don't end up doing the stereotypical Latin Lover shit with him. Above all else Rafa is a tennis player. It's too bad we live in a world where that isn't enough.
Once you get past the pictures - it does take some time - there is an actual tennis story associated with them. The title of the piece -
How To Build An American Nadal
says it all. The author,
Geoffrey Gray
, goes into the American tennis establishment's attempts to jump start it's program by tracing the career of one
Chase Buchanan
, an up and coming junior. It's an interesting read for someone like me who has been saying since 2003 that American tennis is in trouble. Here is a quote from the article.
..."We were getting blamed for not producing any champions, so we decided to do something about it," says

Jane Brown

, the USTA's president, who adds that cuts were made "across the board" to come up with the academy's annual funding. "We've run out of material," echoes Nick Bollettieri. "We had a very good eighties and nineties, but look around: the

Samprases

,

Couriers

,

Todd Martins

, and

Agassis

are all gone."

Ironically, this Silent Generation began, some tennis people say, when the USTA first began its player-development program, in 1988. One reform the American tennis czars sought to make then was eliminating rankings for all kids under the age of 12. The goal was to replace preteen cutthroat competition with a genuine love for the game. "In hindsight, we made a huge tactical mistake," says

Kevin O'Connor

, who runs Saddlebrook. "Our kids are now at least two years, and a couple hundred matches, behind everyone else in the world."

So now everyone wants to restock the pool of American tennis talent, and the debate is over how this should be done. "There are multiple schools of thought," says

Nick Saviano

, a former USTA coach who runs a private academy in South Florida. "One school is that the USTA should be a part of the development process. And the other schools are that they shouldn't be involved in the process and that it should be left up to the free-enterprise system." Saviano belongs to the latter school. His point is one of global economics: In order to create the Next Great One, the USTA must concentrate on what America does well, which means keeping the focus on this country's traditional tennis ethos—independence and innovation.

To others, what worked before is just not good enough. "We're competing now with the whole rest of the world, and the rest of the world are hungry mothers!" says

Bollettieri

, who considers himself a partner of the USTA's academy, not a competitor. But is spending about $10 million a year to push two dozen kids (at roughly $416,667 a head) the best way to go about it? "I'm skeptical of its cost-to-benefit ratio," says

Colette Lewis

, who's been following junior tennis for the past three decades and now runs a blog, ZooTennis.com. "With all the intangibles involved, it's too risky to devote that much attention and money to a handful of young players."
I think this debate is starting about five years too late. And do notice that not once is the woman's game mentioned. There were some great American women. One Chris Evert comes to mind. She also has an academy now. The article also ignores the fact that the Sanchez Vicario academy of Spain has opened in Florida as well.
The three former tennis powers, Britain, the United States and Australia have been eclipsed. It will take time to find out who will emerge from the pack of young tennis players. England has pinned a lot of it's hopes on
Laura Robson
who until February was an Australian citizen. The Brits also tried to get
Novak Djokovic
to change his citizenship as well but we know how that worked out.
I am not familiar with the Australian tennis situation but I can say this about the Americans and to some extent the British. Until they cast their nets a little wider it's going to take a very long time to rebuild their programs. In the article Chase's mother laments the fact that so many kids from the United States are pushed into the pro's too early. This made me think of
Donald Young
and the situation he finds himself in. It also made me think of
Juan Martin del Potro
from Argentina who has suddenly started living up to the hype that surrounds him after a couple of years of not doing well. Who knows, maybe
Sam Querrey
will step up to the plate the way Juan Martin has. Maybe there's an American girl who will be able to fill the very large shoes of
Venus Williams
or
Serena Williams
, the women who brought home tennis gold for the United States.
Talking about this is like beating a dead horse for me but I know that I will return to this subject again, and again.
Cupcake Draws
I will say it slowly. A champion proves him or herself by playing and beating the best his or her generation has to offer. If a draw comes out and the top player doesn't meet a seed until the quarters, or semi's in some cases, then what does that say about the champion? Does it force him or her to make adjustments to their game, think their way out of the problems the person across the net is throwing at them? I don't think so. When your opponents constantly talk about not being able to beat you and then don't, what motivation do you have? Do you start to believe your hype? Do you become a parody of yourself? Do you claim to have an illness that you don't in order to try and explain what is happening to you on the court while other players who do have the disease have to stop playing because to continue to play would put too much pressure on the spleen, one of those organs of the human body that needs to function well for you to be well?
Do you claim to have an injury that normally requires surgery and a long period of rehab in order to "heal"?
I'm just sayin'. I mean tennisheads can write all the essays they want, propose all the theories they want but in the end it comes down to the level of the challenges faced by the athlete. As we've seen in the Olympic sports where it comes down to the performance of the athlete and not some anonymous judges opinion of that performance you have to show who you are on the field of play. If you are constantly served up a diet of chumps, well, you get the picture.
And again, I'm just sayin'.
The US Open
I hope to be spending a lot of time out at Flushing Meadows so this space may not be updated as frequently as it could be. I'm playing it by ear. I hope to bring you the sights and sounds of the Open as well as report on the tennis I get to see at least every other day. Craig is going to be in Denver at the Democratic National Convention exercising his citizenship rights. While he may not be there there are several tennisheads who will be able to step in and post in his stead.
Qualifying play has begun. The Main Draw comes out at the end of the week.
End Note
This is how the ATP welcomed it's new number one on Monday. It's a first. Some fans are grumbling about how it's never been done before. Whatever. ¡Enhorabuena Rafa!