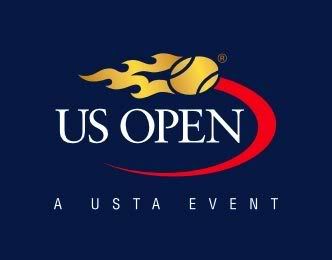 by Savannah
The US Open starts on Monday, August 25. The forecast is for showers. That means Tuesday should be big fun out at the BJK National Tennis Center. I'm not sure if I'll brave it. I know, who am I kidding? But forecasts are just like any other prediction. We'll see what happens. I know that I will be there Wednesday night. I just bought the tickets today. I hope I get to see some good matches. Nights during week one aren't bad because if the main event is stinking up the joint you have other choices. It's during week two that it gets iffy. You pays your money and you takes your chances. I'm already excited about my first day out at Flushing Meadows. The unisphere. The overpriced food. The scene kids. The hipsters. Even an emo or two or three. Middle aged and old. Drunks. The staff sneaking off to inhale medicinal cigarettes. Children young enough to be Olympic gymnasts up way past their bed times. And oh yeah, the tennis. In the three ring circus that is Flushing Meadows the tennis still gets played.
Look hard enough and you'll see your fave being escorted to the players area or their next match. Head for the practice courts during the day and you'll see any and everybody working on their games rain or shine. No bitching about slick lines on those courts. Fans of all ages have their faces pressed against the chain link fence while conversing on outrageous topics some of which has to to with tennis.
Myself I prefer the day matches. You sweat like a pig right along with your fave but you're surrounded by people who know tennis. They're not there just to be able to say they went to the Open. They're there because they know the game and love it. One of the best tennis commentaries I've ever heard was between two matrons sitting a couple of rows behind me during a day match. They were not being paid to commentate, they were just talking. If ESPN would hire those two the public would be well served. That is why I like day matches.
I'll post as soon as I can after I've been out there. I'm bringing my camera. I hate uploading pictures but if I have any worth uploading I will.

Tennis This and That
As you all know by now
Etienne de Villiers
has said he will step down at the end of this year. Thanks to a friendly judge in the corporate friendly state of Delaware the ATP was found innocent of all charges brought by the Hamburg Masters Event. It's not my style to dog someone out when they're down but to Mr de Villiers I have to say don't let the door hit you on the way out. It appears that Brave New World will go ahead as he and his minions planned and that means that European tournaments have taken a kick in the gonads. Hard court events are now being favored over diminished clay court events all with the aim, in my opinion, of favoring American players. I'm not sure who the ladies and gentlemen are who will gain by this but it's well known American stars like James Blake, who ran to de Villiers causing the Las Vegas fiasco and bringing an end to the Round Robin experiment, were firmly behind the Brave New World ideas. How old is Blake now? Roddick is having what I'll call a most unusual year and, well, who is there after them?
De Villiers is going to help pick his successor. You best believe it's not going to be someone looking to put aright all the things that were done in the name of improving tennis. I think it'll be someone on the present board. I hope I'm wrong.
The US Open Women's Draw
Last year there were howls of protest from some fans because the WTA draw looked as if it were designed to complement those cup cakes that were baking in the oven for
Maria Sharapova
. Miss Maria is not playing the Open this year due to shoulder issues as I'm sure you know but once again we have one of those weird ass draws where the Grand Slam event is taking place in the top half of the draw while the Tier II is taking place in the bottom half. I mean come on guys.
Serena, Venus, Ana, Dinara, Alize, Aggie, A-Bond
are all in the top half. So are
Nadia, Ai, and Dominika Cibulkova.
The bottom half?
Marion, Vera, Lindsay,
Chaks, Schnyder, Shaha
r and of course,
Jelena
. The one player there who could benefit from this is
Elena Dementieva
. It's going to be interesting to see if she follows up her Olympic Gold with a good showing here. Can she make the semi's? Who knows? In 2004 Sveta took it all. She's in the bottom half. When she plays well no one can touch her. Jelena, it's nothing personal. Forget about how things turned out for Maria last year. Prove to people your getting the number one ranking was not a fluke and that you can play your way to a Final and maybe even win. You never know.
When I party I party hearty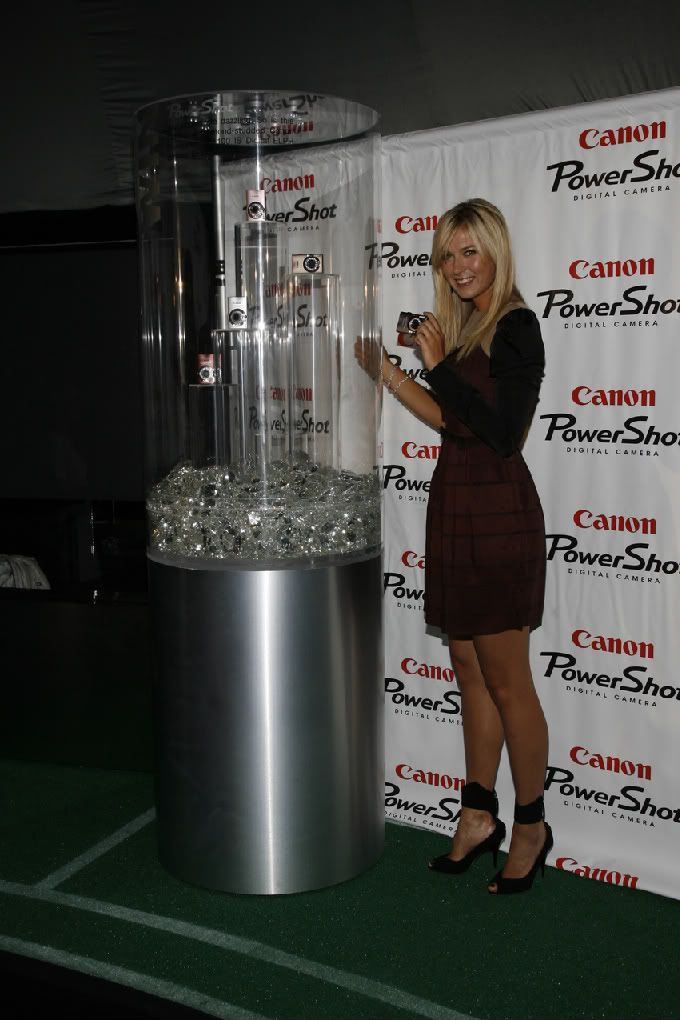 There have been tennis events all over Manhattan this week leading up to the Open. On Wednesday night
Maria Sharapova
appeared at an event thrown by Canon promoting a diamond encrusted camera. Naomi Campbell was not seen among the folks who attended but Maria was there smiling for the camera. She could've called Naomi and asked about the shoes though. She has horrible taste in shoes.
Dominika Cibulkova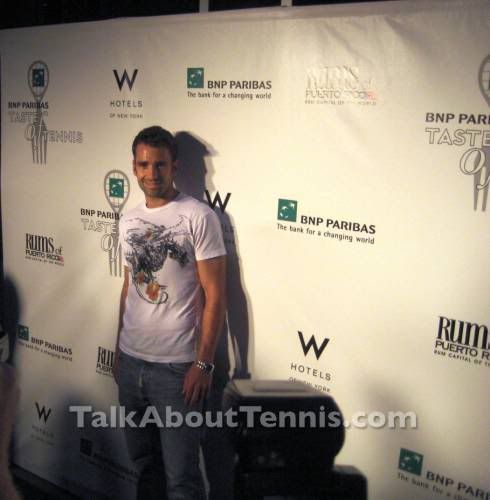 Nicolas Kiefer
Then there was the Taste of Tennis event Thursday evening where tennis players and chefs mingle to serve up what one can assume is fabulous food for those who paid to rub elbows with their favorites. It was well attended and the players got to show off a little on the red carpet.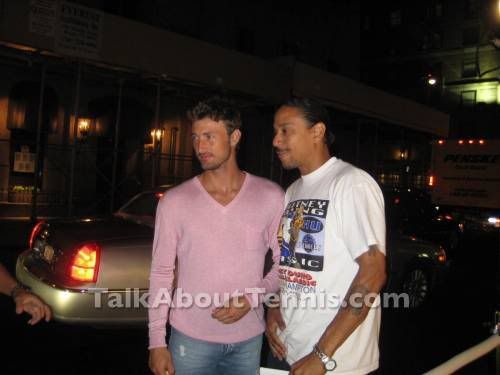 Juan Carlos Ferrero and a fan
Andy Roddick
Also taking place Thursday evening was a little soiree thrown by Nike. Nike closed off Mercer Street in what I guess is now called NoHo, the area north of Houston Street in southern Manhattan that is just so chic right now. Lots of Nike wearing athletes were there. I'm sure it was all suave and sophisticated.
Serena
Spike Lee, Serena and Roger