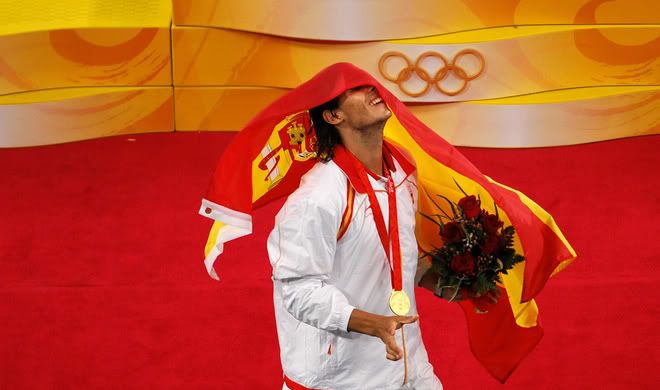 by Savannah
You may have noticed I haven't updated anything since 8/14/08. With all the tennis players heading for New York and the US Open I guess it's safe to come out of my bunker. I'm sure you know I'm coming out all smiles since Rafa won the Gold at Beijing. Regardless of how Fernando Gonzalez got there I knew he would be a challenge for Rafael and he was.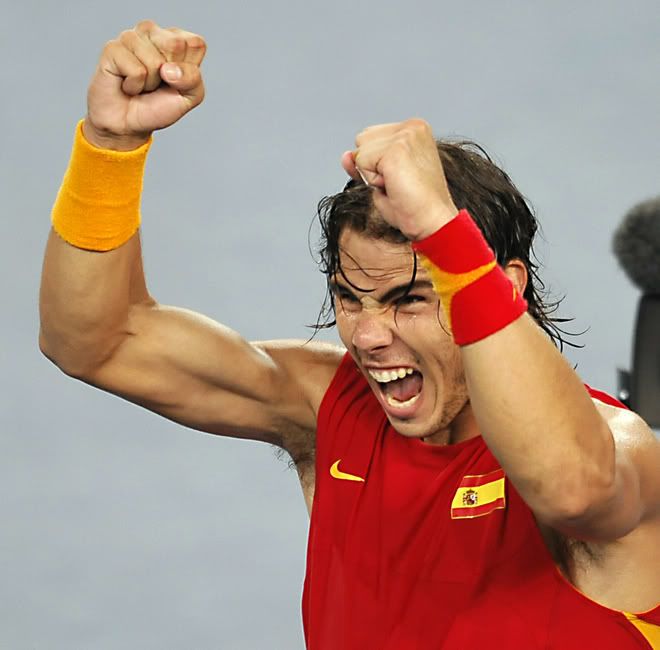 But in the end it was Rafael receiving the Gold Medal and listening as Spain's national anthem was played. He will have a short time to enjoy what he has done because New York is next. But for the moment I have to indulge my inner fan girl and say¡Enhorabuena Rafael!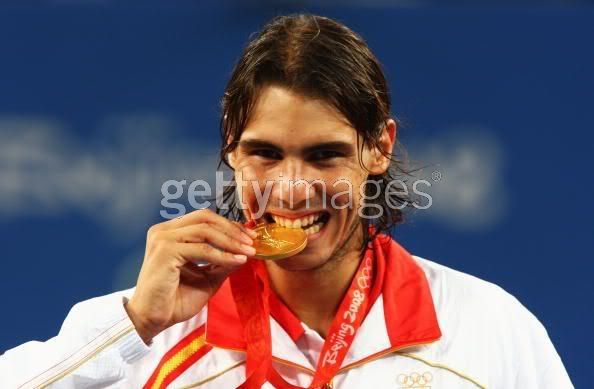 The Other Olympic Medalists
They say that imitation is the highest form of flattery. I guess that means all the Rafa fans among the players themselves now feel safe coming out of the woodwork.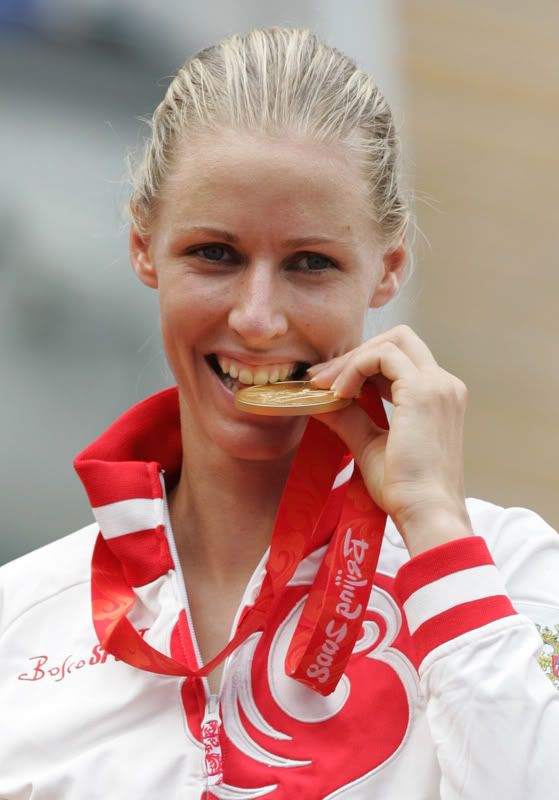 Elena Dementieva
Women's Gold Medalist Beijing 2008. Elena finally got the monkey off her back and won the big one beating her country woman
Dinara Safina
in the women's gold medal final. Dinara despite having played a lot of tennis coming into the match was still expected to win. Let's hope Elena keeps her confidence high and finally plays up to her potential.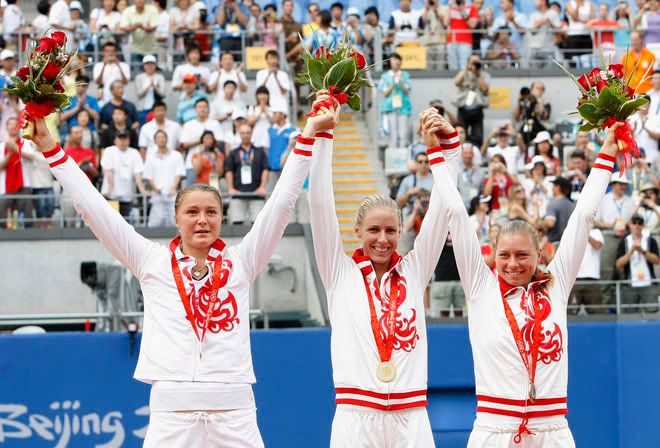 A special shout out has to be given to the Russian women.I'm sure that the Russian sweep of Gold, Silver and Bronze in singles play made Shamil Tarpishev and Russian tennis proud. Congratulations to Elena, Dinara and
Vera Zvonareva
United States Gold was brought home by
Venus Williams
and
Serena Williams
. Thwarted in their quests for singles glory they stayed and played inspired doubles totally dominating Spain's
Virginia Ruano Pascual
and
Anabel Medina Garrigues
in the Gold Medal Match. Their post match interview where they're both giggly as teenagers is a joy to watch. Congratulations Venus. Congratulations Serena.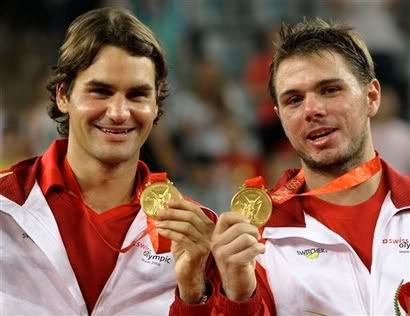 Roger Federer
and
Stanislas Wawrinka
of Switzerland won what turned out to be an emotional match for them both to take the gold in Men's Doubles. I think it was good to see Federer let his guard down and celebrate his victory. Maybe if the Swiss let it out more often their celebrations wouldn't be so awkward no? The news here is that the United States did not take Gold or Silver.
Mike Bryan
and
Bob Bryan
took the Bronze.
Great Olympic Tennis Pics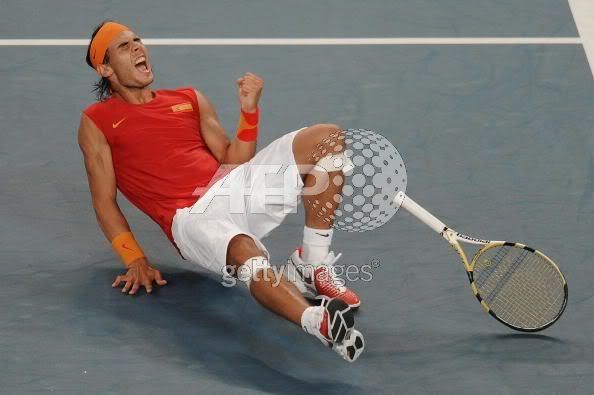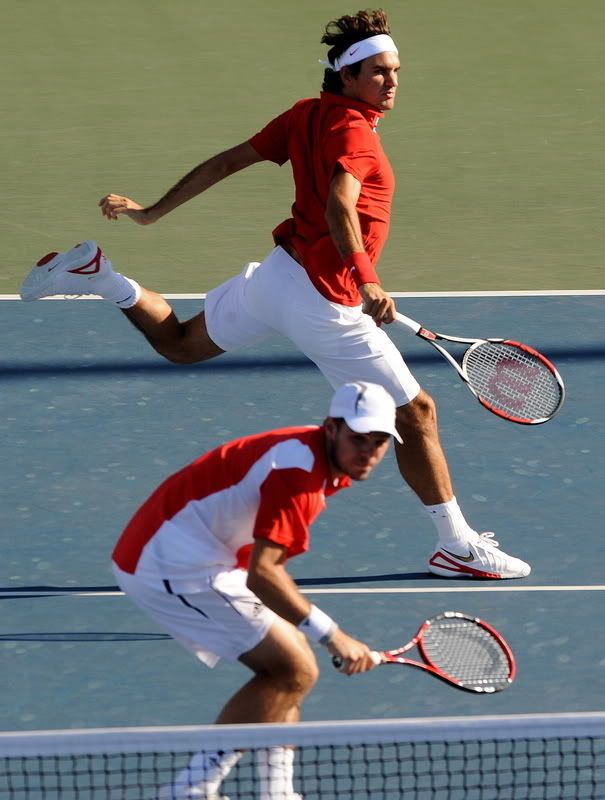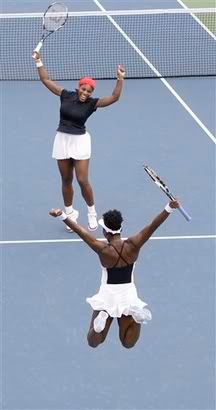 Rafael with Queen Sofia of Spain
In Other Tennis News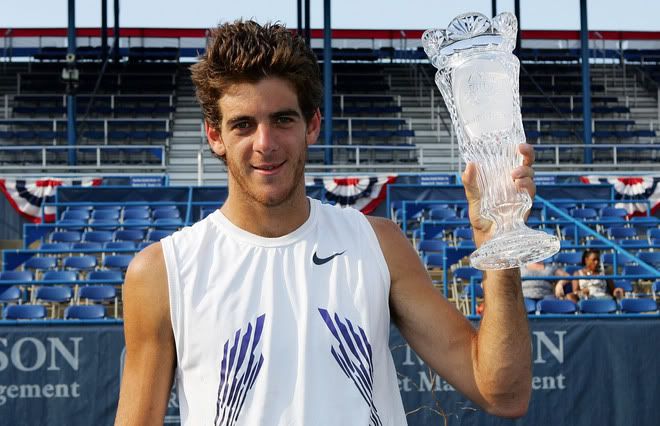 Juan Martin del Potro
who wasn't good enough for the Argentine Olympic team has been on a tear. With the big boys in Beijing, and
Andy Roddick
continuing his curious year Senor del Potro has been tearing up the US Open Series. His latest victory was in the heat and humidity of Washington DC at the Legg Mason tournament. Some tennisheads are now hoping he pulls out of the Pilot Pen event which is underway so that he can be rested coming into New York. I'm sure the people at Pilot Pen feel otherwise but it will be very interesting to see how the newly fit and shorn Juan Martin does in New York. He is a big man who can move and he has embraced the hard courts. He is indeed a dark horse to go deep at the US Open.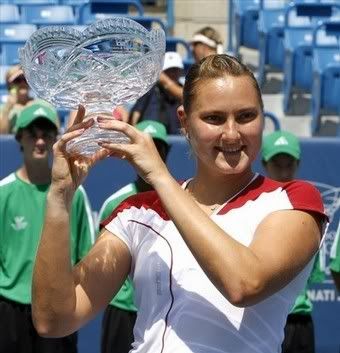 Nadia Petrova
won Cincinnati over
Nathalie Dechy
. Nadia has been hobbled by injuries and fought hard to get back into the conversation in womens tennis. Pairing up with
Maria Kirilenko
Nadia also won the doubles crown in Mason, Ohio. In this extremely weak era of the WTA it will be nice if Nadia can get herself back in the mix.