by Savannah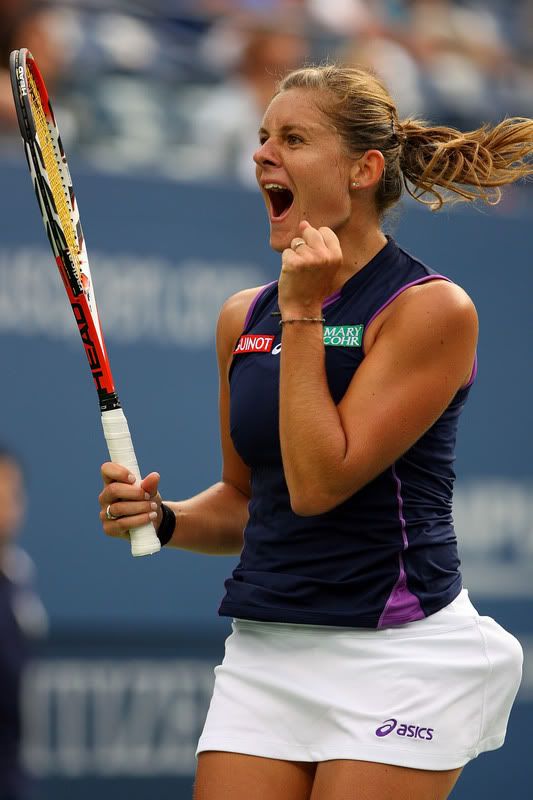 "Lack of practice. Lack of practice. Lack of practice."
Tracy Austin's
mantra after
Ana Ivanovic's
second round exit from the US Open says all that needs to be said. Tracy has been spot on so far this Open and she said it during Ana's sketchy first round win. She was not alone in noticing the lack of precision and focus that Ana showed that day and many predicted that she would not go deep in the tournament.
There are also some players who need to play and can't play themselves into a major. Ana seems to be someone who, while she may not need to play the schedule her country woman Jelena Jankovic does she needs to play more often.
Hailed by some as one of the most beautiful tennis players ever I do hope that Ana does not go the route of that other Anna, the one who used to beat up the male players during practice in Moscow back in the day and is now best known as Enrique Iglesias' girl friend. "Public Enemy" had it right. "Don't believe the hype" they intoned. Those words are still relevant in the super heated atmosphere of professional tennis.
What looks possible now that the top seed is out? Well in the Grand Slam part of the draw - the top half, we face the prospect of a
Venus
vs
Serena
quarterfinal meeting. I've heard all the blather about that's the way the seeds fall but come on now. Hindsight is always 20/20 but it's time to admit that TPTB, the draw gods, whoever or whatever, have taken away the possibility of the two best women players, regardless of rank, meeting in the Final. They've both looked very strong and one sister or the other has to be favored to make the semi's. This part of the draw also features
Amelie Mauresmo
who will face Ms Coin in the next round,
Nadia Petrova
who is playing well,
Alize Cornet
who is intent on showing she's an all around threat,
Dominika Cibulkova
,
Aggie Radwanska
, and the hottest woman on tour,
Dinara Safina
. It's just my humble opinion that the winner will come from the top half of the draw.
As for the bottom half Jelena faces Wimbledon semi finalist
Zheng Jie
this morning. Somehow I don't think her theatrics will affect Ms Zheng's focus. The bottom half also features
Caroline Wozniacki
,
Li Na
, and
Svetlana Kuznetsova
, who won it all in the last Olympic year US Open. If Caroline beats Victoria Azarenka today she becomes a favorite to make it out of the bottom half. It remains to be seen if she can beat anyone who will survive the top half.
I just want to pause here and say that I'm so glad that the USA commentators are calling the second stadium Louis Armstrong instead of Louie Armstrong. The late Mr. Armstrong clearly said that his name was Louis not Louie. Now if everyone could just practice the Russian and Eastern European names. I know it requires that lazy American tongues move a little less sluggishly but it can be done.
By the way am I the only one who found it amusing that Serena said she had no idea that Ana had lost during her pre-match interview last night? Poor
Elena Vesnina
never had a chance last night did she? Not for nothing but could someone tell me why a player has to break his or her prematch concentration to answer inane questions? I'm just sayin'.
The United States men are having a nice first week. Aside from
Andy Roddick
and
James Blake
players like
Sam Querrey
,
Mardy Fish
,
Bobby Reynolds
,
Robert Kendrick
,
Robby Ginepri
and
Sam Warburg
are still alive in both halves of the draw. Fish and Blake will play each other in a match that can be called a toss up. A good week for American men so far.
I should mention that was a joy to see the fiancee of qualifier
Ryler de Heart
actively, and knowledgeably cheering her man on last night. A far cry from the WAGS other than Mirka who wear a WTF expression through most of their men's matches and have to be told when to cheer and when a good play has been made.
That other Frenchman
Gael Monfils
seems to be playing well. In the spirit of the Olympics he did a handstand for the crowd yesterday. Other than the American men the French are having a good first week as well.
There is still a lot of debate about
Andy Roddick's
"body serve" the other night among fans. I don't see what the debate is about. In baseball it's called headhunting. Santoro ducked because the ball seemed aimed at his head. Call it what it was. Body serves are part of the game just like the brush back pitch is part of baseball. Headhunting is a horse of a different color and should not be encouraged. The video is on YouTube. Do a search under "Roddick vs Santoro". Then we can talk.
End Note
The usual slew of celebrities has been in attendance at the Open. Kelsey Grammar, Alec Baldwin and Aretha Franklin have been spotted in the crowd. Kevin Garnett, another regular along with Mike Wallace and Walter Cronkite haven't been seen as of yet.
Junior qualifying play begins today. Good luck to all the young people.