by Savannah
From
Steve Tignor
re Roger's second round Monte Carlo match. I left out all the, uh, fawning praise. That sounds good right? You can find it all by clicking on Steve's name.

Like

Pete Sampras,

(Roger) Federer

has too much game for clay. His shots are built to penetrate and his movement in transition allows him to close in and make the court smaller. The goal of the clay-courter is too make it bigger, longer, to open more space to loop the ball into. Today against Spain's Ruben Ramirez-Hidalgo, a true clay dog, it was clear that,

Jose Higueras

or no Jose Higueras, Federer wasn't going to change that. He stood on top of the baseline and ran around to hit bullet forehands as always. But it didn't matter what he did in the first set, because R-H was awful. He couldn't sustain a rally long enough to develop any rhythm or get his feet into the match, and his service toss had a disturbingly Dementieva-esque quality.

Still, if someone's tennis can be said to be "wiry," it's

(Ruben)Ramirez-Hidalgo's

. His trademark is his rolled-up sleeve on his right arm, the better to free it up for his stiff roundhouse forehand swing; it's distinctive enough that Novak Djokovic made it one of his—admittedly more obscure—impersonations at the U.S. Open last year. I watched in horror a couple seasons ago as R-H hung on to beat Marat Safin in a third-set tiebreaker on clay, in the tennis equivalent of a prolonged suicide. He got his teeth into this match as well, cutting the errors out, surviving his service games, and whipping a couple nice passing shots past Federer.

Even positioned far behind the baseline, with Federer on top of his, Ramirez-Hidalgo maintained control of the rallies for nearly two sets. On hard courts, Federer can use a one-two punch—forehand into the corner, midcourt ball to the other corner—and be confident it will end the point. Not on clay, where opponents routinely slide toward that first forehand with time to spare and send a looping ball back deep. In these cases, Federer tends to pull the trigger a couple shots early, as if he's not confident in his consistency. And it's true, unlike the true clay lover, Federer doesn't—or can't—hit the ball to precisely the same spot over and over and wait. It's not his game.

There was little sense of fear or nerves from Ramirez-Hidalgo as he built a 5-1 lead in the third. I got the feeling he thought he belonged there, that the aura Federer has had in the locker room had worn off to the point where even a confirmed 30-year-old journeyman no longer feared him. But I was wrong. R-H may not have feared Federer, but he feared the moment. On the other side of the net, Federer appeared listless and ready to pack it in during the third set. He drummed one backhand return into the bottom of the net at 1-3 and kicked the clay in muted frustration. Again, appearances were deceiving. He had a run in him.

The turnaround came with R-H serving at 5-2, 30-30. The Spaniard hit a hard shot to Federer's backhand. Federer scrambled to get the ball back and made a little grunt—probably his first of the day—in the process. Ramirez-Hidalgo drilled the ball into the other corner, but Federer skimmed low over the clay, slid, and sent the ball back with a squash-style forehand. He eventually won the point after a feeble attempt at a drop shot by Ramirez-Hidalgo. Then he broke him seconds later with a crisp bullet forehand to the corner. The rest was pretty much academic. By the tiebreaker, which Federer won 7-1, Ramirez-Hidalgo was a broken man.
Here are some excerpts from
Steve Cronin's
newsletter posted by "Moose" over on
TalkAboutTennis
Matt Cronin's newsletter is subscription only. The following is a summation of what was sent out this week.
On De Villiers:



ATP Board Tournament Rep

Charlie Passarel

(one of the owners of PLO@IW) has come out firmly behind

(Etienne)De Villiers

- translated, that means you can forget any action on the player's petition to review De Villiers contract before the end of this year, when it is scheduled to expire anyway. The petition to begin a job search to replace De Villiers immediately was signed by "almost all" of the Top 20 players - Federer and Nadal both signed it. Passerel says almost all the tournament directors like the direction De Villiers has taken the ATP, and that the players are being "conservative and stubborn". And for now, the players don't have enough clout on the Board to change things.



On Master Series/"Hard Events" for 2009:



There will be 8 "Hard" (you must play, or you get a 0 in ranking points that cannot be replaced with a different event, along with a hefty fine):



Indian Wells
Miami
Rome
Madrid (a new event)
Canada
Cinicinnati
Shanghai (another new event, post-USO)
Paris



The YEC (well, the "ATP Championship") will be hard as well, for the players who qualify.



Monte Carlo

will continue to be classified as a "Masters Series" event, with the same prize money and ranking points...BUT, it will not be a "hard" event.

The ATP and Hamburg go to court real soon - Hamburg organizers are fighting the ATP attempt to remove Hamburg as a Masters Series event. If Hamburg wins, the ATP will be forced to rearrange most of the 2009 calendar.



The players are angry about this move as well - many don't want to be forced to go to Asia after the USO, and others (guess who) don't want to be required to play all the "hard" clay events.

To be fair, many of the Gauchos don't want to have to play all the "hard" hard court events.
I may be wrong but I see a grand total of TWO required clay court events, Rome and probably Madrid. Just sayin'. I hope no one is surprised that the Canadian event is required while Monte Carlo, which would have lent some balance to this, well, hard court biased schedule is being pushed aside. I've talked about this before. I'm not talking about it again. I think this sucks.
But if the players opinions don't count I doubt very seriously that mine will.

Does Anyone Want To Give This Tournament A Home?
I wonder if the TD's strong support of ET against the players has to do with placating him for not letting the former Tennis Channel/Las Vegas Open be shipped off to De Villier's native South Africa? Based on this report from
Tennis-X
I'd say the gloves are off and the US Grand Poobah's are playing - dare I say it - hard ball.
Saddlebrook, in Wesley Chapel, just northeast of Tampa, is already home to U.S. players such as James Blake, the Bryan brothers, John Isner, Amer Delic and others, providing a built-in player base.

On the 2009 ATP Calendar the event is reportedly still the same week as the Dubai Tennis Championships, the well-monied tournament that is not a Masters Series event, but still attracts most all of the Top 10 players by handing out large under-the-table appearance fees.

Andy Roddick

played Dubai rather than Las Vegas this year, and

James Blake

skipped both events. Moving the event to Florida would assuredly attract a good deal of American talent, in addition to possibly the top-ranked Roddick and Blake.

Mardy Fish

also makes his home base in Tampa.
So does this mean if the event is relocated to Florida they will start paying "large under the table appearance fees"? Enquiring minds want to know...
Beijing Here I Come
Seems Andy Roddick is going to Beijing after all according to this report from
Guardian.CO.UK
BEIJING, April 23 (Reuters) - American Andy Roddick is skipping the Olympics but he will be in Beijing the following month to headline the first joint men's and women's China Open, organisers said on Wednesday.
The world number six will be joined by fifth-ranked Spaniard David Ferrer and women's number two Ana Ivanovic for the Sept. 20-28 tournament at the Beijing Tennis Centre.
I hope the sound of those cash registers doesn't stop you from reading the entire article.
WTA News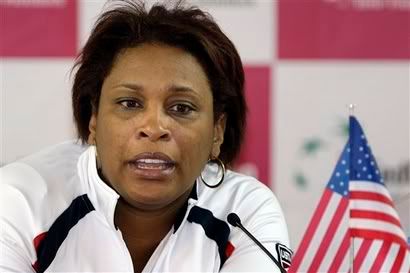 It's Fed Cup Weekend. There is a lot of talk about the quality of the team we're sending to this semi final. This is no reflection on the women who are choosing to go and represent their country. It's a reflection of tennis politics and the state of women's tennis in the United States. With
Serena
focused on winning big,
Venus
on indefinite hiatus, and
Lindsay
coming down with the flu we are fielding the best of the rest.
Vania King
is an up and comer.
Ahsha Rolle
is a product of the Hi-Tec program of the USTA.
Madison Brengle
is a well thought of junior.
Liezel Huber
, new minted US citizen, has the most experience. They will be going up against a Russian line up made up of
Svetlana Kuznetsova
,
Anna Chakvetadze
,
Elena Vesnina
and
Dinara Safina
. On clay. In Moscow.
The other tie features the P.R.of China against Spain. Spain is not sending it's top women. Think the Chinese women have pictures of the Spanish women mocking their features hanging up in their locker room? Yeah, me too.
Pictured above is
Fed Cup Captain Zina Garrison
. Below are
Ahsha Rolle
and
Madison Brengle.
Go USA!