by Savannah
The tennis world was quite busy this past week. For the men of the
ATP
there were three tournaments. Two were on real clay in Portugal at Estoril and in Valencia, Spain. There was one played on whatever that stuff is that's used as "clay" in the United States in Houston, Texas. The
WTA
played a Tier 1 event in Charleston on that same stuff.It's green in Charleston and red in Houston. Just keep in mind it's not really clay when you hear people raving about players winning their first titles on "clay". At least the winner in Houston admitted why he played there and not Valencia. Seems he made the right bet.
Next week the ATP will stage it's third Masters Series event in Monte Carlo, Monaco. The women will be playing Fed Cup. Meanwhile here are the men and women who won titles this weekend.
ATP Winners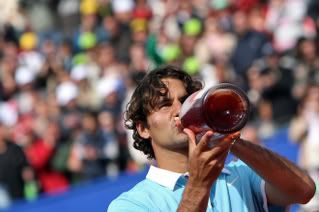 Roger Federer
won his first title this year thanks to
Nikolay Davydenko's
left leg injury at Estoril. Was Nikolay grateful for the vocal support Roger gave him during his tribulations?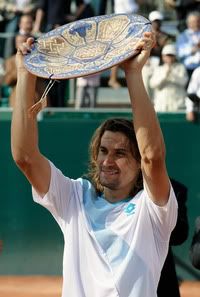 David Ferrer
overcame Nicolas Almagro to win Valencia. Here's a picture of David holding his trophy.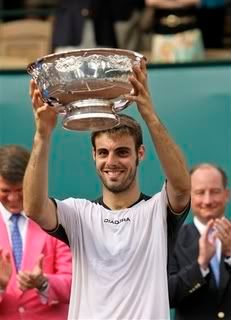 Marcel Granollers-Pujol
gave me whiplash. I checked the scores at Houston and saw that
James Blake
was up 3-0 in the third set. When I came back to finish assembling the pictures for this post imagine my surprise to see Marcel hoisting the trophy. I guess that answers the questions as to why American men don't play on the real stuff in Europe until they have to.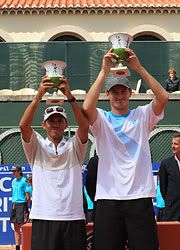 Coetzee and Moodie
won the doubles championship at Estoril.
WTA Winners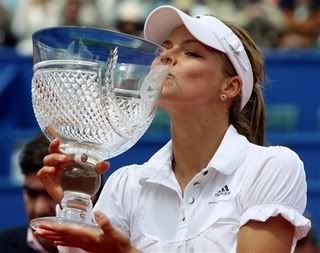 Maria Kirilenko
won the WTA trophy at Estoril. Maybe this will be the beginning of a turnaround in fortune for her this year.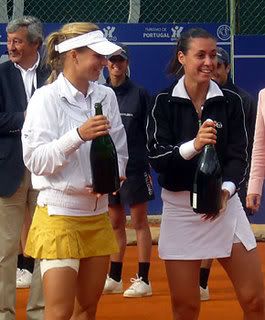 And guess what? Ms Kirilenko turned right around and along with
Flavia Pennetta
won the women's doubles championship at Estoril.
Congratulations Makiri.
Sugiyama Ai and Katerina Srebotnik 2008 Family Circle Cup Doubles Champions 2008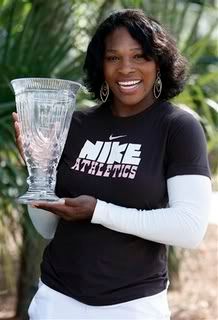 Recognize this woman? She won again this week. Do you think she has designs on winning that event they hold every year in the spring in Paris?