by Savannah
The women's tour moves up the Florida coast to the Amelia Island Plantation, one of the most beautiful stops on the WTA tour. Unfortunately this event doesn't always draw the strongest field coming as it does on the heels of the Sony Ericsson Open. The same is true this year. It is what it is. There are some intriguing match-ups among the up and comers of the WTA featured in the first round so if you are a fan of women's tennis it should be an enjoyable week from that perspective.
The Trouble with Jelena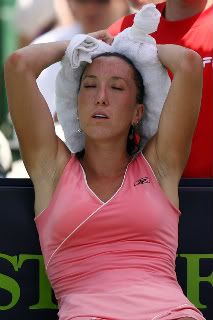 I have to say I'm a bit surprised at comments made by
Jelena Jankovic
during her post match presser. Jelena is known for her swing from the hip approach to things but there are times when her auto censor should kick in. The interview, found in it's totality
Here
was focusing on the medical time out and it's odd timing when this question was asked and the reply indicated was given.
Q. It was a crazy match. Were you laughing at yourself, looked as though.




JELENA JANKOVIC:

Where? During the match? I had all these actors when I was returning. It was just funny. I was thinking that one of the actors was in that movie, if you know, White Men Can't Jump. I was feeling when I was playing that match, I thought, White Girls Can't Play, you know. (laughter.)
It was ‑‑ I felt like that at a certain point when I was playing against Serena. I was just like there's no way I can play with this girl. She's just too strong for me.
But, you know, I could have done it, but she was just, you know, too good at the end.
Am I being a tad sensitive? Perhaps. But Jelena spends a lot of time in this country. She has lived in Florida a long time. Somehow I think she knew that what she said was offensive because she tried to clean it up.
To her credit she handled this bone head question well. Too bad they don't post the names of the reporters asking these questions.
Q. She screamed a little, but didn't you feel that she was overall much calmer than she usually is?
JELENA JANKOVIC:
I don't know how she normally is, because...

Q. She's usually screaming all the time.
JELENA JANKOVIC:
(laughter.) Oh, my God. I'm glad she was calmer and she didn't scream too much. I don't know what I can say about that. It's not mine to ‑‑ you can ask her, Serena, why didn't you scream as much as you normally do? What was the reason for that?
The first response may have just been her response in an unguarded moment. She handled this query - that came after the first comments - in a much better fashion. I can only imagine if Serena had uttered some version of Jelena's response though. I have to say that the Serbian charm is wearing thin when it comes to Ms Jankovic though.

FSN and Tennis
There were many posts on fanboards yesterday welcoming Mary Carillo's smoky voice back to the airwaves. In fact people seemed to greet CBS return to tennis broadcasting with unconcealed glee. Before you start thinking this all happened in vacuum you have to understand what tennisheads have been through the last few weeks. It started with the Pacific Life Open. Tennis matches don't always start out as scintillating affairs. Sometimes the players have to settle down before they really start to play. Sometimes the match is just horrid. Does that justify leaving a match in midstream to show, oh I don't know, anything that is not tennis? Apparently the crack heads, I mean crack staff at FSN thought so. It happened more than once. Someone there also thinks that all matches last about two hours. Uh-huh. Right.
Part of this has to do with the regional nature of Fox Sports. Some folks on the West Coast got better coverage than those of us on the East Coast or in the Mid West or South. During the Sony Ericsson Open the mens quarter and semi's were shown at 10p in the New York area while people in other parts of the country watched live. I am a subscriber to ATP Masters Series Television so I did have an option but not everyone can opt to pay for the service. There were times when Fox did do the right thing and extend their coverage but most fans came away with a bad taste in their mouths.
The only bright spot in this disaster was
Chanda Rubin's
work. When she did a match she told you the "why" of what you were watching. During the Kuznetsova vs Serena Williams match she talked about the physical and mental toll of playing the Williams siters back to back, especially in the heat and humidity of southern Florida. As a viewer you knew when Kuznetsova started to have problems because Chanda picks up and talks about the little things that go into playing tennis. The only time I heard Gimelstob give the women's game any respect and do anything resembling analysis was when he worked with Chanda on the Justine vs Serena match. The commentary regarding Justine's height and why she plays the way she does was eye opening for this fan and informed all my tennis viewing going forward in the tournament. I thought about this yesterday when Serena lost her way during the final. I wished Chanda was there to say why it happened not simply that it was happening. Chanda is about the tennis, not about smiles and pretty dresses or engagement announcements. That time out would have received a much more cogent explanation about how it affected the match and why Jelena chose to take an injury time out as opposed to the ten minute break she could have taken. Chanda even made
Ted Robinson
a better broadcaster. He let her talk. That he knew when he was outclassed amazed me.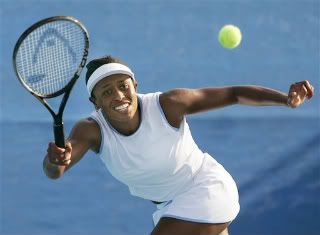 I missed ESPN. I said it. I mean it. Bass fishing and all. With Tennis Channel still on my cable providers not allowed list I would like to know that when live streaming is not available online I have a reliable source of tennis viewing. Do I forgive CBS it's unseemly haste in leaving the tennis match to rush to it's college basketball coverage. Kind of. At least they stuck with the match. FSN would have probably cut away at 2p.
Rating the WTA
So how did the WTA present itself this week? Was the product of sufficiently high quality to attract new fans? Did the Young One's make their case by doing well enough to justify the hype that surrounds some of them? Was there a worst ever match and a must see match?
I'd rate the WTA I've seen over the last couple of weeks as B-. I was going to give it a "gentleman's C" but there were a couple of matches that pulled the grade up. Number one of course was the Serena vs Justine match that finally lived up to what Serena fans thought a match between the two should be. Serena was not playing injured. She could move around the court and stifle Justine's play. It was nothing like the debacle I saw at last years US Open where an obviously injured Serena could only try and win from the baseline allowing Justine to drop the balls short and make winner after winner. Thanks to excellent commentary by Chanda and Justin I knew why Justine had been able to beat players bigger than her and make it look easy. I hope some of the women were listening and taking notes.
I was openly skeptical of
Ana Ivanovic
defending her number one seeding at Pacific Life but she did. I'm not a big fan of hers - probably because her sex appeal is lost on me - but she played the hand she was dealt quite well and added the Pacific Life Whale to her trophy collection. Ana has often been called Lindsay 2.0. Ms Davenport, 1.0, let the young upstart know 1.0 is alive and kicking thank you very much in Miami. It didn't matter that Lindsay lost in the next round. She'd made her point.
The worst? I was looking forward to the
Vera Zvonareva vs Dinara Safina
match since I had never really seen Vera play. I still haven't. I couldn't watch that match it was so bad. Vera sits with her towel over her head during breaks. Cute. I wish I'd seen her play.
The WTA Watch List
Micaela Larcher de Brito
(Apparently her parents wanted to name her Michelle but the name was rejected as not being Portuguese enough hence her legal name of Micaela.) is now firmly on a lot of people's radar. From what I hear deservedly so. Again I didn't get to see her play.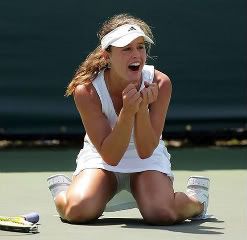 Caroline Wozniacki
is hungry, good, and wants it all. I think she'll get it. Venus, her sometimes doubles partner, took her to school but that was to be expected. I see a bright future for this fiery young woman.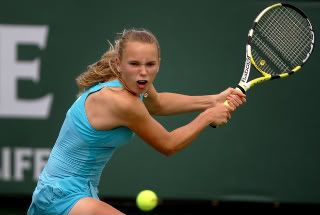 Aggie Radwanska
- She was "meh" over the last two tournaments. She hasn't followed up that big win at last years US Open the way a lot of fans expected her to. Going from the hunter to the hunted can be nerve shattering. It'll be interesting to see how she does going forward this year.
Sabine Lisicki
- Another young woman who is about making a name for herself. It's been awhile since there's been a good German female hasn't it? Sabine may be the woman to help put German tennis back on the map.
Chan Yung-jan(Latisha)
- She's built like a brick shit house and has been playing her way onto the map. She plays a lot of doubles and is often deep in those draws. People who have seen her play singles are impressed with her and feel she can become a star of the WTA. I mean no disrespect to Yung-jan. She has been quoted as saying that Westerners mangle her first name so badly it's better that they call her Latisha. By either name I think she's going to be a star.
Melissa Torres Sandoval
- I became aware of her during Acapulco this year. She made it to the second round but she's got the potential to play more than lower tiered events. She chalked up a win last year over Daniela Hantuchova at the Kremlin Cup.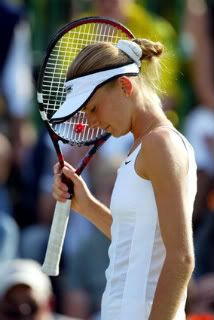 Tamira Paszek
- There are still a lot of problems with her game and fitness but she's definitely on the watch list. Like all the others mentioned here she's quite young so time will tell.
I wish there were American women I could point to and say they're on the Watch List. A couple of them were on display during Miami. I don't think any of them made it past the first round. I will do a more in depth look at American women as a separate article later in the year. Maybe one of the young ones will have broken away from the pack.