by Savannah
ATP Off Court News
The off court news taking place while the Sony Ericsson Open is under way in Miami is interesting. Some would say that the big news is the announcement of Andy Roddick's engagement to Sports Illustrated swim suit model Brooklyn Decker whom he met towards the end of last year. Ms Decker was seen courtside looking somewhat lost but making sure the world saw the ring that now graces the ring finger on her left hand. No date has been set for the nuptials.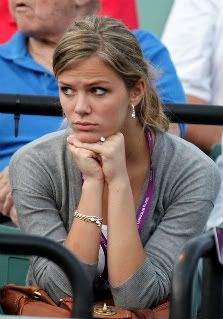 While news of Andy's engagement may send some screaming into the night there is a war going on behind the scenes regarding the fate of the Tennis Channel Open aka the Las Vegas Open.
Charles Bricker
reports in his blog that
Arlen Kantarian
, head of the USTA has let
Etienne de Villiers
of the ATP know in no uncertain terms that it will fight to the last Gucci loafered man to make sure the event stays stateside and is not moved to de Villiers native South Africa. While this Battle Royale is going on
Butch Buchholz
, Chairman of the Sony Ericsson Open is trying to put a group together to move the tournament to Saddlebrook which is located just outside of Tampa, the place Justin Gimelstob has let all tennisheads know is the place American players live and work. Nick's little establishment is strictly for foreigner players Justin quipped but I digress. Bricker quotes James Blake, a Saddlebrook man,opining the number of tournaments that have left the States for foreign shores. I'm sure there will be more on this as the year goes on.
Interestingly enough I found this aerial shot of
Saddlebrook
on it's official site. There appear to be clay courts on the premises. So why do American's suck at clay court play again?
On Court News
I'd like to take a moment and give shout outs to Mohammed Layani and Carlos Bernardes. Both these men have been doing a yeoman's job chairing matches and navigating the egos of ATP players during the SEO. Not that Norm Chryst or any of the other chair umps have been slackers. It's just that when these men chair a match rules are enforced with clarity and precision.
It fell to
Cedric Mournier
to chair the night match between
Mikhail Youzhny
and
Nicolas Almagro
. The late afternoon/evening matches on the mens side have been quite entertaining. Not jump out your seat screaming matches but matches that you watch because actual tennis is being played. Murray/Ancic comes to mind as does Canas/Gonzalez. If you were fortunate enough to see these matches you were treated to tennis matches that featured strategy, point construction, and theatrics. If you watched the Youzhny/Almagro match you may have thought you were watching ECW.
Youzhny, in a fit of pique, hit his head repeatedly with his racquet eventually drawing blood. I don't think the ATP Rule Book mentions self inflicted wounds and how to handle them. Quite a few tennisheads think that Youzhny should be reprimanded or fined in some way. Almagro was the one serving and who had his rhythm broken while the cut man, uh, doctor tended to Mikhail. Almagro, a look of stunned disbelief on his face, came over to make sure his peer was okay before retiring to his corner, uh, going back to his side of the court. The video is available on YouTube. Here's a still picture of Youzhny after he sliced his head open.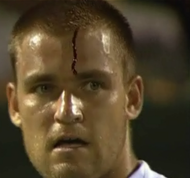 Was Mikhail intentionally stalling? I don't think so but what he did resulted in a delay of the match on Almagro's serve for the set. I wonder what Steve Uhlrich would have done? I'm sure there's going to be discussion about this among TPTB in the ATP.
As for the WTA quite a few of the new girls on the block were featured here.
Michelle Larcher de Brito
of Portugal and
Sabine Lisicki
of Germany played here.
Caroline Wozniacki
made it to the fourth round until she ran into her doubles partner, someone named
Venus Williams
. When you look at the quarters however you see the following match ups:
Justine Henin vs Serena Williams
Svetlana Kuznetsova vs Venus Williams

Elena Dementieva vs Jelena Jankovic
Vera Zvonareva vs Dinara Safina

The only surprise here is probably
Vera Zvonareva
. Not that she doesn't have the talent. It's just that she's never really played consistently before.
Dinara Safina
who everyone knows can play very very well should have been in this position much more than she has been recently. Otherwise it's the old guard coming through in the later stages of a WTA Tier 1. Of the new girls Larcher de Brito, at fifteen, is the youngest and is restricted in the number of matches she can play. There is lots of promise but right now experience is trumping enthusiasm. I do think a lot of people expected two Serbian women to be in the quarters though.
WTA Off Court News
While South Africa is angling for a major on the men's side word is Serbia has reached agreement with the WTA for a new tournament to be held in Belgrade next year in either February or October.
Serbian Reports
say the event will be a Tier II which will allow both
Ana Ivanovic
and
Jelena Jankovic
to play. Prize money is said to be set at $750,000.00 US dollars. The date will be set around Wimbledon.
The Daily Mail
is reporting that the Lawn Tennis Association of Britain is looking to merge the womens pre Wimbledon event at Eastbourne with the men's event at Nottingham beginning in 2009. The event would be held at Eastbourne. Organizers are looking to have
Andy Murray
and
Maria Sharapova
anchor the new joint event. Reports are that Sharapova has not ruled out her participation. Murray may opt to play at Queens.
End Notes
It's a fact of life that when learning a new language many people learn the curse words and phrases first. That being the case if you watched
David Ferrer
the other night you got a master class in Spanish curse words. If you watched the "court" feed instead of the AMS feed that is. He also smashed a racquet. While he's far from one of the top players in this category he did a bang up job. Sorry.
For non English speakers
Andy Roddick
has been a great teacher this week. And he kisses his fiancee with that mouth too.
Lindsay Davenport
dismantled
Ana Ivanovic
this week. I guess it's not a good idea to crown someone as the successor to a person's throne while that person is still playing is it? Lindsay, who is not a fan of Miami, lost in the next round but I think she made her point.
Pictures of the Week
Miami. It's hot. It's humid. All of that seems to come together in this picture of
Ivo Minar
during his match last night against
Andy Roddick
.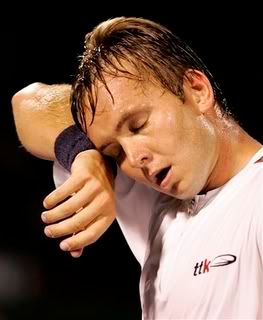 They don't want it anymore. They're headcases. They're playing under a cloud. Not ready for primetime. Right.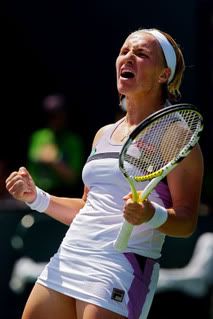 Svetlana Kuznetsova
Jo-Wilfried Tsonga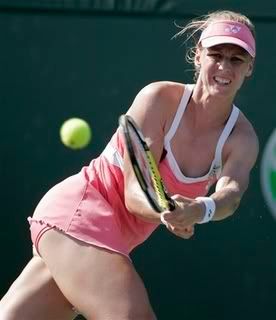 Elena Dementieva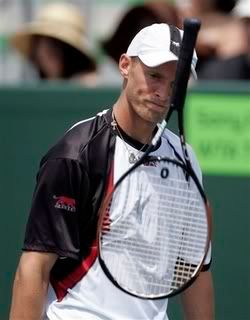 Nikolay Davydenko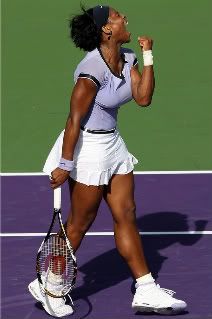 Serena Williams