by Savannah
Television coverage of the Sony Ericsson Miami Open a.k.a. The Fifth Slam starts Saturday March 29. Actual play started Wednesday March 26. There was qualifying play before that. No need complaining about qualifying play not being televised because it is understandable. Tennis is a "niche" market at best as far as television is concerned. Besides there's pre season baseball for the true American fan. Forget the dubious quality of the games. It's the American pass time. Who cares about a bunch of non golden players trying to fight their way into the main draw of a major tennis tournament anyway?
But Main Draw play started Wednesday. There were players and matches that the Grand Poobah's of sports television feel are unwatchable but whom tennisheads would love to see. A couple of matches I would like to have seen come to mind. The first pitted
Tamira Paszek
of Austria against
Alize Cornet
of France. These are two up and coming stars in the women's game. Both have had spotty results but have also shown flashes of what can be called great potential. Who cares? No television for this match.
Another interesting up and comer on the ladies side is
Michelle Larcher de Brito
of Portugal. She's all of fifteen. She had a much more experienced player choke against her. Staying with the women there was also
Coco Vandeweghe
of the United States going up against
Sabine Lisicki
of Germany. But again who cares? A bunch of foreigners some would say and one who has not been deemed golden as of yet. Who wants to see them?
The story on the men's side is different. There are several stories in fact. The first involves the granting of wild cards. These are the special invites that allow a lower ranked player direct entry into the main draw of a major, or not so major, and for an event like this they're coveted.
Donald Young
, who has been having good results as of late, was not granted a wild card and found himself qualifying. What some say should have been his wild card went to
Gustavo Kuertin
of Brazil, a perennial fan favorite and someone the presumed fan base of the Miami area would want to see.
Fans found out that Gustavo has to manually adjust his hip into place every now and then, something he discussed after his first round loss. Donald went out in the first qualie round, something that didn't surprise me. Donald is young (no pun intended) and tennisheads will have time to see him mature into the good player many think he will be. There is not enough time left for fans to see Gustavo the reasoning goes hence he got the wild card. Before taking sides in this remember that the SEO is an IMG event. Donald is repped by Octagon now. Doesn't that make it all simpler folks?

Marat Safin
, another great fan favorite (well maybe more among the female tennisheads than the male ones but I digress) has not had a good showing all year. His woes continued. Should he hang up his sneakers? Should he go see a sports shrink? Should he swallow his pride and play a Challenger or two or three? These are decisions for Mr. Safin to make. Fans will speculate. I'm just sayin'.
Gael Monfils
has apparently decided to come back to the courts and did so with a very nice, and totally unexpected by this fan, win over American
John Isner
. Guess all that adulation for Ti-Ali got Gael thinking about what should have been. I know he's had injury issues so don't beat me up. I just think he's always underperformed. Maybe now it'll be different.
There's a report out that
Roger Federer
will be undergoing further tests for the "glandular fever" that's plagued him so far this year. Glandular fever? There is no separate category for it on
WebMD
But back to the lack of television coverage. Shouldn't a perk of being a subscriber to ATP Masters Series Television be early round coverage? I can understand the usual live streaming sites being shut out of the early rounds but I don't understand why AMS TV, a paid service, is shut out as well. Just asking the question.
The
BBC
is reporting that Nikolay Davydenko will be cleared of all match fixing allegations. The relevant paragraph is this one:
...And that may prompt retributive action from the 27-year-old, with Immenga saying: "We're certainly looking at it. The whole inquiry has been a farce."
I love British understatement don't you?
Pics and More Pics
With no television coverage pictures have become the only way to see what's going on. Here are some of the more interesting ones.
The following pictures are
Courtesy of the 2008 Sony Ericsson Open
David Ferrer
as mixologist
Nikolay Davydenko
mans a toll booth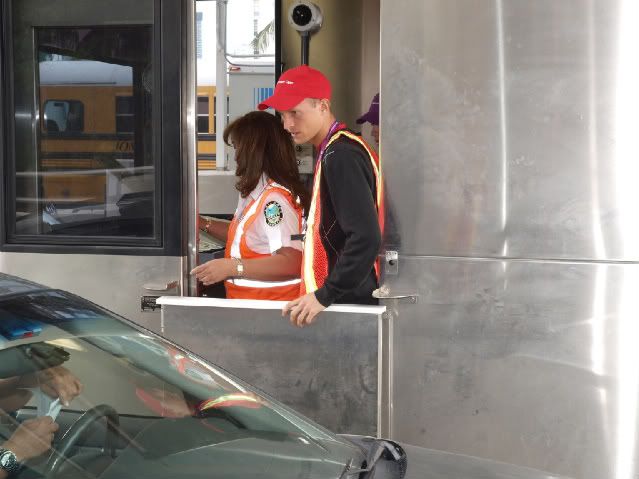 Sabine Lisicki
and
Tamira Paszek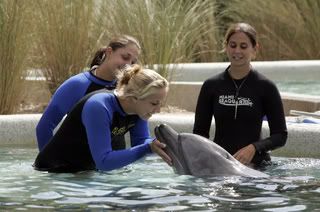 Players Party Pics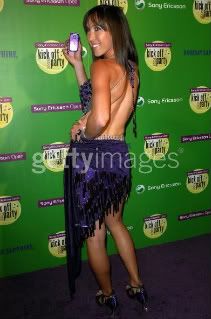 Jelena and her cell phone(s)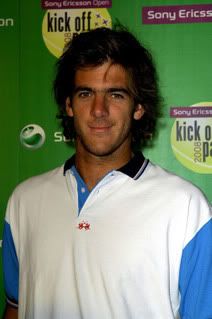 Juan-Martin cut his hair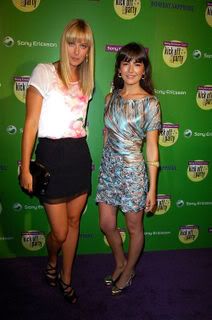 Maria and Camilla put in an appearance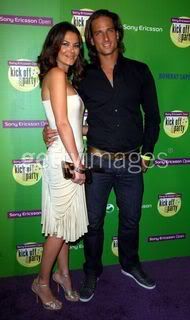 Feli and his lady love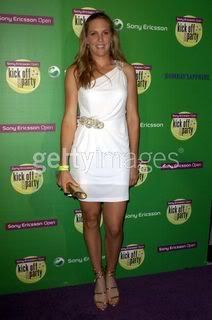 Nicole looking very mature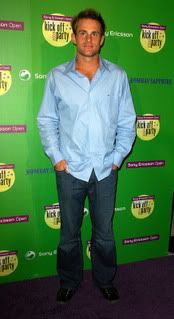 Andy looking fresh out the box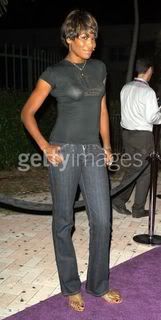 Venus and her white bra. Maybe she forgot about the flashbulb effect?
Artistic Flourishes
Shadow and light play continue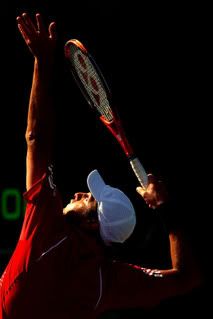 Mario Ancic by Matthew Stockman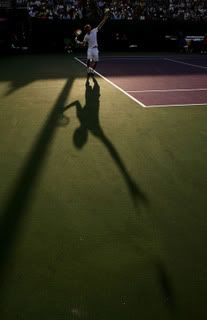 Filippo Volandri by Al Bello