by Savannah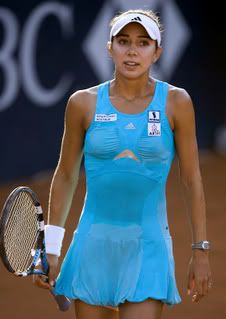 That is how the WTA treats every player not named
Sharapova
. She of course is the Golden Girl, the one who tour sponsor Sony Ericsson has made its world wide spokesperson. Not the women of the tour. Just the Golden one. And that is the WTA's loss and missed opportunity. It's been awhile since I've had a chance to see women's tennis outside of the usual American or European tour stops and I have to say that this week I got a chance to see the joint ATP/WTA stop at Acapulco, the end of the spring South and Central American swing, and the Dubai women's final. Lets just say you need to open your wallet to be able to see either of these, or have a good ISP. Acapulco was carried live on ESPN Deportes which is a paid addition to the cable menu in my neck of the woods. The Dubai event was carried live on a Russian television feed that costs 43 euros every three months. That translates to $65.00 American. With the exchange rate I think you all can do the math for what the feed costs. Is it worth it? Yes. I'm learning to read Russian to boot.
But I digress. I saw Dubai first. Given the participants,
Elena Dementieva
and
Svetlana Kuznetsova
, I had no idea what kind of match I'd see. The last time I saw Elena her serve was, well, to be kind, weak. Svetlana Kuznetsova in my mind plays well to get to a semi or a final and then goes on walkabout forgetting that the object of the game is to get the ball over the net.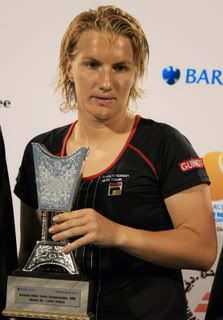 The match turned out to be quite good. Both women came out fighting and Kuznetsova snatched the first set from Elena with bold confident and aggressive play. Elena looked like she was going to wilt in the second set but fought past her nerves and self doubt and found a way to win. Elena has worked on her serve and while it'll never create a sonic boom when it works it works well enough to let her establish her powerful ground strokes. All even after two the third set started. I should say that in the middle of the second set Kuznetsova began to spray balls all over the court while Elena seemed to focus and begin to play with more confidence and aggression. It was a matter of whether Elena would hold onto her confidence. She did.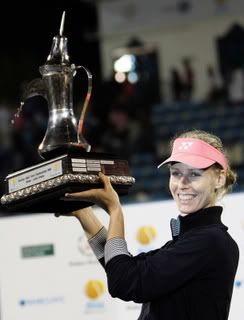 I'm not a big fan of hard court tennis but this match had all a good match needed; strategy, building points, and good play.
As I said I'm lucky enough to pay an extra few dollars a month to Cablevision to see ESPN Deportes. It's the Spanish language ESPN outlet and sometimes they offer their own coverage of events featuring players of interest to their demographic. This week they gave excellent coverage to Acapulco. This coverage was also available on ESPN360, one of the best things ESPN has done. All that is required is that your internet service provider subscribe to it. Mine does. Play started late in the day but they gave complete coverage to the matches played on Center Court and occasionally to those on the second court when a top seed was playing.
From the beginning it was clear that
Flavia Pennetta
was on a mission. She'd started out well last year and then seemed to go completely off track. She came into Acapulco with one title under her belt and it remained to be seen if she could hold it together and win it all in Mexico.
Acapulco is a clay court event. I'm a fan of clay. A big fan of the dirt. And it was great seeing clay court play so early in the year. The South/Central American clay court swing is a nice set up for what is to come. With television coverage this go around it was nice seeing the players this viewer rarely gets to see. It was a total treat. Hearing the players speak and seeing them off court, Flavia showing us what is in her tennis bag as well as her fluency in Spanish was cool.
David Nalbandian
trying to catch a wave was great.
Nico Almagro
showed us his hotel room. Again, seeing the players, these players, treated as the top athletes they are was a good thing and left me thirsty for more.
About the women's final; French teenager Alize Cornet fought her way to the final for the chance to play Pennetta. I thought Pennetta would have an easy two setter against Cornet who had had trouble with the heat and the sun during her semi final match. The match was played at night so the sun wasn't an issue. And Cornet was not just happy to be there. She fought the more experienced Pennetta forcing a third set. Pennetta does not have a "big" game but she has a good one. And her skills are solid. She was the top seed here and she played like it. It was a good match and one that is very relevant to the clay court season coming up. Both women showed they're ready for it.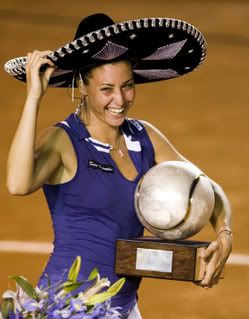 These two matches made me a WTA fan again. Two different surfaces half a world away from each other showcased the women's tour quite well. But will any of these women ever be seen waving Sony Ericsson products around on a billboard near you? I doubt it. Kuznetsova is deemed unmarketable. Elena Dementieva is a very attractive woman but you'll never see her dolled up and smiling down at you as you drive by. She has done some great photo shoots but she is not golden enough. Forget Flavia Pennetta. I've seen her in person and let me tell you pictures do not do her justice. But she is not golden enough either. Cornet is average in looks. She'll never be golden enough for the image makers. And it's that myopia that is causing the WTA to lose fans. I know I'm beating that same dead horse but these were the types of matches that got me hooked on tennis in the first place. This was back when on the weekends you could see tennis on network television. Now you have to pay to see these matches. Everyone who is a tennis fan isn't able to do so which is why live streams have become so popular. Tennisheads will stare at a postage stamp sized screen in order to see the sport they love.
And should I mention that new mother
Lindsay Davenport
continues to show that with grit and determination an "older" player can carve a niche for herself on the tour. Isn't that a great feel good story that could bring young mothers to turn in and watch a match? Apparently not.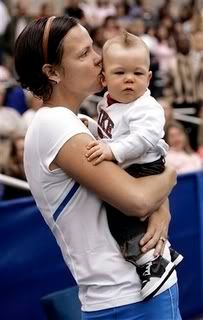 Mexico showed that it has a promising young woman player as well.
Melissa Torres Sandoval
(pictured at the top of this post) impressed with her gutsy first round win. She lost to the eventual finalist Alize Cornet. It'll be interesting to see what she does the rest of the year.
The WTA is once again becoming a laughing stock. It's too bad it wasn't easy for fans in the States to see these two good matches so that they can see that there is good women's tennis being played even if it's not "golden".
The Winners
Here are the rest of the winners from last weeks play. I saw nothing of Memphis which was played right here in the States. Go figure.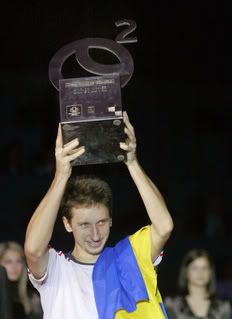 Sergiy Stakhovsky of Ukraine winner PBZ Zagreb 2008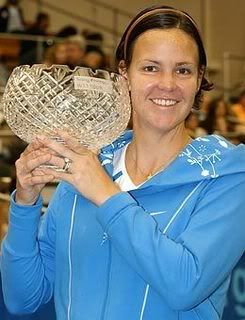 Lindsay Davenport Woman's Champion Memphis 2008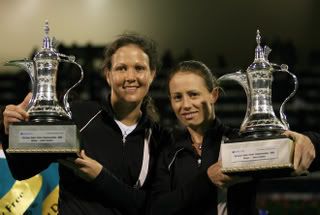 Cara Black and Liezel Huber Women's Doubles Champions Dubai 2008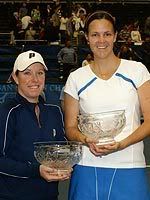 Lindsay Davenport and Lisa Raymond Doubles Champions Memphis 2008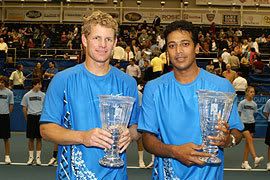 Bhupathi and Knowle Doubles Champions Memphis 2008
Nicolas Almagro Men's Champion Acapulco 2008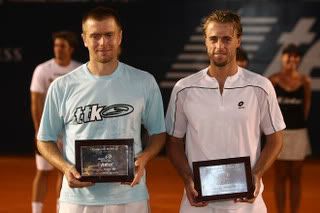 M Mertinak and O Maranch Doubles Champions Acapulco 2008
Llagostera Vives and Martínez Sánchez Womens Doubles Champions Acapulco 2008
Congratulations also go out to P Hanley and J Kerr Doubles Champions PBZ Zaghreb 2008