by Savannah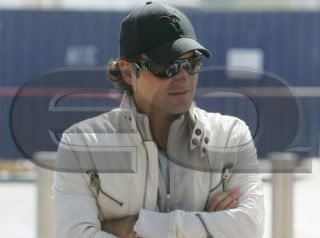 The biggest story of the week? The international paper of record,
The New York Times
reports that
Roger Federer
has been diagnosed with mononucleosis aka the "kissing sickness". I'm sure most tennisheads want to know how the men's number one could have come down with this disease. Thanks to
WebMD
a brief overview follows.
What are the symptoms?

The most common symptoms of mono are a high fever, a severe sore throat, swollen glands and tonsils, and weakness and fatigue. Symptoms usually start 4 to 6 weeks after you are exposed to the virus.

Mono can cause the spleen to swell. Severe pain in the upper left part of your belly may mean that your spleen has burst. This is an emergency.
How is mono diagnosed?

Your doctor will ask you questions about your symptoms and examine you. You may also need blood tests to check for signs of mono (monospot test) and the Epstein-Barr virus. Blood tests can also help rule out other causes of your symptoms.
How is it treated?

Usually only self-care is needed for mono.

* Get plenty of rest. You may need bed rest, which could keep you away from school or work for a little while.
* Gargle with salt water or use throat lozenges to soothe your sore throat.
* Take acetaminophen (such as Tylenol) or ibuprofen (such as Advil) to reduce fever and relieve a sore throat and headaches.
* Avoid contact sports and heavy lifting. Your spleen may be enlarged, and impact or straining could cause it to burst.

In severe cases, medicines called corticosteroids may be used to reduce swelling of the throat, tonsils, or spleen.
Have Coach Will Travel - Or Not
So you're a tournament director in a country called, oh lets say, Dubai. Thanks to oil wealth you can pay the top players in the world to show up to your event and put on a show for the tennis world. And they all come. Among those who come are a player from Spain who is best known for his good looks and an American who many say has seen better days. Tennisheads around the world turn into live feeds or if they're lucky television broadcasts to watch the best in the world and hope for a stellar final between two of the top three players. Instead these two guys will be playing each other.
Feliciano Lopez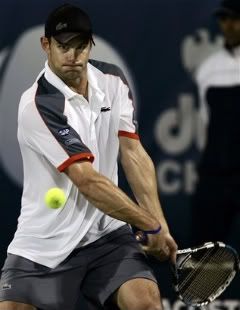 Andy Roddick
Roddick, who announced that he is no longer being coached by
Jimmy Connors
has shown the form he exhibited when he won the US Open in making the Dubai Final. Lopez is the last man anyone would have picked to make the final of what was one of the strongest men's fields outside of a Slam or a Masters Series event.
A lot of Andy's fans are over the moon about Roddick's play this week and they should be. They're also ecstatic that Connors is no longer in Andy's corner. Many blame Andy's shameful behavior against rising Japanese teen
Nishikori Kei
in Memphis on Connors malefic influence. In my opinion if all Connors did was point Andy away from what he'd been doing and given him back the confidence he had when coached by
Tariq Benhabiles
he'd done all he could for Andy. I also don't discount Patrick McEnroe's influence on Roddick.
Lopez has always been a player who perplexed tennis fans. There would be flashes of brilliance followed by extended mental walkabouts. Maybe he's tired of being considered model material instead of a top tennis player. He goes into todays match the decided under dog and I don't expect him to win but I do hope he puts up a good fight. There's not much more to ask of him. Yet.
Bangalore
Venus
and
Serena Williams
have apparently found something to do while not playing the Pacific Life Open at Indian Wells, California.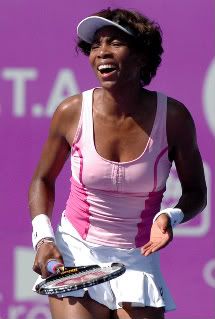 Both sisters showed up in Bangalore, India bringing instant star power and power tennis to the sub continent. They would have been seeded 1 and 2 meaning they could only meet in the Final but
Jelena Jankovic
decided she wanted to play. She was granted a wild card and seeded number one. That is why Venus and Serena are playing today's semi final against each other. The other semi final will be between Yan Zi and Patty Schnyder. Where is Jelena you ask?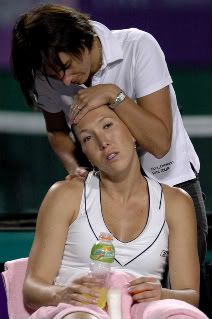 As I said Yan Zi of China is playing in the other semi.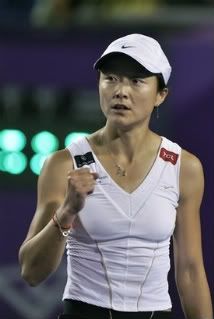 Las Vegas
This is the tournament Andy Roddick used to play instead of going to Dubai. Once again even though I live in the States I haven't seen any of this event. Suffice it to say that only one seed, Guillermo Canas, seeded number four, made it to the semi finals.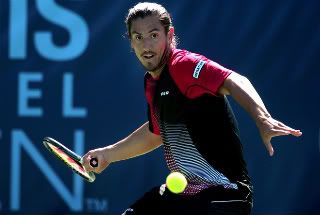 Guillermo Canas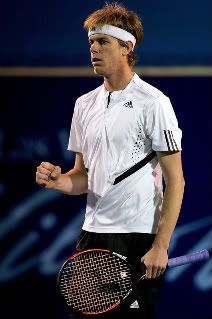 Sam Querrey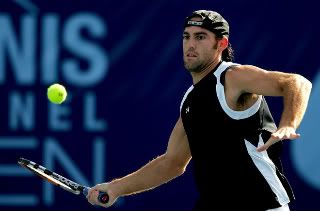 Robby Ginepri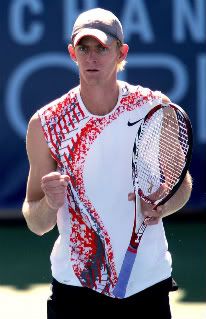 Kevin Anderson
I guess we're going to see just how deep the ATP is this year.