by Savannah
Today is the last day of the World Group Quarter Finals and the Zonal Playoffs. Davis Cup is of course the patriotic duty of every tennis player able to wield a racquet at a high enough level to represent his country.
I thought about this as I read about French Captain's
Guy Forget's
dilemma. His problems started when
Jo-Wilfrid Tsonga
had to return to France due to injury. Forget still had a pretty good team with French Number One
Richard Gasquet
available or so he thought. Richard, citing blisters and a nagging injury announced he was not available to play the opening rubber against America's
Andy Roddick
.
Michael Llodra
stepped in at the last minute and while doing the best he could went down to Roddick in three sets. The second rubber featured
Paul-Henri Mathieu
against
James Blake
. Blake, once again showing he needs to be pumped up by a friendly crowd managed to steal a win from Mathieu who at one point had two match points. The United States looked to be in the catbird seat up 2-0 against a reeling French team. With doubles on tap next it appeared Sunday's rubbers would be dead ones to many observers. With the custom designed lightning fast court the twin brothers Bob and Mike Bryan were thought to have a cakewalk match. Oh sure the French doubles team of Mikel Llodra and Arnaud Clement had defeated the Bryan twins at Wimbledon last year, and of course the twins had been struggling of late but have no fear the conventional wisdom went. The Bryans would blow the "clay courters" out of the building.
I guess someone forget to tell Llodra and Clement. An errant shot by Clement during the first set tie break allowed the Bryan twins to steal that set. Justin Gimelstob was hyping the idea that the surface at Winston-Salem be used at the US Open to a literally captive audience, and doing his usual thing making the twins seem to be able to walk on water. But midway through the second set the glory train got derailed. Errors, and lack of movement began to creep into the twins game. I've seen them play better. But those guys weren't in the building yesterday as the French proceeded to dismantle the twins and win the next three sets putting France back in the tie with the United States lead now 2-1. The talk about the surface of the US Open being changed to ice had disappeared.
Which brings us to Monsieur Gasquet.
Tennis Week
reports the following.
Forget has Gasquet, the French No. 1 on the bench and, apparently this enigmatic player is now ready to step in although he seemed to need another long talking to from his captain in the corridor outside the French locker room last night.

When asked about this Forget was very frank.

"I'm not begging him," Forget said. "If he doesn't want to play he won't go out. I'm not going to tell him 'You must go out' because I know he will probably just get mad at me or he will go out and say 'Well I didn't want to play and I lost so you knew about it.' I don't want that attitude. I expect the opposite. That's one of the things we've talked about and we'll talk more tonight."

Gasquet's attitude is baffling. He is exceptionally gifted with possibly the greatest backhand in the game but he appears mentally fragile to a ruinous degree. As a result, Forget may decide to stick with Mathieu, hardly a tower of mental strength, either, but certainly more willing to put himself on the line. Then there would be the other option – Clement. The person who beats Roddick, if anyone can, is going to have to return like a wizard. Few people return better than the man from the South of France and, as his compatriot Fabrice Santoro has proved time and again, size does not always matter in tennis.

Above all, Forget wants to be sure that the player he sends out to do battle for France really believes he can win, even if the opposition is a power serving giant called Roddick, playing on a lightening quick court.
Enigmatic? Mentally fragile? How about Forget telling Richie to take his shitty attitude and get on the next thing smoking back to Paris? If he doesn't want to play then don't. Llodra, who should be on the bench, says he's ready to take the court against Roddick. Clement is the fresher player right now but Llodra didn't do badly the other day. We'll see. If Richie Red Shoes takes the court the United States can book it's flight to Spain in the fall.
Other Davis Cup News
Australia, with
Lleyton Hewitt
heading it's team, stormed past Thailand to get back into the World Group playoffs. Thailand fielded it's top players but they were no match for a determined Australia.
India won it's tie over Japan 3-2. Japanese teen sensation
Nishikori Kei
won his dead rubber match. With India's team captain
Leander Paes
denying that he slammed his long time doubles partner
Mahesh Bhupati
in the press it'll be interesting to see what happens with India in the World Group playoffs. The team had voted earlier this year to oust Paes from his position.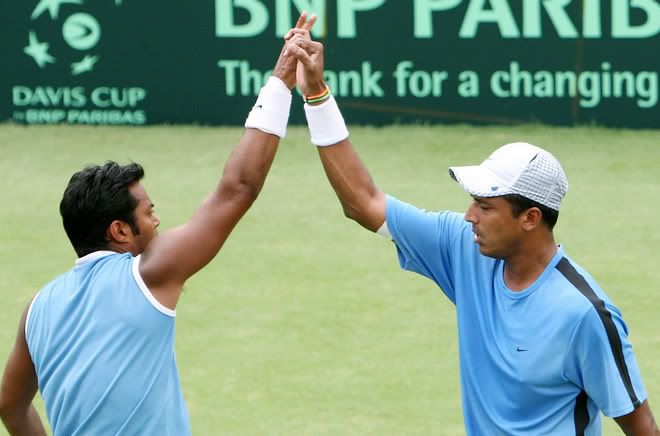 In addition to
Australia
and
India
making the World Group playoffs
Chile
and
the Netherlands
also got through.
Adding fuel to the fire of the debate about the role of luck versus being good in tennis Team Russia awaits the winner of the Argentina vs Sweden tie. Russia's
Nikolay Davydenko
won his match over the Czech Republic's
Tomas Berdych
after Berdych severely twisted his ankle. As I write this
Robin Soderling
of Sweden is up two sets to one over
David Nalbandian
of Argentina. My live feed came back just in time to see some miscreant escorted from the stands by security in Buenos Aires. Who says the fans aren't passionate about Davis Cup?
Speaking of Passion, here are some pics of Davis Cup players who know what it's all about. There are even some French players included. Richie?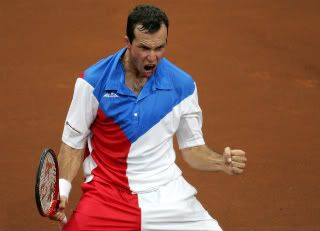 Radek Stepanek
of the Czech Republic
Nicolas Massu
of Chile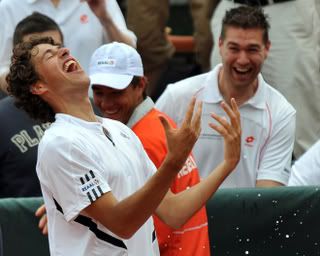 Robin Haase
of the Netherlands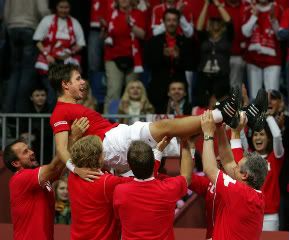 Team Switzerland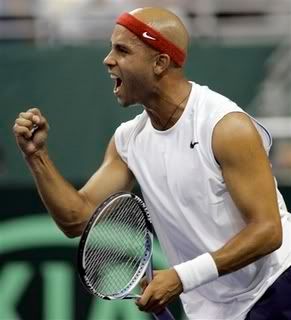 James Blake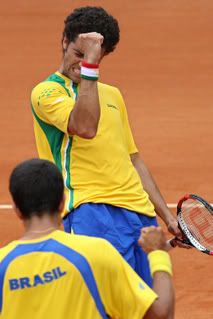 Andre Sa and Marcelo Melo
of Brasil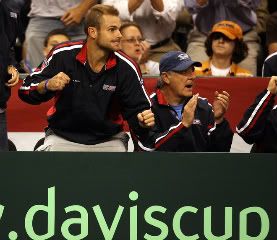 Andy Roddick
of the United States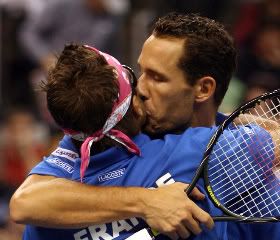 Michael Llodra and Arnaud Clement
of France