by Savannah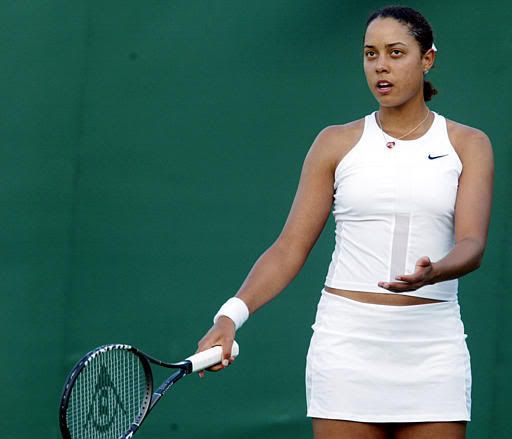 Alexandra Stevenson. Daughter of Samantha Stevenson and Julius Irving. Pretty good tennis player as I recall. Then she suffered a serious shoulder injury. Not one that comes and goes but one that required surgery to repair. Ms Stevenson had the surgery in 2004. It is now 2008. Today, April 14, she won a WTA main tour match, her first in quite sometime. Someone thought to interview her for newspaper called the "Post and Courier". The reporter is a man named
Philip Bowman
. It's a good interview. Mostly it's a good interview. Here's an excerpt.
'This win today was very important because it was tough out here and I need to make some money,' said Stevenson, who turned pro in 1999. 'I have to pay my bills. It's just not about tennis. It's about surviving. Each match I win, I can survive a little more, move up in the rankings and get my career back.'

Money is important. But returning to the top of the tennis world is equally as important. A return to the top is proving to be grueling physically and mentally.

First there was the recovery.

She spent the first year getting the motion back in her shoulder. She spent the second year working on motion and strength. The third year entailed working on motion, strength and endurance.

'The pain, you actually feel, it's worse than giving birth, although I don't want to find that out for 10 more years,' Stevenson said. 'You know how many people told me to quit? Thousands. That made me want to come back more.'

She says many people do not remember her. 'They do at airports. I do have to say the black population has my back, because at airports they'll come up and say, 'When are you coming back. We want you back.' '

She will also hear, 'That's Dr. J's kid.'

'That kind of ticks me off,' Stevenson said. 'But they don't mean it to be mean. They think it's cool. So I have to understand they think it's cool.'

The trips abroad can be humbling, too. She played in a tournament in Bangalore, India, in March. She described the stadium as a bullfighting arena with three tennis courts.
You see she had me up until she talked about a bull fighting ring in Bangalore, India. I'm at a loss. I know tennis players are notoriously self centered but I think most people know that to the Hindu a bull is sacred. Hindu people do not eat meat. Does India look like Spain to Alex? Does she realize India is trying to upgrade their tennis and that two very famous female African Americans both played there recently and that one of them actually won the event? Have you heard one snarky word from Serena or Venus who have both played in India? Does she realize she and her mother are poison to many tour directors? Maybe not. Don't bite the hand that feeds you Alex. It really is that serious Alexandra.
Richard Gasquet
I think Richard Evans of Tennis Week writes the end piece to the drama of the French Davis Cup Team.
...it was not just the power of Roddick and Blake that the French captain Guy Forget had to deal with. The brooding figure of Gasquet, ambivalent about his commitment, obviously unsure of himself and his ability, haunted the whole tie. As we reported yesterday, Forget had the series of questioning conversations with the most talented player in France to try and determine, once and for all, whether the 21-year-old was ready, both mentally and physically, for the battle.

The astonishing answer, apparently, was that Gasquet said he would play the fifth rubber against Blake but not the first against Roddick. Forget accepted this because he felt he had little choice — Llodra being tired after two consecutive days of play — although some would suggest that the experienced Clement, with his exceptional skills on the return of serve, would have been a better bet than a young man who could not make up his mind.

In order to give the Frenchman maximum confidence, Gasquet's choice of opponents was kept from Mathieu.

"I did not know Richard had said he would only play the fifth match," said a disconsolate Mathieu afterwards. "I don't why he said that. Maybe he doesn't like Roddick's game, what can I say? All I know is the captain came to me last night and said 'I want you to play' and if your captain says that, showing confidence in you, you go out and play."

By then Mathieu was speaking in English. The depth of his disappointment and exasperation had been evident earlier when he was answering questions in his native tongue. And sometimes the French do not need their tongue to express their feelings. When asked about Gasquet for the first time, Mathieu drew back from the microphone, spread his arms wide and produced the classic Gallic shrug. Words were unnecessary.
(...)
The kindest thing one can say about a young athlete with all the ability to be one of the best in the world in a highly lucrative international sport is that he is immature. Coddled from birth by older parents who had lost their first born, both Gasquet's father — a tennis coach from Beziers — and his mother wrapped their boy lovingly in cotton wool and it is only very recently that he has stopped living at home. Psyhologically, it seems that he is quite unprepared for the task of carrying other people's hopes on his shoulders in a sport that makes huge demands on the individual. Although Davis Cup is a team sport and does offer some moral support, the player still has to go out there and perform in the spotlight all alone. There is no midfielder to slip the ball to if you don't like the look of the opposing center half. It is far tougher than many people imagine and, unhappily, it appears to be too tough for Richard Gasquet at his present stage of development. Hopefully that will change.
Source
Compare that situation to that of Argentina's team and
David Nalbandian
. A mainstay of the tour, respected, he played a grueling five set match for Argentina against a determined
Robin Soderling
playing for his country Sweden. There was a live feed available and while grainy the two men fought to take their country into the semi finals against Russia. What was David's reaction?
That's right, he cried. David had played doubles the day before and had to be tired. But his captain asked and he stepped up to the plate. This picture says it all about what Davis Cup is. I respect Paul-Henri Mathieu for taking one for the team. As for Gasquet, to paraphrase a fan posting on French Eurosport, he may only be a good player and not a great one.
To stick with Davis Cup a little longer, the seeds for the
Word Group Playoffs
were announced yesterday.
The seeds are as follows:
Australia
Austria
Belgium
Croatia
Israel
Korea
Romania
Slovak Republic
Their opponents will come from the following countries:
Brazil
Chile
Great Britain
India
Netherlands
Peru
Serbia
Switzerland.
End Notes:
Roger Federer
has hired
Jose Higueras
to work with him this week at Estoril.
Donald Young
had a good first round win today on the red clay at Houston.
Ryan Harrison
(pictured below), a 15 year old living in Texas won his first ATP Tour match today. He's fifteen. To put his accomplishment into perspective here's a list of other precocious teens who won on the main tour at a young age.
Franco Davin (Arg) (15 years, 1 month) - Buenos Aires 1985, Hans Gildemeister 4-6, 6-3, 6-4
Tommy Ho (USA) (15 years, 2 months) - Rye Brook 1988, Matt Anger 6-4, 3-6, 6-4
Jimmy Arias (USA) (15 years, 6 months) - Palm Harbor 1980, Warren Maher 7-6, 6-1
Michael Chang (USA) (15 years, 6 months) - US Open 1987, Paul McNamee 6-3, 6-7, 6-4, 6-4
Andre Agassi (USA) (15 years, 9 months) - La Quinta 1986, John Austin 6-4, 6-2
Bjorn Borg (Swe) (15 years, 10 months) - Madrid 1972, Antonio Zugarelli 7-6, 6-3
Mats Wilander (Swe) (15 years, 10 months) - Bastad 1980, Jan Kallquist 6-4 6-4
Richard Gasquet (Fra) (15 years, 10 months) - Monte Carlo 2002, Franco Squillari 7-6, 3-6, 7-5
Rafael Nadal (Esp) (15 years, 10 months) - Mallorca 2002, Ramon Delgado 6-4, 6-4
Ryan Harrison (USA) (15 years, 11 months) - Houston 2008, Pablo Cuevas 6-4, 6-3
Both Ryan and his brother Christian signed with IMG in December. Let's hope someone around them will stop the madness from getting totally out of hand. Remember Richard Gasquet was declared the future of French tennis at 14. And Donald Young was the next biggest thing for a long time. I'm just sayin'.