by Savannah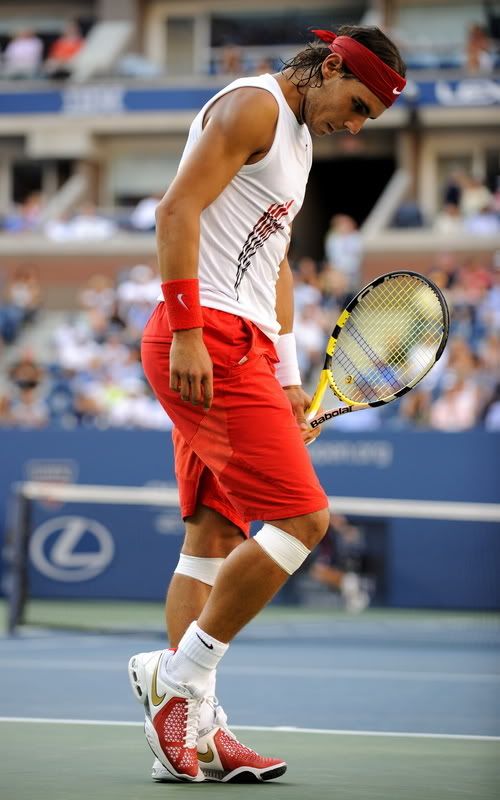 There was only one outcome the powers that be wanted from this tournament. They wanted it to be an "historic" one, a tournament that saw one man "make history" just like the AELTC wanted in 2007 and they were willing to use any means available to them in order to make "history" happen. The weather in both instances gave them the tools to get the outcome they desired.
There's an expression about not crying over spilt milk but I have to ask what purpose was served by one, scheduling the number two and three player ahead of the number one player when the top half of the draw had played first all tournament?
What purpose was served by putting the safety of players, fans and US Open staff at risk to start a match on Saturday when a tropical storm was within striking distance?
What purpose was served in starting Number One's match a full hour and a half after number two's match assuring that the storm would hit in the middle of that match and that both players would have to play on Sunday while the "history maker" cools his heels? It's not five days off but in this situation it was the equivalent of that fiasco.
Unless
Andy Murray
has amazing recuperative powers "history" should be made. Once again the "history maker" will achieve his glory on the back of a soft draw and fortuitous scheduling. When you've had nothing but practice hits on your way to the semi finals it's easy to bring your "A" game at the end of a tournament. When as Number One you've had to play guys inspired to try and bring you down to reach a semi it's no surprise that mentally and physically you've had it, especially when you won the singles Gold Medal at the Olympics before coming to New York.
I expect JMac and crew to go on and on about Murray's game and how he beat
Rafa
. They may throw in a few words about Rafa's schedule this year. Not for nothing it should be mentioned that Rafa played every event he was scheduled to and with the exception of Rome he won them. He went out early in Cincy but he won Toronto. I think Rafa himself said he's played 84 matches so far this year. Anyone else come close?
But the talking heads will extol the history maker's game, how he had "tough challenges" along the way too but overcame them all to reach the final against a "hot" player like Murray. It'll all be bullshit but who will be there to contradict them? Certainly not the people who set up the men's semi final schedule the way they did. CBS is seen as the heavy in the whole situation but I can't believe strong resistance from the USTA wouldn't have brought about different results.
Am I going to watch? I'm too much of a tennishead not to. When the festivities start I'll turn the television off and go on about my business. History will be made all right. It's been gift wrapped with a big pretty red bow put on top. Meanwhile Rafa will go home and get the rest he needs. The indoor season is coming and so is the TMC in Shanghai. Just sayin'.