by Savannah
Srdjan Djokovic
, father of the three Djokovic brothers, is upset with the 2009 Davis Cup draw. According to Mr. Djokovic the draw was rigged against Serbia in 2008 when Serbia drew Russia in the first round, and again in 2009 where Serbia has to play Spain in Spain.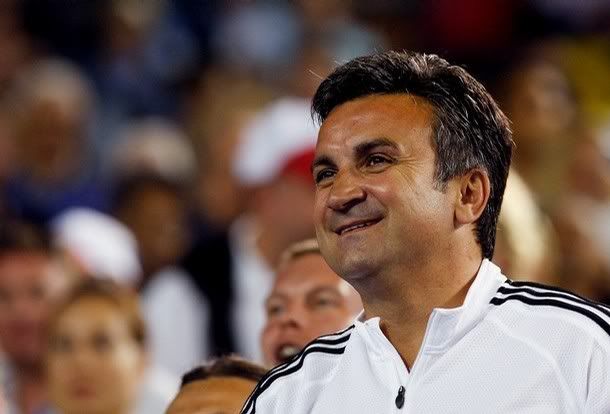 He criticizes the Serbian Tennis federation for not pushing harder for an "easier" draw. He also made this statement.
"Until 2 years ago, while he didn't have people doing this for him, Novak was getting worst schedules, they were looking at him like he was some savage from Biafra..."
Here is the quote in Serbian.
"Do pre nešto više od dve godine, dok nije imao ljude koji to rade, Novak je dobijao najlošije termine, gledali su na njega kao na divljaka iz Bijafre.
For the complete text in Serbian go
HERE
I guess it never occured to Srdjan that Spain and Russia didn't just drop ship themselves into dominant Davis Cup teams. If Serbia wants to be among the elite they should have to play themselves into that position. Srdjan thinks that effective lobbying would give Serbia easier draws. Here is a machine translation of the last paragraph.
Our president left Bratislava on Sunday afternoon, he didn't even wait for matches to end. If he at least went to Madrid with few influential people and journalists to try to affect the draw with his presence. Nobody's fighting for Serbia's interests and that is why we get this treatment. And when time for DC rolls around everybody will be expecting Novak to give his 150% and beat Spain on clay". He added that Serbia's chances of beating Spain are around 2% because Novak will have to go to clay in the middle of HC season, only to go back to IW where he's defending title.
Savage from Biafra huh? Nice.
Ana Ivanovic
Well everyone had fun when the pics from the China Open players party came out. I mean here is Fernando "Africa" Verdasco getting his swerve on with Ana while
Sveta
pretends not to be looking.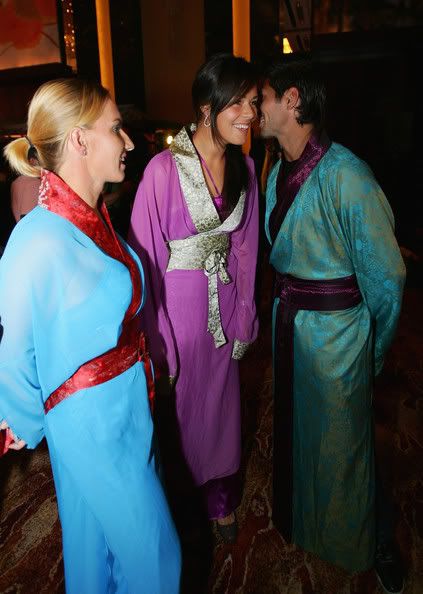 A guys gotta try right? So how to explain this pic of Verdasco sitting with Ana's mom watching her practice? Presumably this was the next day.
A one nighter does not usually entitle someone to sit with Mom. To quote that oldie, "how long has this been going on?" I mean when last seen Ana was with
Rafa
and his friend Tomeu in Mallorca. Diversionary tactics? Trying to get someone jealous? I believe they're both Scorpio's. I wouldn't try that jealousy thing Ana but hey, a girls gotta do what a girls gotta do.
Oh, you thought I was going to talk about Ana's loss to
Zheng Jie
of China? About how she's 5 and 5 since winning the French Open? About how she's playing not to lose instead of playing to win? That her attaining the number one ranking was the worst thing that could have happened to her? Really? You thought I'd mention all of that huh?
I think this picture is cute.
Oh, and don't worry about Sveta. She seemed to be getting her groove on too.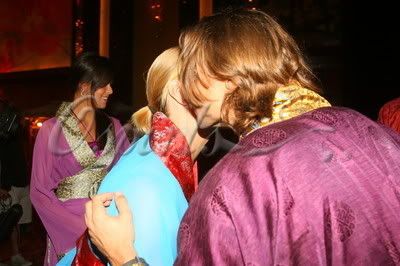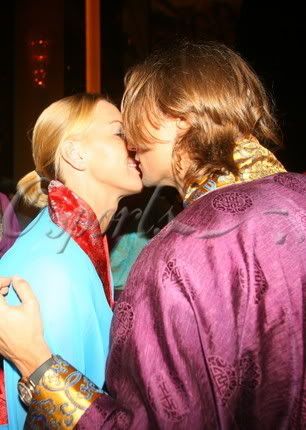 All I know is she seems revitalized and
Ferru
crashed out. During his presser he said he was tired although he did say his opponent outplayed him. Uh huh.
Breaking news!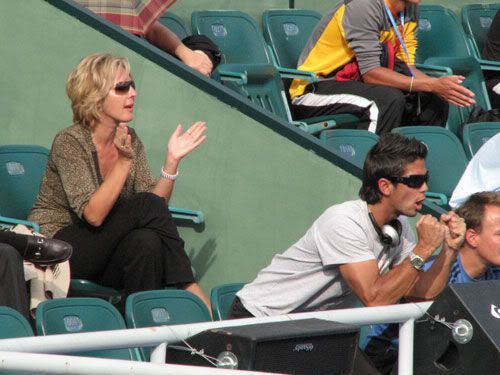 This was taken during Ana's match against Jie. Reports are he was cheering harder than Dragana.
At least Ana had someone to console her after her loss. Seems he was cheering wildly no? Where is he from again?
End Notes
I've seen those pictures. He's probably mortified.
Andy Roddick
is the only men's seed to make it to the semi's at Beijing. He will play Germany's
Bjorn Phau
. I saw Phau play Rafa at the US Open. He's no joke. If he's not overwhelmed by the occasion he can give Andy a run for his money. Of course Andy will be serving like a mad bomber and he has a height and weight advantage over Phau.
The other semi features
Dudi Sela
of Israel against another German,
Rainer Schuettler
. Sela beat
Fernando Gonzalez
and Schuettler defeated
Richard Gasquet
.
Jill Craybas
of the United States made it to the semi finals in Seoul, South Korea. She will play
Samantha Stosur
. Some players simply mature later in life.
Maria Kirilenko
will play
Kaia Kanepi
of Estonia in the other semi final match.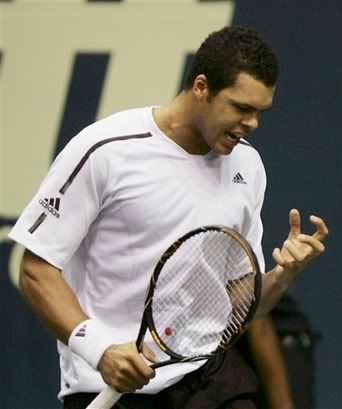 The match of the day will be in Bangkok, Thailand.
Jo-Wilfried Tsonga
will play
Gael Monfils
for a berth in the final. Both men play free flowing, no holds barred tennis and it should be a visual treat. If both bring their "A" games, especially Monfils, the tennis should be great too. Unfortunately I won't see any of it since I'll be out all day. Bummer.
Oh yeah. The other semi features
Novak Djokovic
against
Tomas Berdych
. If Berdych doesn't roll over and play dead that should be a good match too.
If you're wondering what happened to Novak's little brother
Marko
don't worry.
Jarkko Nieminen
took him out in straights, feeding him a bagel along the way.

Davis Cup Final
Argentine tennis officials and players are still in a lather about where to play their final against Spain. The latest reports say Parque Roca, the usual locale, is definitely out because it's a clay court. David Nalbandian has been quoted as saying to hold the tie there would be handing Spain the Davis cup on a silver platter.
The locales in the running are the Orfeo in Nalbandian's home area, or the Mar del Plata located in one of Argentina's resort areas. The country's politicians have even gotten into the fray with the president
Mrs. Cristina Fernandez de Kirchner
, weighing in behind the Orfeo. Can you imagine a tennis event in the States getting the president of the country involved as to where it will be played? Anyway the decision in Argentina has to be made by Monday.
As for where the US will play
Roger Federer
and his crew next year the choice is apparently between Chicago and Winston-Salem. I'm sure
Andy Roddick
will have a large say in where the tie is played. Last I checked he wasn't an elected official.