by Savannah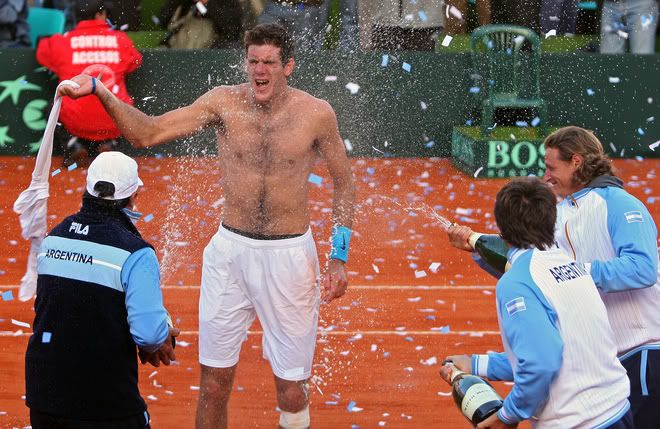 There was no dead rubber in cloudy, chilly Buenos Aires. Team Argentina needed five rubbers to defeat Team Russia and clinch a berth in the Final which will be held in December. Argentina will play host to Spain, winners over defending Davis Cup champions the United States. Details will follow but as usual tennisheads are speculating over what could be the deciding factor - the surface the tie will be played on. Team Argentina's Captain Mancini has apparently indicated the preferred surface will be indoor carpet, the surface favored by
David Nalbandian
.
Juan Martin del Potro
, the rising star of Argentine tennis, will have to prove how well he can play on the stuff during the European Indoor Season.
The site of the tie is also up in the air since David Nalbandian would prefer to have it in his native Cordoba. The size of the stadium there does not meet ITF requirements but there is always the chance Nalbandian will have his way.
Regardless of where it is held anyone who had a chance to watch any of the matches from BsAs saw what a savvy, rowdy crowd can do to players during a match. There is still lingering tension among Argentine's over the incident between
Rafael Nadal
and
Gaston Gaudio
where Rafa allegedly used an anti South American Spanish slur against Gaudio. Keep in mind this supposedly happened three years ago and the tape of the incident doesn't prove it was Rafa who said it. I heard it and listened. It's inconclusive. I'm sure the Argentine press will be reminding tennis fans of the incident. And believe me they don't need an excuse to get on someone's case. Ask
Nikolay Davydenko
.
Just as the official Davis Cup site says, more soon.
Addendum: From the
Official Davis Cup Site
The final will...be Argentina at home to Spain over the weekend of 21-23 November. It will be another few days before the venue is confirmed, but it is likely to be in Buenos Aires, and the front-runner is the 14,000-seater Parque Roca that has hosted all Argentina's home ties since the start of 2006. The only logistical issue is that the home nation will probably want to choose a moderately quick hard court to face Nadal and co – having waited so long for a first home final, Argentina will not want to welcome the world's greatest claycourter on his favourite surface.