by Savannah
The epitaphs are already being written for
Etienne de Villiers
who is leaving his post as of December.
Steve Tignor
wrote this one
De Villiers did a better job than you might think. His push for round robins was a failure, but his push for instant replay was a success. He brought the season-ending Masters Cup from Shanghai to London in 2009 and was rewarded with a title sponsorship from (still solvent) Barclay's. He also made the Masters Series schedule, a major complaint among players, less burdensome: The finals were cut from best-of-five sets to best-of-three and the pre-Roland Garros clay-court events went from three to two.

For these things he was destroyed: In 2006, Federer and Nadal spoke publicly about their anger over his demotion of Monte Carlo and Hamburg; Nikolay Davydenko called him "Walt Disney"; this year all of the top 20 players demanded that the ATP consider other candidates for his job before rehiring him; and the Hamburg organizers brought a lawsuit that could have bankrupted the tour.

Looking back, it's clear that De Villiers was unlucky that his term coincided with the peak of Federer's reign. From 2005 to 2007, the Swiss' domination on court made him a kind of unelected president of the sport. If you wanted to do something new, you wanted him on board. The problem was that Federer is a stubborn, outspoken traditionalist. He was against round robins, instant replay and the unilateral demotion of Monte Carlo; he even mused wistfully about the days of grueling three-out-of-five setters in Masters finals.

De Villiers came in with big ideas and ended up nibbling at the edges -- he couldn't even demote Hamburg without risking the entire organization. The ATP board may now want to go with someone who isn't an outsider; U.S. Open tournament director

Arlen Kantarian's

name has been mentioned, but the job may be a step down for him.
Brings a tear to your eyes doesn't it? I wasn't aware that getting rid of one pre Roland Garros clay event was on the players list of concerns. No one except American players were complaining about the Masters Events being five sets. Hamburg sued because the fix was in and they were playing by a set of rules that were no longer relevant. Tignor should mention that the schedule now favors hard court events such as the US Open series that takes place before the US Open, and the new Asian hard court swing. It should be mentioned that the back to back American spring hardcourt events as well as the back to back Masters events in Canada and Ohio at the height of summer remain untouched.
Just sayin'.
As for Arlen Kantarian taking over De Villiers position Tignor is being disingenuous. Kantarian is not only the TD for the US Open. As this article from
Tennis-x
a year ago announces Kantarian is also CEO of USTA Professional Tennis.
WHITE PLAINS, N.Y, October 4, 2007--The United States Tennis Association today announced that Arlen Kantarian has been named Chief Executive Officer, Professional Tennis. In this role, Kantarian will continue to lead the USTA's Professional Tennis operations, and serve as the lead executive overseeing the USTA's involvement in the professional sport, including the US Open, US Open Series, USTA Pro Tour events, U.S. Davis Cup, Fed Cup, and Olympic teams, and the USTA Billie Jean King National Tennis Center.

In addition, Kantarian will oversee the development of a new USTA elite player development program, focused on identifying and developing the next generation of American champions. Kantarian will assume responsibility for this new program effective December 1, and has initiated a worldwide search for the head of the elite player development program.

"I couldn't be more pleased to acknowledge Arlen Kantarian's many contributions to the USTA" said Jane Brown Grimes, Chairman of the Board and President of the USTA. "Arlen's unique talents have made the US Open the highest attended annual sporting event in the world and the US Open Series one of the most successful breakthroughs for the sport. With the USTA's commitment to developing strong American competitors and Arlen's proven track record of success, we are pleased that he will now oversee the elite player development program, and a pipeline to future American champions."
I've always felt the goal of "Brave New World" was to do organizationally what the USTA hasn't been able to do on the tennis courts - dominate tennis once again. Putting Kantarian in charge of the ATP would be tantamount to having the fox guard the chicken coop. We've already seen the shenanigans the USTA pulls to make sure they get the results they want at this years US Open. Give them control of the ATP and who knows what will happen?
It's also deceiving to say
Roger Federer
led the charge against De Villiers. Anyone who has been paying attention knows that it was
Rafael Nadal
who was joined by Roger Federer who led the push back from the European players.
Nikolay Davydenko
was also in the vanguard. We all know what happened to Nikolay and that his attention was directed elsewhere. This was how Federer and Nadal entered Monte Carlo back in 2007 stunning the press.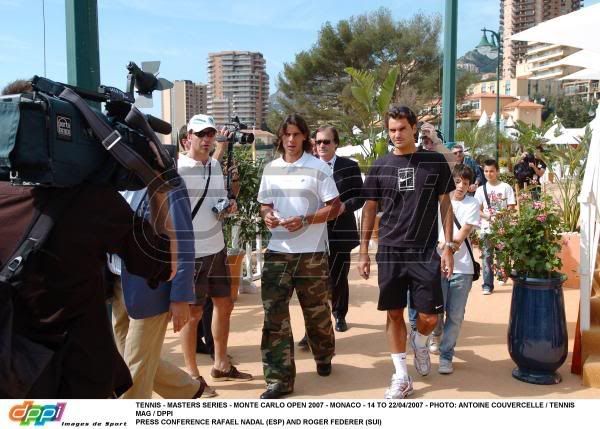 I doubt if Kantarian will get the support of the European's. I'm sure he has the support of the Americans. It's going to be very interesting to see how this plays out no?
Ana and Fernando sitting in a tree
...
Thanks to "Lola" tennisheads have these pictures taken Saturday morning in a Beijing hotel lobby.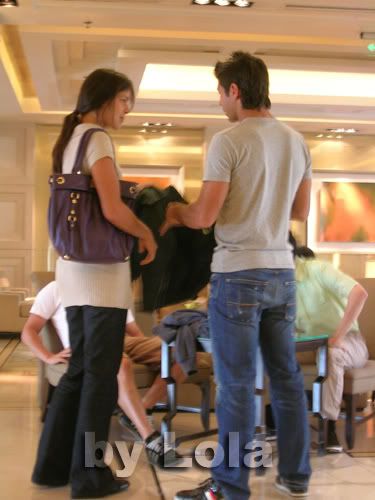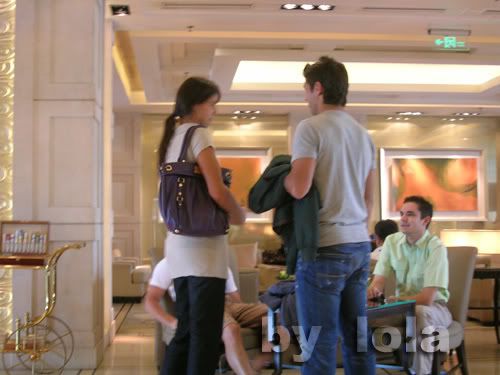 Girlfriend looks whipped.
End Notes
I managed to stay up and see the
Tsonga
vs
Monfils
match. Well maybe match is the wrong word. They were both on the same court at the same time. I think Monfils must be used to waking at a later hour since Tsonga, who was wide awake, blew him off the court winning in straight sets 0 and 3. In 52 minutes. There are WTA matches that last longer.
Tsonga will face
Novak Djokovic
in the Final. Think Jo was on a mission?
Svetlana Kuznetsova
defeated
Zheng Jie
in Beijing to make the final where she will face
Jelena Jankovic
.
Andy Roddick
defeated
Bjorn Phau
in three sets and will face
Dudi Sela
in the men's final. Sela defeated
Rainer Schuettler
.
In Seoul
Samantha Stosur
will face
Maria Kirilenko
in the Final after blowing past
Jill Craybas
. Maria defeated
Kaia Kanepi
in her semi final match.
Maria Sharapova
announced on her web site that she is finished playing for the year.