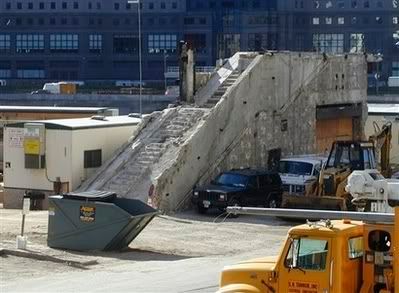 by Savannah
It's Fed Cup weekend and Spain will play Russia, in Spain, for the World Group title. The Spanish team consists of
Anabel Medina Garrigues
, newcomer to the team
Carla Suarez Navarro
,
Nuria Llagostera Vives
and
Virginia Ruano Pascal
.
Miguel Margets Lobato
will captain the squad.
The Russians will be represented by
Svetlana Kuznetsova
,
Vera Zvonareva
,
Elena Vesnina
and surprise first time player
Ekaterina Makarova
.
Shamil Tarpishev
will be the Russian team captain.
The venue,
Club de Campo - Villa de Madrid, Madrid, Spain
seats 4,000.
Davis Cup News
The big announcement yesterday was
Sam Querrey's
replacement of
James Blake
on the United States Davis Cup team that will face Spain next weekend. This will be the first time team
Captain Patrick McEnroe
has changed the squad he put together a few years ago, the squad that despite whatever was happening in singles play brought home the bacon last year.
While the change was surprising it wasn't a surprise. There's been talk for at least the last two years about Blake being replaced on the team. There just wasn't a consensus on who should replace Blake who had the strong support of
Andy Roddick
. The match will be played in Madrid on red clay in a specially formatted bull ring that will hold 21,000 fans. With his good result in Monte Carlo this year Querrey was the logical choice over Blake who had lackluster outings in his Davis Cup play this year.
The Russian men have their own drama going. Against a strong Argentine squad that will feature
Juan Martin del Potro
,
David Nalbandian
,
Guillermo Canas
and
Agustin Calleri
Shamil Tarpishev has proposed a team of
Nikolay Davydenko
,
Igor Andreev
,
Dmitry Tursunov
and
Igor Kunitsyn
. Some Russian fans are questioning Kunitsyn's inclusion and rumors are still floating around that
Marat Safin
will somehow end up in Buenos Aires. The match will be played on outdoor clay.
It seems to me that all the teams, Fed Cup and Davis Cup, have included a "surprise" player. How this works out remains to be seen.
US Open Finals Television Ratings
It's kind of an urban legend of tennis. When one or both Williams sisters plays a US Open final the ratings go up. Needless to say with Serena Williams playing Jelena Jankovic interest was high. The WTA number one ranking was on the line and Jelena had cut down on her antics and was trying to show that despite what everyone said she could play well enough to reach the final of a Grand Slam.
Because of the rain delays the Men's Final ended up being shown live at 5p Eastern US Time. No matter who played the Final the ratings were going to be low. It was Monday night in Europe and early morning in Asia.
I wondered about the time for a while until I remembered Monday night in the States belongs to the NFL. Virtually no other sporting event is televised against Monday Night Football so there was no way was tennis going to be allowed to be shown in a time slot, say 8p, that could have ensured more people tuning in to see the match.
The
International Herald Tribune
reports the following:
NEW YORK: Television ratings were down for the U.S. Open men's final after rain forced the match to move from Sunday to Monday.

Roger Federer's straight-set win over Andy Murray, which started at 5 p.m. EDT on CBS, drew a 1.9 national rating and a 4 share, the network said Tuesday.

That's down 49 percent from last year's 3.7/7, when Federer's victory over Novak Djokovic, a more competitive match, was in the customary Sunday time slot.

The women's final saw the opposite effect, with the rain shifting it from Saturday to Sunday, when more people tend to watch TV. Serena Williams' win over Jelena Jankovic earned a 3.3 national rating and 6 share, up 57 percent from the 2.1/4 when Justine Henin beat Svetlana Kuznetsova in 2007.

The rating is the percentage watching a program among homes with televisions, and the share is the percentage tuned into the broadcast among those households with TVs on at the time.
Meanwhile tennis heads protested loudly as the CBS affiliate in San Diego, California didn't even show the match live choosing to air soap operas, Oprah and Dr Phil.
September 9, 2008

In a move greeted with outrage from local tennis fans, KFMB Channel 8 yesterday opted not to televise the U.S. Open men's tennis final from New York.

CBS Sports televised the match live at 2 p.m. PDT, and more than 90 percent of the network's affiliates carried the broadcast. But KFMB opted to show its regularly scheduled weekday programming – "Guiding Light," "Dr. Phil" and "Oprah" – while directing potential tennis viewers to its Web site for a live webcast.

The Union-Tribune received hundreds of phone calls protesting the decision. It's not known how many calls KFMB received. Barry Smith, KFMB director of programming, did not respond to a phone message or e-mail seeking comment.

The CBS telecast of Sunday's women's final earned a 7.0 Nielsen rating in San Diego from 6-9 p.m., meaning it was watched in about 73,500 county households.
Keep in mind that one phone call is calculated to represent about 60 who would've called. I could be wrong with the ratio - someone in broadcasting will keep me honest - but "hundreds" of calls is a big deal in television.
Source
Idle Chit Chat
It's fashion week in New York and many of the tennis ladies stayed to catch the shows.
I'm not quite sure what's going on with this skirt but overall Serena looks lovely.
I love love love this dress on Maria Sharapova. It's the best I've seen her look. The full skirt offsets the height and the off the shoulder cap sleeve is very flattering. And yes the woman in salmon is
Anna Wintour
editor of NY Vogue.
A view of the dress with Maria standing up. Fabulous.
Venus was around the tents as well. That's
Carolina Herrera
in the first picture.
With Andre Leon Talley of NY Vogue
I'm still not sure about the hair.
Roger on top of the world at the Empire State Building with the US Open trophy.
Serena in New York City's Times Square with the US Open Trophy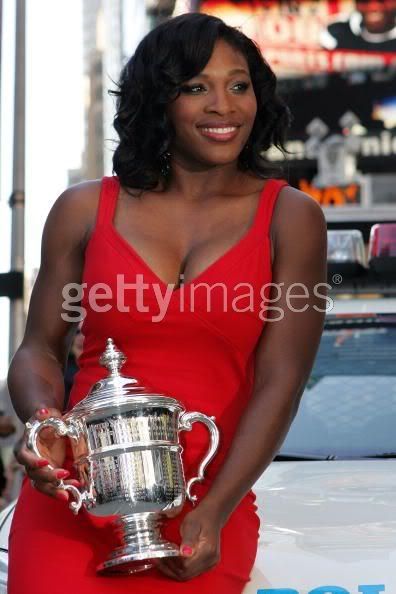 End Note
Tomorrow is the seventh anniversary of what is simply called 9/11 here in the United States. It was an event that I witnessed up close and personal since I worked across the street from the World Trade Center. It remains the only hostile attack against the United States mainland. To this day the perpetrators have not been brought to justice.
The picture at the top of this post is of the stairs that remained after One World Trade as we called it collapsed. I used those stairs every day. The powers that be have removed them because it doesnt' fit with the architectural plans for the site. Whatever.
There are people who have suffered more than New York did in many many places around the world. Since 9/11 my sympathies go out to them because despite the rightness or wrongness of governments it is the common people who suffer.