by Savannah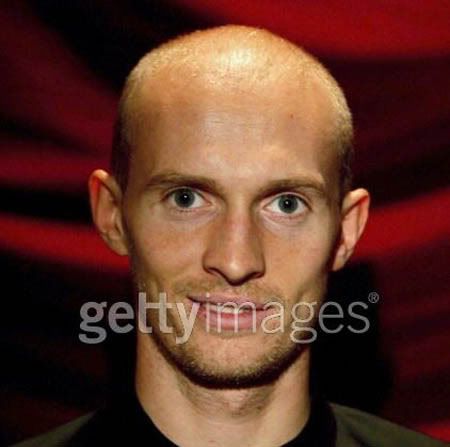 Davydenko cleared of match-fixing



Nikolay Davydenko has been cleared of any involvement in match-fixing after a year-long investigation by the governing body of men's tennis (ATP).

The ATP investigated suspicious betting patterns surrounding Davydenko's shock defeat by Martin Vassallo Arguello at the Sopot Open in August 2007.

But they found no evidence of wrongdoing by either player."
from
BBC News
Here is the full ATP statement.
12 September 2008

ATP Statement Regarding The Sopot Match Investigation

Ponte Vedra Beach, Florida, U.S.A. – A fundamental role of the ATP is to ensure that men's professional tennis continues to be free of corruption. For this reason, the ATP instigated an investigation into the circumstances surrounding the match in Sopot between Mr. Vassallo Arguello and Mr. Davydenko on 2nd August 2007. ATP can confirm today that it has concluded its investigation and found no evidence of a violation of its rules by either Mr. Arguello or Mr. Davydenko or anyone else associated with the match.

During its investigation, the ATP worked with a number of leading external integrity experts. As well as interviewing a number of individuals involved in the match and reviewing betting account details of those who wagered on the match, the investigating team also requested and reviewed records from the players and from individuals closely associated with them.

These included telephone records from individuals including Mr Vassallo Arguello and Mr Davydenko as well as members of both players' support personnel. Certain individuals declined the ATP requests and appealed them to the independent Hearing Officer. After lengthy legal proceedings, the independent Hearing Officer directed those individuals to turn over the requested records to ATP. A number of records were received and examined, however due to the length of the legal proceedings some of the records were confirmed as having been destroyed by the relevant telephone providers in line with local data protection laws.

This confirmation means that the ATP has now exhausted all avenues of enquiry open to it and the
investigation is now concluded.

The in-depth investigation of the circumstances surrounding the Sopot match, together with the findings of the recent, independent tennis integrity review by Jeff Rees and Ben Gunn, will play a large and important role in informing and advancing the imminent creation of the tennis wide Integrity Unit and its accompanying regulatory framework which will now have responsibility for running the new global Tennis Anti-Corruption Program on behalf of the ATP, WTA, ITF and Grand Slam Committee tournaments.
ATP Statement
I'm sure no one is more relieved than Nikolay. He maintained his innocence from the beginning and has been found to be just that. He's lost a year of his professional life. For some he will always be suspect and there is nothing that can be done about that.
A lot of people forget that Nikolay was one of the four players who spoke out against
Etienne de Villiers
"Brave New World".
From the WTF?! Files
Thanks to Haruka and my nephew I know that there are people out there who buy sneakers with no intention of wearing them. They're collectors and have closets full of whatever sneaker is hot right now.
I was still kind of taken back when I receive an email announcing that Nike has released it's Holiday Shoes. Here is the text and pictures.
Nike 2008 Holiday Shoes (Rafa's and Fed's)

September 11, 2008 ·

Nike releases two new colors for this year's holiday line in their two most popular shoes. Rafa will be wearing the new tell on navy Cages and Roger the white with navy and yellow trim Vapor V's.
I hope this satisfies the collectors out there. I shouldn't dog you guys though. I've seen shoes that I would buy just to look at if I had the ducats. They're so beautiful why destroy them by walking in them.
Fed Cup 2009
2009 Fed Cup by BNP Paribas World Group draws
The draw for the 2009 Fed Cup by BNP Paribas was made today at the Club de Campo in Madrid, the site of this weekend's 2008 Fed Cup Final between Spain and Russia.
The top eight nations will compete in the World Group for a chance to lift the Fed Cup trophy, while the eight nations in World Group II will compete for promotion to the World Group in 2010. The remaining teams will compete in regional Zone Groups I, II and III.

World Group 2009 (8 nations)
WORLD GROUP AND WORLD GROUP II PLAY-OFF TIES: 25-26 April 2009
1st Round
7-8 February

Semifinals
25-26 April

Final
7-8 November
CHINA, P.R.
RUSSIA (s) (c)
ARGENTINA
SPAIN (s)
ITALY (s)
USA (s) (c) *
CZECH REPUBLIC (c)
FRANCE (c)

World Group II 2009 (8 nations)
1st Round
7-8 February
Winners to play off against losers of World Group 1st Round
25-26 April
Losers to play off against Zone Group I winners
25-26 April
UKRAINE (c) *
SLOVAK REPUBLIC (c)
BELGIUM (s)
SERBIA (c) *
SWITZERLAND (c) *
ISRAEL (s)
GERMANY (s)
JAPAN (s)
(s) = Seed
(c) = Choice of Ground
* = Choice of Ground if decided by lot
The championship between Russia and Spain begins Saturday 9/13/2008 in Madrid, Spain.
Team Spain
Team Russia
More Fashion Week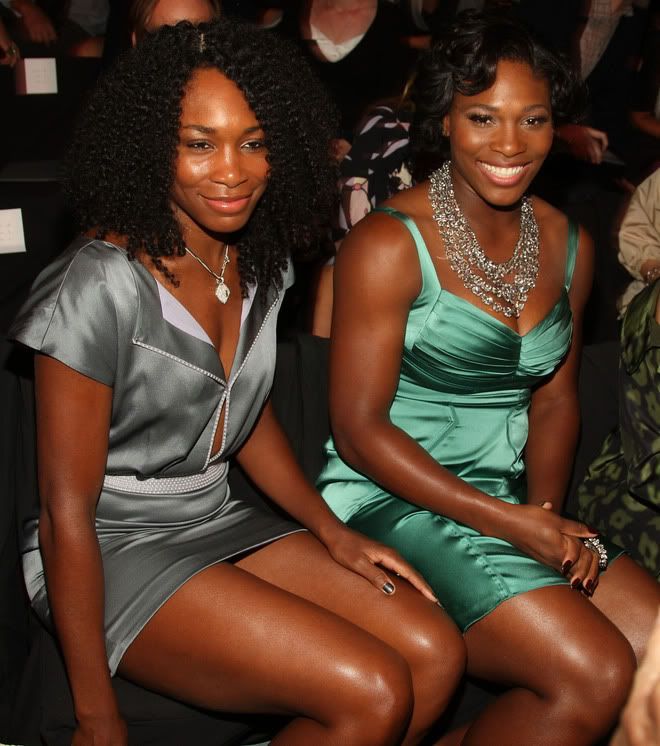 Venus and Serena at Zac Posen's show 9/11/2008. It was also announced this week that Venus will be making her first trip to the African continent. Along with her sister she will go to Nigeria right after Doha.
Source
Serena has previously visited the countries of Ghana and Senegal.
The Roger Quotes
Tennisheads have been discussing comments from a
TimesOnLine
article made by
Roger Federer
seeming to show his ego as being more out of control than ever. Finally went to the article and saw the quotes in context. First of all the article is about
Andy Murray
and his reaction to making a Grand Slam final for the first time. Roger talks about the conversation between the two after the match was over where he gave Andy some interesting advice about trophies.
Here are the controversial comments in context. What do I think? If I'm Andy Murray I'm wondering how an article about me turned into one about the other guy.
Federer did not want to say that winning the US Open had saved his season. "That doesn't sound right," he said. "I just know I played excellent tennis towards the end and I felt invincible again for a change."

Before he managed his 20 minutes of shut-eye, the champion went on to the internet to study images of his performance. "I wanted to get a sense of what the fans saw," he said. "I like to see the pictures before I go to bed. I would never have done that at Wimbledon this year. I have never seen a picture of Rafa [Nadal] holding the trophy and it's something I don't ever want to see.

"I'm still a little bit disappointed a match like that was decided at night. I understand it was appropriate to finish it because of the special occasion we were under. Fair play, the crowds were there and they wanted a proper ending. But I think more people left feeling sorry for me than they were happy for Rafa, which hurts me a little. At the same time, I appreciate that tennis went up a notch with that match and that's what I strove to do in my five years as No 1, to make tennis better, more popular and I admit that that Wimbledon final achieved all I had wanted, even if I lost it."
Some Celeb Pics from the US Open

Star Jones and former newscaster Tom Brokaw
Former New York City Mayor David Dinkins
Former US Pro Jim Courier and date
Actors Charlize Theron and Stuart Townsend
Oscar de la Renta