by Savannah
It's time to put up or shut up. The eyes of the tennis world are fixed on Paris, France, the City of Light. Some interesting men and women made it through qualifying. The draws, in some cases twice, have been made. The players have done their publicity work. Tomorrow morning this time my eyes will be glued to both television and internet coverage of play from Roland Garros.
Sooo about that two draw thing. On Friday May 22 I dragged my butt out of bed to log and and watch the interactive draw from Paris along with some online friends via chat. If you ever get a chance to do so it's worth watching. It's exciting to see a draw put together.
Enough of that. It finished, the seeds were placed, and I ran around to get out in time to catch my preferred express bus to work. Imagine my surprise when I logged in and saw the draw. I know I'm getting old and have lost a few brain cells but the draw that was posted was not the draw that had been made while I was watching. This was what was made while people around the world watched.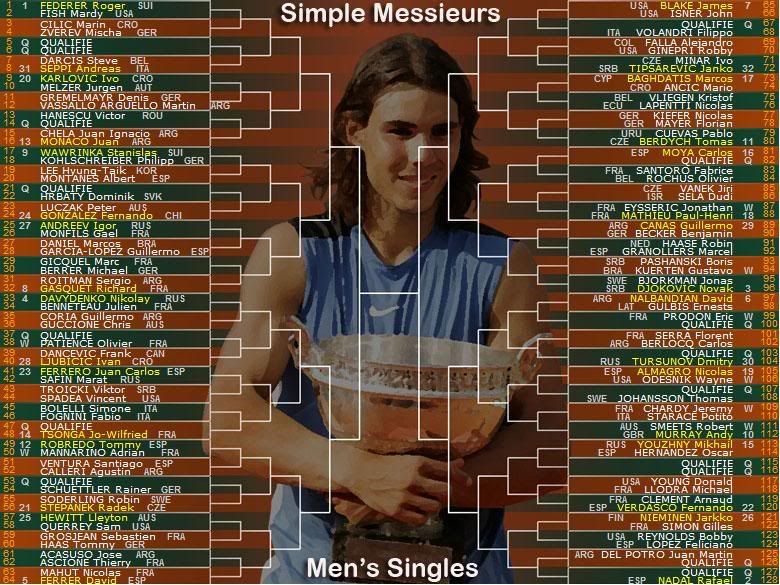 Due to space constraints you may not be able to read the names. A clearer version is
HERE
The official explanation is that
Tommy Haas
and
Sebastian Grosjean
withdrew just before the draw ceremony and that the computer still had their names. I'm easy. Everybody has to take the okey doke at some point in their lives so I'll go for that explanation. I still find it odd that when the draw was redone the seeds stayed in the same place. One and two are fixed but everyone? Just sayin'.
There are, as one person put it, a few "challenger draws" inside the main draw. When your top seed doesn't face a top ten player until the quarters, or the top half of your draw seems to have every qualifier known to God and man in it eyebrows should be raised.
Oh yeah, and for those who say draws can't be fixed, please re read what I posted above.
This is an idle chit chat post, the first in awhile, and the last for awhile unless something major happens so here it goes.
Novak Djokovic's father, Srdjan is reported by
The Serbian Press
to have attacked a broadcast journalist in Serbia for not supporting his son enough on the air. Thanks to a tennishead who goes by the name of "Kitinov Rules" there is this translation.
Srdjan Djokovic, the father of the best Serbian tennis player Novak Djokovic , has used a force to enter (inroad) in TV studio of RTS last Saturday , unhappy with the way the commentator broadcasted Novak's match against Nadal at the Hamburg Masters.

During the second set of the aforementioned match , Srdjan Djokovic unexpectedly came inroad into the TV Studio , and started to yell and verbally attack the commentator Nebojsa Viskovic.

The reason for Srdjan's verbal attack was that the commentator didn't cheered enough for his beloved son and being a Serb he must cheer more for Novak . Also nervous Srdjan told the journalist that " he is not doing his work in a proper manner"

Novak's uncle (brother of Srdjan) went even further ,and after the match called Viskovic and started to curse and threat personally the commentator.
I don't know how things work in Serbia but I hope Srdjan doesn't think this will win his son fans elsewhere in the world or in the press for that matter.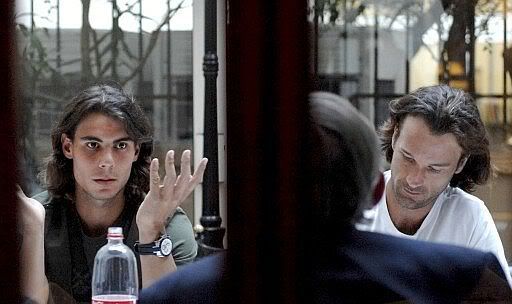 The drama of the Spanish Davis Cup Team vs Pedro Munoz continues. Four players,
Carlos Moya
,
Nicolas Almagro
,
Rafael Nadal
and
Tommy Robredo
met with
Jaime Lissavetzky
, the Spanish sports minister on Thursday. Nicolas Almagro confirms that they were told Munoz will not run for reelection when his term expires in December but that they have no way of knowing if this is true.
For those of you who speak Spanish here is the quote.
Almagro ha confirmado también que el compromiso de Muñoz de no presentarse a la reelección "está escrito", pero agrega que "no se sabe si será verdad o no"
.
And here is the
SOURCE
Serena Williams
made her usual pre major stir by stating the obvious.
PARIS (Reuters) - Former world number one Serena Williams said on Friday that Justine Henin's retirement made it the right time for the American to win a second French Open title.

Williams, who was victorious at Roland-Garros in 2002, is the only former winner in the draw for the second grand slam of the year which starts on Sunday.

"It's definitely the right time to win, obviously. It's always the right time but it's unfortunate one of the best players on clay won't be here," Williams, who starts her campaign against compatriot Ashley Harkleroad, told a news conference.

Henin, who won four French Open four titles in the past five years, retired from tennis last week as the world number one, leaving Paris hopefuls with greater expectations than last year.
I really don't understand why people have such a problem with Serena when she says things like this. She's getting more static from fans about her comments than
Maria Sharapova
did for telling Larry Scott, and the Tour, where to go and what to do when they get there.
The
Full Article
The French have proven that it isn't only the USTA that can create cupcake draws. The women's draw for Roland Garros resembles the women's draw from the 2007 US Open. The real action is in the bottom half of the draw which features Serena, Venus, Jelena and Ana. Meanwhile Justine Henin has made the following comments. I'll post in French and then an English translation.
Justine HENIN : «Il est très difficile de prédire qui va remporter le trophée dans deux semaines. Personne ne domine à 100% aujourd'hui. Ma favorite de coeur est Svetlana Kuznetsova. Je l'apprécie énormément. Maria Sharapova ? Elle le peut le faire, évidemment. Elle a les capacités, surtout une grande force de caractère. Elle croit beaucoup en elle, ne baisse jamais les bras. Mais la terre battue est beaucoup moins sa surface. Quinze jours sur terre battue, c'est long, c'est dur, il faut s'accrocher. Elle a moins de maîtrise, moins de contrôle sur cette surface. Cela dépend beaucoup de la forme du moment et elle n'a pas beaucoup joué ces dernières semaines. Je ne miserais pas sur elle à l'heure actuelle.»
She is saying that it is hard to predict who will win. She would like to see Svetlana win it all. As for Maria she says it's not her best surface, she doesn't have the control she needs on it, and that fifteen days is very long and hard. She also says she would not bet on Maria to win it.
From L'Equipe
It should be mentioned in passing that Justine never, ever, got a cakewalk draw in any event she played while ranked number one.
I want to take a minute here and give a shout out to all the fan boards that provide tennisheads information day in and day out, 365 days a year. It is not easy to keep track of Main Tour events for both the WTA and ATP as well as Challenger events, Futures and Exhibitions. Davis Cup and Fed Cup play are also covered.Many fan boards also provide up to date ranking information. This is why so many fanboards have become the go to place for fans needing to know something quick, fast and in a hurry. There are usually small teams of people who cooperate in getting this information to notoriously finicky tennis fans. Good work to everyone involved.
End Notes
Marcos Baghdatis
is returning to play at Roland Garros after an almost season long break from match play.
Richard Gasquet
is playing in Paris after threatening not to do so. I always thought that he would play his home slam.
Andy Roddick
is missing his first Grand Slam in many years due to injury. Make all the jokes you want about Americans and clay but Andy always shows up for Slams no matter what. He is expected to be fit for play by Queens. And keep that snark to yourself!
Nicole Vaidisova
is looking to turn her so far disastrous season around on the terre battue. She doesn't have a bad draw but methinks her favorite position right now is prone. Until she gets over that she can't be fully focused on tennis.
I don't expect
Marion Bartoli
to do well here at all. It would be nice, but I don't think it's going to happen.
Venus Williams
is another player I don't think will go far. She's just coming back after a self described hiatus. European clay is not the best place for her but she's there. In the bottom half along with her sister and everyone else who comes to play. All the qualifiers seem to have made it into the top half of the draw. I know I'm back to the draw thing. I'm just sayin'.
Will any American man make it past the second round this year? To their credit
James Blake
,
Sam Querrey
,
John Isner
and other American men have been in Europe for quite some time. Blake has been doing well in doubles play going very deep in some events. Too bad they didn't do this three or four years ago.
Donald Young
is conceding he has no chance by arriving so late. Of all the Americans I think he has the best chance to become a force on clay.
For a look at both the Men's and Women's draws
Craig
has posted them both.