by Savannah
I was home and got to watch tennis all day. It wasn't a planned day, it just happened. The day started with
Andy Roddick
facing
Mardy Fish
. On Monday Fish beat
Michael Llodra
of France. I didn't see the match but Llodra is no slouch on clay so the match today was highly anticipated. When a news article appeared in which Andy said he had spent a lot of time moving into the new apartment in New York City he'll share with his fiancee many tennis heads took that as Andy sending up the white flag and admitting he was set for a second round exit. Instead of a competitive match Mardy seemed to revert to the role of good friend and played nothing like he had the day before against Llodra. Andy played in his usual style and won easily in straight sets.
Andy's match was followed by another highly anticipated match between
Roger Federer
and
Guillermo Canas
. This would be their first meeting on clay. I'm sure Canas and his team watched the tape later to make sure he was really on court against Federer. Roger had no intention of letting Guillermo even think he had a chance. It's not that Willy didn't try. Roger made sure to crush every idea Willy had. Another fairly easy straight set victory and a pretty dull match unless you're a Roger Federer fan.
Then came the match that for tennisheads was interesting but probably got a ho-hum from mainstream media.
Fernando Gonzalez
was coming off victory in Munich and it can be said he should've been a tad tired.
Janko Tipsarevic
is the thinking person's Serbian player. Breathing issues? He wears a tape over his nose to assist him in that area just like football players do. Obnoxious family? Never in sight. Oddly timed medical time outs? Not Janko. Drama? Jelena must be playing somewhere this week. Check that tournament out.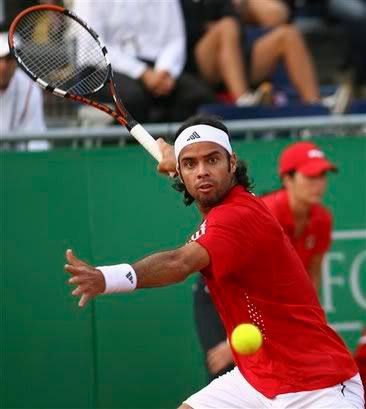 Janko took the court with what can only be described as supreme confidence. Not arrogance, just confidence in his game and that he had a good chance of beating his opponent. Janko's confidence had to soar when he took the first set 6-3 over a seemingly befuddled Gonzalez. It looked as if Janko was on his way to a straight set victory when Fernando woke up. He stopped missing and he stopped himself from reverting to his old hit hard and harder style. When the dust settled the set had been leveled at 6 all. Janko still didn't seem rattled. About three minutes later he was. Fernando won the tiebreak 7-0.
The third set turned into a exhibition of clay court tennis at it's best. Great shots. Waiting out your opponent, pushing him into making a mistake by going for too much. Once again after twelve games the score stood at six games apiece and another tiebreaker had to be played. This was no seven zip beat down. Both men played well but Gonzalez, the one who has played big matches before, used all of his experience and pulled out the tiebreak 8-6. Experience won that match for him.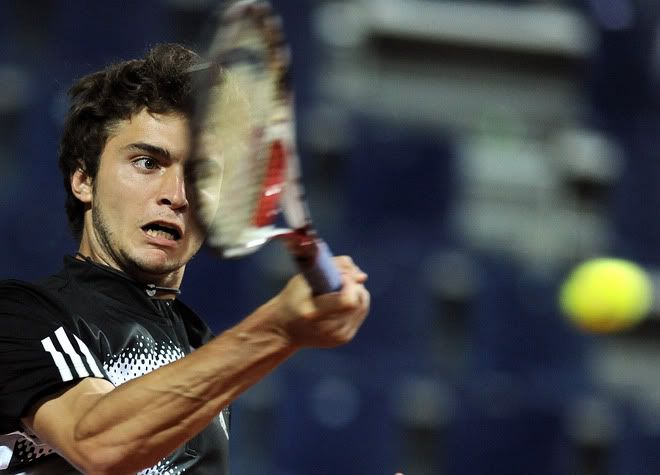 The other great match of the day took place under the stars.
Jo-Wilfried Tsonga
was playing his first tournament after an injury kept him out of competition for a few weeks. He was playing
Gilles Simon
someone this fan had never seen play before. Simon won the first set over an obviously rusty Tsonga 6-2. When Tsonga fell behind in the second set I went and took care of some personal business thinking Simon would win easily. Wrong. Tsonga had managed to win the second set 6-4 and the two men were preparing to start the third set. Once again Gilles took the lead 5-2 and it looked as if he were on his way to the next round. But Jo had other plans. Patiently, his feet now firmly under him on the slippery red clay he fought his way back, pulling even at five all. Once again at the end of twelve games two players found themselves tied at six games apiece.
As I said above when all else is equal the player who has the most experience to call upon will win. It looked as if Tsonga was going to win when he tightened up and missed both match points he had on his serve. It should be mentioned that Gilles was serving for the match at 5-2 when Tsonga made his run. Simon knowing he'd dodged a bullet with Tsonga missing those two match points calmly closed out the match taking the tiebreaker 8-6.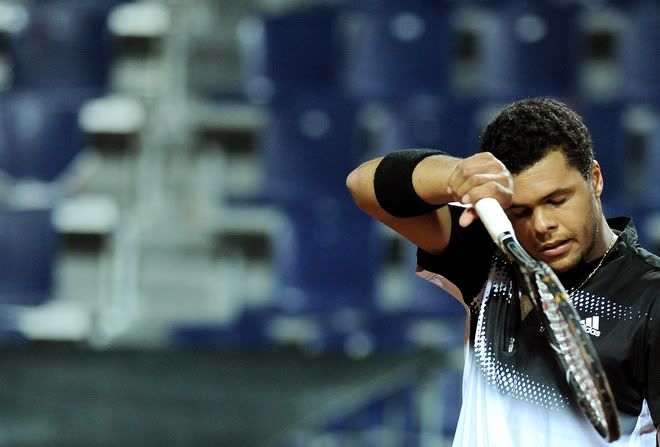 Both Janko and Jo-Wilfried learned valuable lessons today. When they get over the bitterness and watch the tapes they'll see where they lost their matches and understand why. For me as a fan I enjoyed a day of clay court tennis.