by Savannah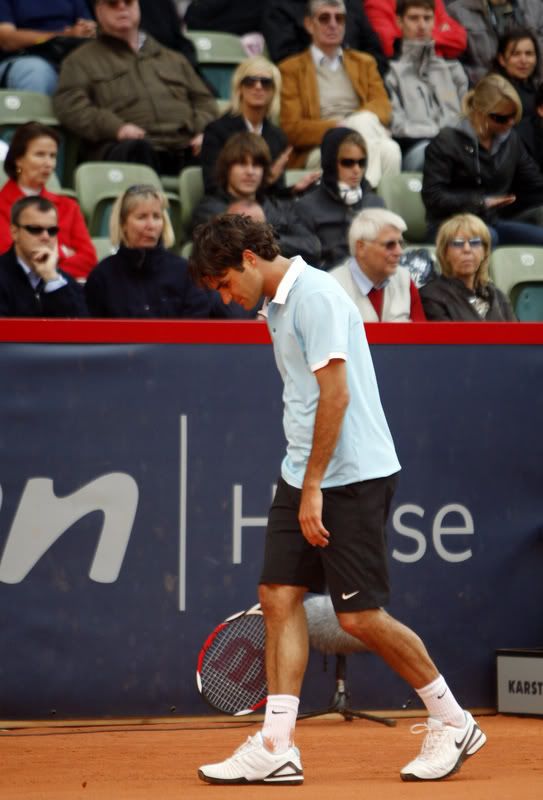 So a picture is worth a thousand words huh? If that is the case the picture above sums up what
Rafael Nadal
did to
Roger Federer
on May 18, 2008 on the heavy red clay of Hamburg, a place that until that date could be said to be Roger's home clay court. The only blemish on Rafa's 2007 clay season was Hamburg where he came in after completing three peats at Monte Carlo, Barcelona, and Roma. Many Rafa fans thought he shouldn't play but he did and made it to the Final where he lost to Roger.
I guess Rafa wasn't tired today. Funny thing about being tired. I read some posts where Roger's fans said he was mentally tired coming into today's match. Really? Let's see, who did he play coming into todays final? No need to post their names, lets just give their ranks as of May 12, 2008. After the first round bye he played Number 27, followed by Number 48. Then there was Number 28. In the semi final, which took just over an hour, he played a man ranked Number 43.
What was Rafa's road to the Final? Again, just giving rankings after the first round bye he played Number 47. After that he played Numbers 14, 12 and 3. Rafa came in rusty after blistered feet kept him from picking up a racquet until the Sunday before the tournament started and it showed. Number 47 pushed hard but Rafa got through.
Now about the man ranked Number 3,
Novak Djokovic
. He was coming into Hamburg on the heels of some of the worst publicity I've seen dog a tennis player. He quit during his match against Roger at Monte Carlo with a sore throat. His path to the Rome final included a couple of walk overs. In the Final he met someone he had no trouble with. His people did a good job of redirecting the pressure though and not too much was said about his path to the semi final. He played men ranked 39, 24 and 56 respectively. Two things were sure about the semi final match. He could not quit. And he was facing someone who was not going away.
Some of Djokovic's fans are calling the semi final the best match of the year. Uh, no. There have been some good matches this year but top of my list is still
Carlos Moya
vs Rafael Nadal in India at Chennai. Right behind it would be today's match between Rafa and Roger. Why? It was fought on two levels, the mental and the physical. Except for what seemed to be a cramp that had an agitated and worried
Toni Nadal
up telling Rafa to quit both men were physically sound. I've seen Rafa come back in matches before. But when he took the court and calmly took the first set from Roger after being down 5-1 at 7-5 I could only shake my head. Roger is Roger and the second set was decided by a tiebreaker 7-6(3). The third set? Stepping up a level mentally Rafa dismantled Roger 6-3 and it really wasn't that close. Credit Roger's skill getting him those three games. The picture above says it all. Roger was beaten soundly. Mirka couldn't even look. There was no fault with his game play. It will be used again against Rafa. But as they say in the streets you'd better be prepared to bring it for as long as it takes.
The commentators on Masters Series Television talked about how subdued Rafa was on court today. There were no leaps and shouts of "vamos", the fist pumps were at a minimum. It was a serious beat down and Rafa's mood on court seemed to reflect that that was his intention. The only glimpse of the Rafa we're familiar with was at the end of the match.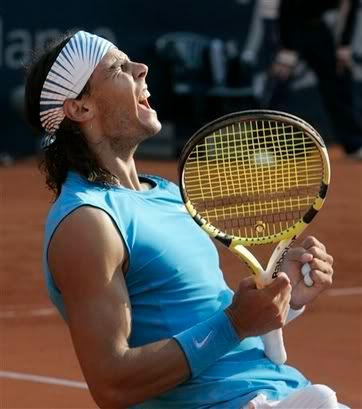 It was a great match, one to sit down and watch again and again.
End Notes
Harvey Araton

of The New York Times reported the following.

Henin was not, by design, a tour runway model, no Williams sister or Maria Sharapova on the marketing side. For that reason, Scott stepped off a plane Wednesday from Rome to say, of Henin's stunning exit as it relates to the sport a large, "We won't lose any sleep over it."
I have never been a fan of
Justine Henin
. I have given her the respect her accomplishments deserve over the last year or so, nothing more. But she was number one in her sport when she retired for what seem to be personal reasons. As a CEO Scott is expected to have enough savoir-faire to know how to handle questions from the press. I find the above statement absolutely stunning in it's coldness and dismissive attitude. Some fans wanted to believe that Scott was misquoted. Araton has covered sports for the Times for a long time. I haven't seen any denials.
There is a brawl going on in Spanish tennis right now that is jaw dropping in it's vitriol. It has to do with the Davis Cup and where the tie will be played. The choice, Madrid, was made due to financial and political consideration. So why have the players gone ballistic and appear on the verge of getting

Pedro Munoz

thrown out the door head first? Lies they say. It all goes back to the sacking of popular Davis Cup coaches a couple of years ago. Munoz has hit back with personal, and petty, attacks on the top players in public while sending them nasty SMS emails. All of this, including the emails,is in the Spanish press. Great reading. Reports are Munoz will be asked to resign on Tuesday.
After publicly dragging the above mentioned Larry Scott through the mud over what she was and wasn't going to do for the tour

Maria Sharapova

withdrew from her semi final match against

Jelena Jankovic

in Rome with a sore calf.

Serena Williams

had also withdrawn with a back injury.Guess that's something else Larry didn't lose any sleep over. His golden girl will be ranked number one on Monday. All is right with the world.
Who cares that the Rome Tournament issued a public apology to the fans for what was a troubling Masters Series/Tier I event? Guess that clay court season schedule worked out well huh? One of the tournaments had to suffer. It was Rome. That suit by the people who run Hamburg is still pending.