by Savannah
It started with a bad foot.
Rafael Nadal
went out in his first match to
Juan Carlos Ferrero
after playing a schedule that raised eyebrows. After that it was as if someone spiked the Gatorade. With Rafa out all eyes turned to
Roger Federer
who was widely expected to finally win Rome. Instead fans, and more than likely the Tournament Director, looked on in horror as Federer went down to defeat at the hands of
Radek Stepanek
while Americans
James Blake
and
Andy Roddick
, playing hard court tennis on the sun hardened European clay, moved on. Blake fell in the quarter finals but he can say he had a good run in Rome.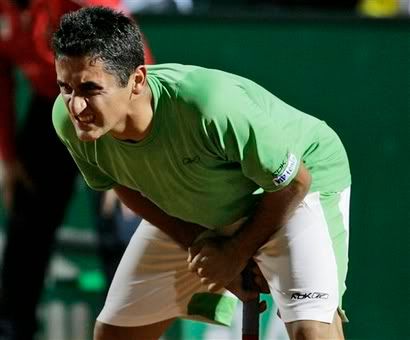 The mens semi finals featured as unlikely a scenario as one could find in a Masters Series Event. Andy Roddick was to play against
Stanislas Wawrinka
in what was expected to be a very interesting match, and
Novak Djokovic
was to play against
Radek Stepanek
who was playing the best tennis anyone had seen him play in quite some time coming into the match. It should be mentioned in passing that Djokovic reached the semi final via the retirement of
Nicolas Almagro
in the quarter finals.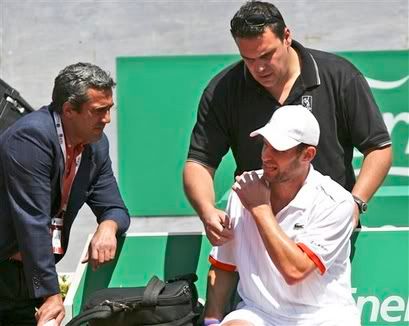 Semi final day at a Masters Series event is one to look forward to. I didn't have any favorites but I was looking forward to good tennis. So were the fans in the stadium who had paid good money to have their butts in the seats. So was the Tournament Director. Instead the follies continued. Andy Roddick, who had led everyone to believe a man of his wealth and ego actually carried boxes up stairs during the move into the new midtown Manhattan apartment he and his fiancee will share, retired with back spasms and a shoulder issue giving Stan a free pass into the final. Okay, that can happen. There was another match no? No. Radek, looking as if he'd celebrated his win over Roger just a bit too much retired during his match as well giving Djokovic another get out of jail free card ride into the Final. Fans rightly booed. This being Italy I'm sure the security people were glad that's all they did. The tournament director, probably aware that the last time Wawrinka had faced Djokovic Wawrinka won because – come on guess – Djokovic retired was probably climbing stairs to the top of the nearest tall building. When they finally got the poor guy off that ledge I'm sure he made it clear to both players that the "r" word would not be tolerated for the Final.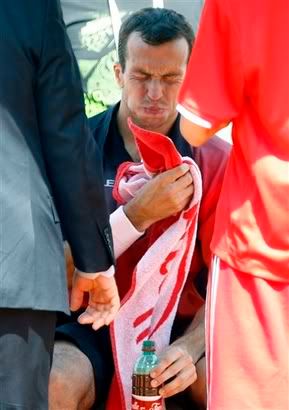 So the match went on and Stan, after winning the first set lost the next two to the much fresher Djokovic. Three set wins by Djokovic are always suspect in my eyes. The only difference today was that he lost the first set instead of the second. Usually if he loses the first set he gets ill in the second but I guess the image of the TD teetering on the ledge of that building – and all those ranking points - kept him in the match. Wawrinka seemed mentally fatigued after the first set and went away rather quietly.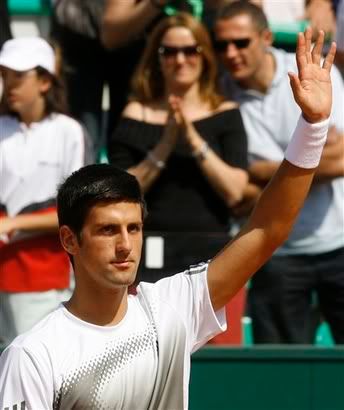 Thanks to the inept, some would say sadistic, scheduling of the clay season by the ATP, one of the tournaments had to suffer. I had thought it would be Hamburg coming as it does after Roma, but that was not the case. I always look forward to Rome because for the last three years it has featured matches that many tennisheads consider among the best ever played. In 2005 there was Nadal vs Coria. In 2006 it was Nadal vs Federer. In 2007 it was Nadal vs Davydenko. Nothing epic or memorable happened during 2008. The last man standing – the man who had played the least tennis – won and will add a Master's Shield to his collection. In my mind there will always be an asterisk for Roma 2008. Next year, unless something drastic happens, Etienne de Villiers "Brave New World" goes into effect and there will be only two clay Master's Series events, Rome and Madrid. Everything else will be downgraded or no longer mandatory. Shame.
It should be noted that play in Hamburg started today instead of Monday as is usually the case.