by Savannah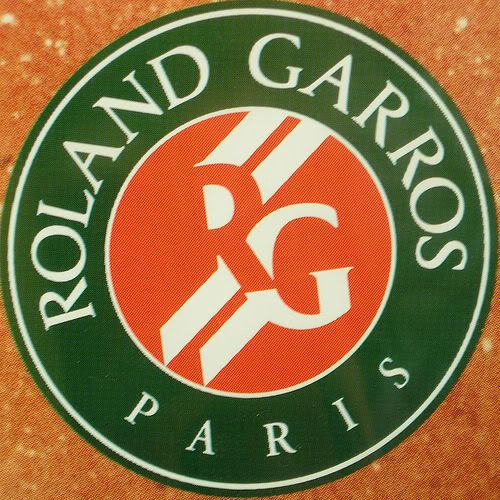 At one point during NBC's broadcast of the match between
Rafael Nadal
and
Fernando Verdasco
,
John McEnroe
casually stated that
Donald Young
had been invited by the Nadal family to come and work with them for three weeks in Mallorca. Now I'm sure many tennis parents heard that and immediately began emailing the family saying their precious was the best thing since sliced bread and would gladly take them up on the offer the Young camp refused. That's right, they refused. I've said here before that Young has the potential to become an all court player, a man who will not run screaming into the night at the mention of terre battue, or whine that he just can't learn how to slide the way "they" do. "They" of course are the European and South American players who have become the stars of the ATP, the men, and women, who grew up on the red dirt – not ground up tires or whatever "green" clay is, but real crushed red brick. You know them. They can construct points, think their way through a match, are patient enough to hit to the same spot, or near to it, until their opponent, frustrated, goes for too much and makes an error. Yeah, those people. They change speed and direction on the ball too.
If you've been reading this blog for awhile you'll remember I posted about why the United States changed their surface of choice from clay - ! – to hard court. Economics? I mean it must be hard to keep up clay courts right? Forget the fact that many clubs had clay courts back then. It has to be economic right? Well, no. It had to do with the rise of some young Spaniards and South American's who were bold enough to challenge the United States on a tennis court. They were christened "clay court specialists" and the United States tennis establishment made the move to hard courts.
So when the Nadal family made their offer to the Young camp imagine the alarm bells that went off in the United States. One of their own, recently exposed as being used and abused by the powers that be of U.S. tennis and who despite all that happened is now making his way up the rankings, go to Spain?! It would be the straw that broke the camels back, the exposure of the United States tennis system as a teetering house of cards. It could not, and would not happen. And it didn't.
So will Donald Young's potential be sacrificed on the altar of mindless ball bashing? Will he become like the generation that is now moving into the later years of their careers, unable to compete in Europe or South America? That remains to be seen. I should mention in passing that Young arrived in Europe in time for The French Open and played maybe one warm up event which he crashed out of early. Needless to say he was out of the French and on his way to his next event early as well.
So what happened to the American's in Paris? Let's see. Young we've discussed.
Blake
, who to his credit played a fairly full, for an American, clay court season, unraveled and departed. An injured
Andy Roddick
did not even make the trip to Paris. He headed back to the States after Rome and will presumably be ready to compete at Queens. I believe Andy is injured. He never misses a Slam.
Ah but on the women's side we had
Venus Williams
and
Serena Williams
. Venus hadn't played in weeks and not much was expected of her. The rustiness showed and she bowed out to
Flavia Pennetta
who played inspired tennis against her. Serena? I think the Serenabot made the trip. That woman who was spraying balls all over the place and didn't seem to understand what to do with an opportunity when one presented itself lost to
Katerina Srebotnik
. Do I have to say that both Pennetta, and Srebotnik, lost to their next opponents? It seems beating one of the Williams Sisters is still something players want to do. The question is do the Williams sisters want to beat anyone they have to play these days? Ennui? I don't know if I'd go that far. I have no inside track so I don't know what is going on in their lives.
So not one American made it to the second week? Yes, one did. The oft maligned
Robby Ginepri
will take the court on Monday. It's funny to me how when all the other American stars crash and burn somehow it's a guy like Ginepri who emerges from the smoke and ruins.
John Isner
was a surprise to the tennis establishment. I often malign
Sam "Kid Porsche" Querrey
but I have to give the boy his props. He too played a decent clay court season and even paired with Isner in doubles. He has nothing to be ashamed of. And neither do the other American players who went to Europe and stayed trying to make their bones on the red dirt. When the top American man, James Blake, after playing horribly, finds nothing to do but pick a fight with the chair saying he deserves a "competent" chair umpire I have to say I wasn't too sorry to see him go. It's one thing to think someone is an idiot. It's another to open your mouth and reinforce the ugly American stereotype overseas. For a Harvard man Blake can sometimes do, and say, the dumbest things.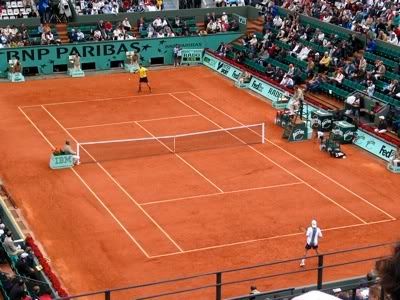 But I digress. Will American kids learn to play on clay? One of the announcers calling a match I believe in Rome or Monte Carlo, said that clay is the ideal surface to learn on. It teaches patience, point construction, how to think your way through a match, and hones both your physical and mental abilities. Both have to be peak in order to play well in the dirt. If Brave New World goes into effect, the importance of the clay court season will be diminished. The tournaments that count will be played on American or Asian hard courts. I guess if you can't compete the answer is to sandbag the opposition and reduce their favorite tournaments to second class citizenship during the tennis year. I'm sure that the Young camp was made aware of this as well.
All of this is not happening in a vacuum.
Roger Federer
,
Novak Djokovic
and
Rafael Nadal
are all running for the Players Council currently headed by
Ivan Ljubicic
and James Blake. The same guy I was talking about further up. If they succeed in making the council I think things will change. Already the argument is being made that they'll only look to make their situations easier. It's no secret that life at the top of the food chain is very different from life at the middle or bottom. Most tennisheads know this. The argument is spurious in my opinion but I'm not a guy staying at a Best Western on my own dime while Roger and Mirka dine on five star cuisine if they so desire. The election is taking place during Wimbledon.
So back to my question. Does American tennis suck? Will Venus, Serena, Lindsay, Andy and James have to play until they drop? Where are the American
Jeremy Chardy's
or
Carla Suarez-Navarro's
? Hell, do we have an
Alize Cornet
? Not to my knowledge. And that is the problem. Stacking the deck against the "others" is not the solution to the problems in American tennis.
Patrick McEnroe
has been tasked with turning the American System around. That is why I found his brother's comments so intriguing today. John McEnroe said it was a mistake for the Young's not to take the Nadal's up on their offer. It was. If the McEnroe's are allowed to reach out to those offering to help, if the American tennis establishment will admit it needs help, then maybe in a few years tennisheads won't have to ask if American tennis sucks.