by Savannah
So much hot air over this little patch of green. The eyes of the tennis world are fixated on tennis sacred ground for the next fortnight(Hey, may as well get that out of my system now since it's going to be the word repeated by talking heads world wide ad nauseam). All the pundits, bullshit artists, and other jetsam and flotsam of the tennis world have spoken. Photoshop artists have been at it creating images for tennisheads inclined to that particular artform. Injuries, real, feigned and otherwise have been put forward, discussed and discarded.
I for one am sticking strictly to the shallow end of the pool and hopefully bringing folks up to date on what's been going on in and around SW19 the last few days.
Andy Roddick
threw a tantrum. Apparently disgusted by his pre tournament warm up the newly engaged Mr. Roddick was reported by
Yahoo
to have thrown his racquet at a trashcan and wandered off muttering that he hated himself. Guess he's not saving the drama for his on court performances this year.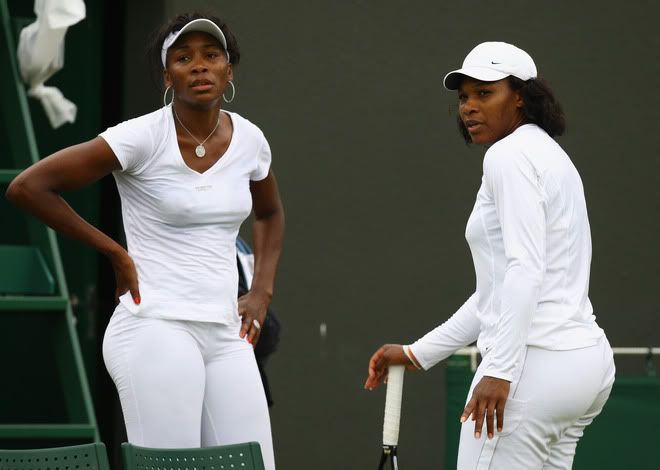 In a totally non related fashion note that should be filed in the "imitation is the highest form of flattery"
folder Maria Sharapova
announced that she will be wearing shorts this year instead of a fashion forward custom designed dress.
Venus Williams
had not commented as of this posting. She does appear to have put on some weight which is good to see. She's not rolling onto the court by any means people. She just looks healthy.
The other tempest in a teapot regarding the sisters Williams surrounded a published photo of
Serena Williams
having a WTA physio look at her hand. As she'd just been photographed texting unless she's channeling the spirit of
Richard Gasquet
this was much ado about absolutely nothing.
It was good to see Papa Williams there working with his girls.
Justin Gimelstob
has added misogynist to his repertoire. He appeared on a show broadcast in the Washington DC area to talk about World Team Tennis. During his appearance Gimelstob uttered these pearls of wisdom. I apologize in advance for his being an asshat. The "Anna" he is talking about is
Anna Kournikova.
"She's a [bleep]," Gimelstob said of Anna, using a word that rhymes with "kitsch. "We're gonna kick her [bleep]," he added, using a word that almost rhymes with "kastle."
Well then. Will he talk junk to her on the court?

"One hundred percent," he said. "If she's not crying by the time she walks off that court, then I did not do my job."
So it's pure hate then?
"Hate's a very strong word," he said. "I just despise her to the maximum level, right below hate. I think she falls into the Marcelo Rios 'Scumbag' category....And this whole bluff about her retiring because of her back? She had the yips on her serve, she can't get her serve on the court. Wait until you see on July 23, she's gonna be serving 40 miles an hour and I'm gonna be just plugging it down her throat....We do exhibitions together and I'll mock her, and make fun of her. I'll just make her know that she's stupid....I'm sure she'll rue the day that she has to come here and actually share space with me."
(...)
...what would happen if Kournikova made a move on Gimelstob. You know, a Biblical move.
"Definitely not," he said. "I have no attraction to her, because she's such a douche....I really have no interest in her. I wouldn't mind having my younger brother, who's kind of a stud, nail her and then reap the benefits of that."
Source
It's so reassuring to know that this is the man who is reportedly taking the American seat on the ATP Board isnt' it?
The
New York Daily News
is reporting today that one Mr. Steve Biegel is suing his former employer, Japanese ad agency Dentsu, for being sexually humiliated and degraded. In his suit he cites the head of the agency, one Mr. Toyo Shigeta of forcing him, a married man, into having sex with a prostitute and making him a party to his personal sexual fetish of photographing women's privates. So what does this have to do with tennis? One of the women Shigeta is said to have photographed is Maria Sharapova. Get the picture now? Or maybe not? Anyway outraged executives of Dentsu are not taking the allegations laying down and have shot back that Biegel, who left the company in 2006, was trying to shake them down and that when they refused to give in he filed his suit. One could write a master's thesis about Japan's sexual, what is the right word, fetishes? I am not that person though. If you're interested just Google the topic. You'll be occupied for quite some time.
Wonder how Justin, who advocates rape in his above statements, would respond if he had been in Mr. Biegel's shoes.
ATP News
The biggest news of course is the ongoing attempt by the players to get more control over their destiny. To do this they're working quite hard at revamping the Players Council and the ATP board. Other than Gimelstob being added to the ATP Board as the American representative former player's council president
Ivan Ljubicic
has been elevated to the board temporarily. He will hold his post through the US Open. Tennis Channel vice president
David Egdes
has also been elevated to the board as the International representative. As for the Players council - the old one presided over the elevation of the three men mentioned - the new council is expected to include
Roger Federer
,
Rafael Nadal
and
Novak Djokovic
.
I've seen some fan dissatisfaction with the men at the top of the sport putting themselves up for election to the Players Council on some fanboards but frankly I don't understand why. I get that some feel the top three want sweetheart deals for themselves and all that but I think they're forgetting what caused this brouhaha. Earlier this year the ATP announced that except for Roland Garros which they can't touch, Rome and a couple of other clay events all of the mandatory tournaments would be those played in the United States, Canada, and Asia. Read hard courts kiddies. And the European's hit the roof. Thrown into the pot was a deal with
Ion Tiriac
to add a new combined event in Madrid. Under threat Monte Carlo was retained but in a downgraded status. Meanwhile the Rogers Cup in Canada and Indian Wells in the California desert retained their status. It should be mentioned here that the people who run Hamburg have filed a suit that is troubling to the status of the ATP. The suit will be heard in the state of Delaware next month. All because the American tennis establishment, unable to compete on red clay, wanted a - dare I say it - sweetheart deal. This suit is the 800 pound gorilla sitting in the stands. To keep yourself up to date check in regularly with
Doug Robson's
blog. He's been on top of this story for quite some time.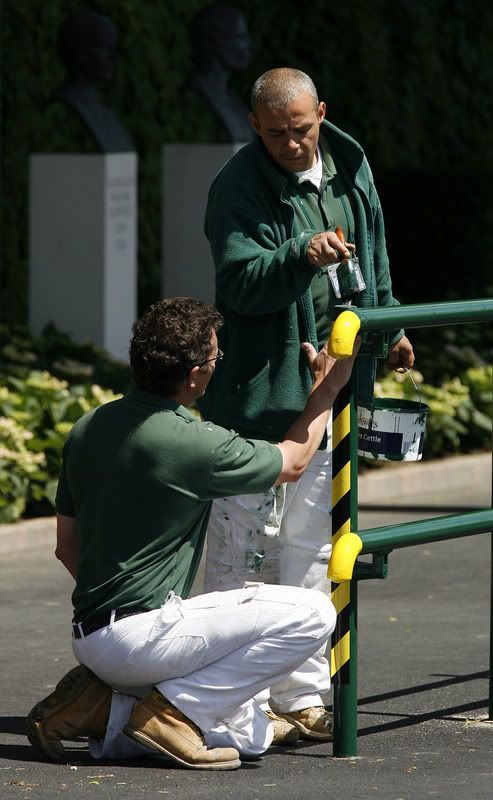 So while these guys do their thing to make the hallowed grounds of the AELTC beautiful for tennis lots will be going on behind the scenes. If you're like me I'll be zoned in on the tennis. I've still got some terre battue in my shoes but I realize it's time to graze in the grass.
If you still haven't gotten your fill of predictions and thoughts about The Championships check out
Craig's Blog
For the next two weeks, sorry, fortnight, the best men and women players will be striving to win the most cherished trophies tennis can offer. We'll all be there.