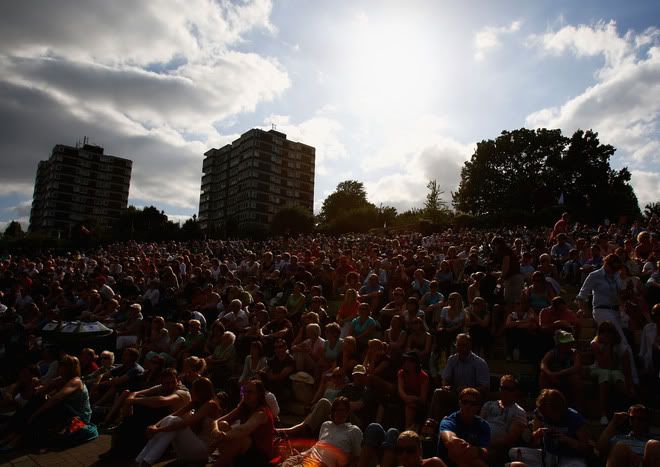 by Savannah
I agree with Brad Gilbert on something. Does this mean the Apocalypse is upon us? He called bullshit on the players who cited "mental fatigue" for their early round exits at The Championships this week. Neither
Ana Ivanovic
nor
Maria Sharapova
played a warm up event. More on Ana below.
Novak Djokovic
did play a warm up and had a cup cake draw that barely caused him to break a sweat before coming to play at the AELTC where another cakewalk awaited. Just sayin'.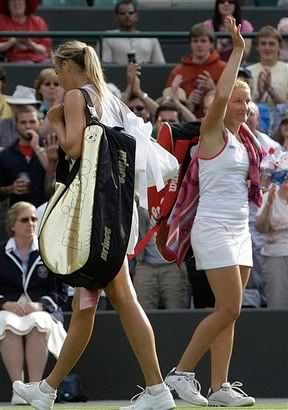 Heavy Lies the Head...
Ana Ivanovic
had these comments after
Zheng Jie
of China handed her ass to her.
"For me, it was all new situations. Although I wasn't nervous or anything, I didn't have as good preparation as I hoped for because I had to have time off after Roland Garros."
(...)

She also felt that everyone was giving a bit extra against the world number one. "Everyone is so pumped up against you. They know they have nothing to lose and are pumped up, giving their best. It's something you have to accept."
Marion Bartoli
said pretty much the same thing last year after her Wimbledon semi final appearance and was vilified for it. Ana smiles and hints at a little cleavage and the press gives her a pass. I wonder why? Lets forget that
Zheng Jie
dismantled Ivanovic by keeping the ball low and not letting those down the line power shots disturb her. She did not give Ana control of the middle of the court and exploited her still poor on court movement. Ana, to use the vernacular, got powned. Case closed.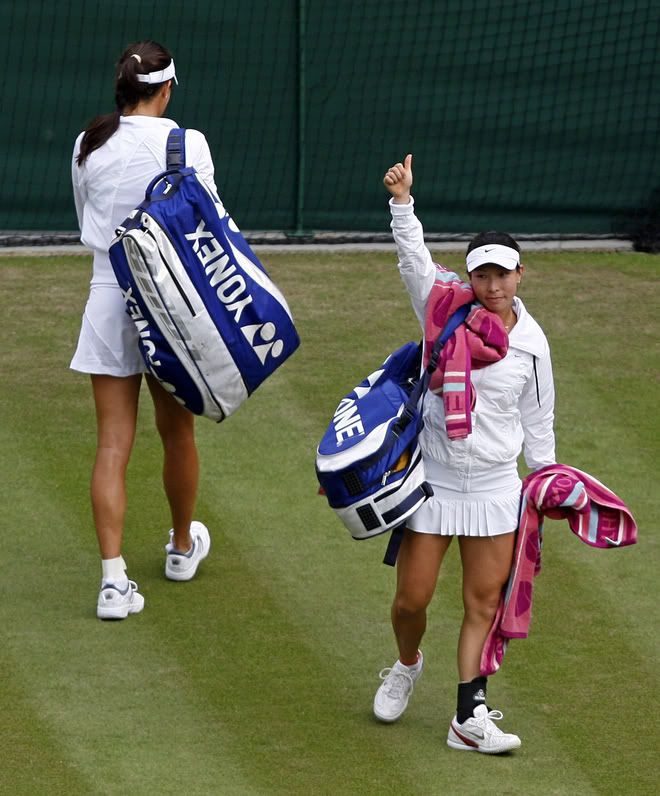 The Long Drought
Thanks to "Merton" over at
MensTennisForums
for this factoid;
The United States has not won a Grand Slam since 2003. "Jedi Fed" added this information:
Well, there have only been three occasions on which no Americans have proceeded to the 4th Round at Wimbledon.

In 2002, Taylor Dent lost to Wayne Arthurs 6-7(2-7) 6-7(3-7) 7-6(7-4) 6-7(5-7), winning only one set.

In 2006, James Blake lost to Max Mirnyi 4-6 6-3 6-4 1-6 0-6, winning two sets.

This year Bobby Reynolds lost to Feli Lopez 6-4 7-5 4-6 6-4, winning only one set.

One could argue this is the worst performance by Americans ever. It's only the second time that an American has failed to lead in the third round, and the first time they have only won one set and no tiebreaks.

I am counting Lendl as an American, as he defected.

If an American fails to reach the semifinals of the US Open, it will be the first time ever that there has not been an American in the semifinal of a slam for an entire year.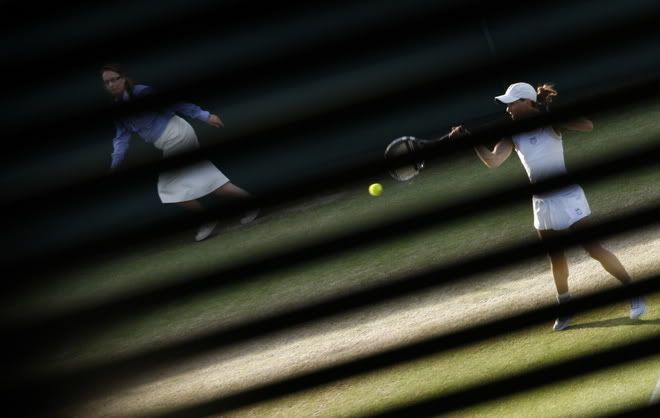 Cara Black
A Woman's Worth
So
Justin Gimelstob
, newly minted representative of American Tennis, has been suspended by WTT for one match and is sending a check to a women's organization. I guess calling women bitches or saying a woman you don't like should be turned over to your kid brother for his enjoyment against the woman's will is no big deal these days. For shame ATP, TC and his other various employers who issued mealy mouthed apologies for their employee.
The Huffington Post
has picked up the story as have other mainstream media outlets. The story should not die.
Jelena Jankovic
I've had it with her. Her stunt on Saturday wherein she said a slip on the dirt ended up in her knee being wrapped from thigh to just below the knee - something that took awhile to kick in as anyone watching could tell those of you who didn't see the match - was just too much. I was born at night, not last night. It reminded me of the same crap Djokovic pulled on Gael Monfils a couple of years ago. Tacky Jelena. Just tacky. Especially when
Nadia Petrova
, with a legitimate injury, gutted out a win on the same day with a similar wrap on her leg. I'm not saying
Caroline Wozniacki
would've won. I do think Jelena could've won without all the drama.
Anger Management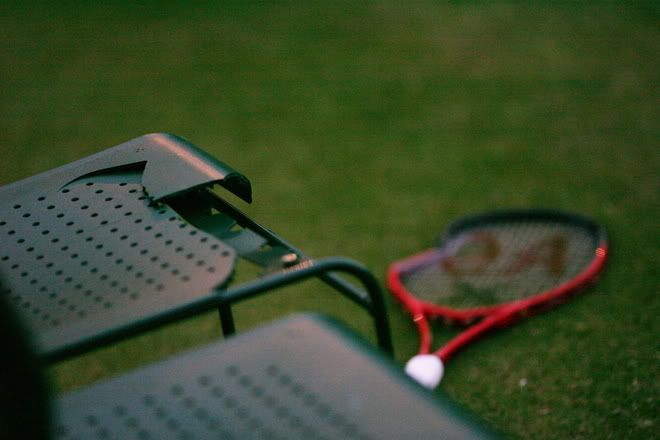 Chair redesign by
Radek Stepanek
Pics of the Week
Some have been posted above. Here are the rest.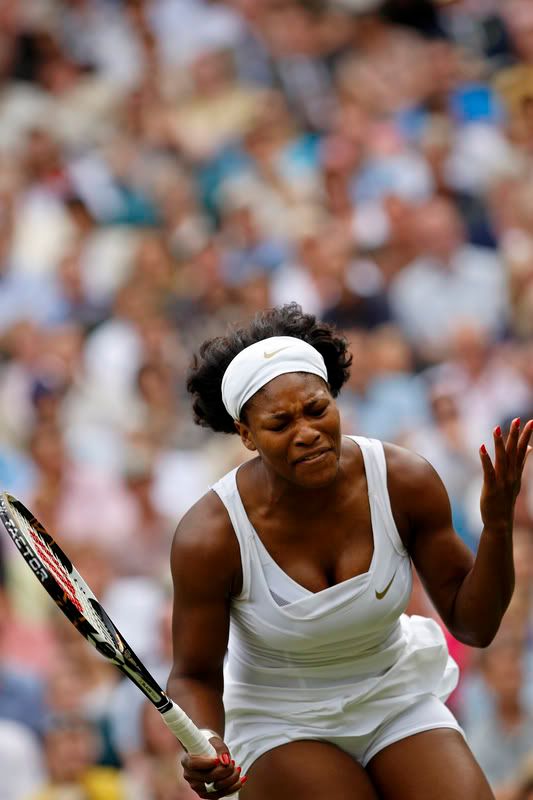 Serena Williams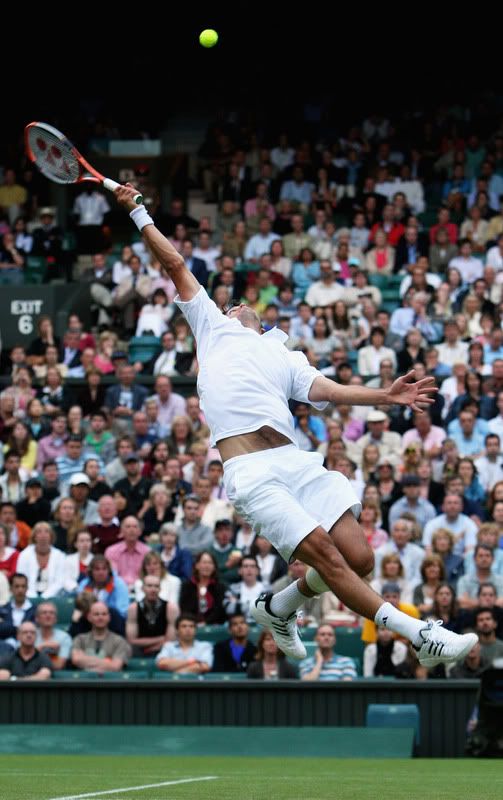 Mario Ancic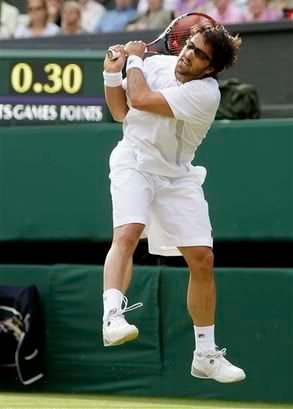 Janko Tipsarevic
Venus Williams and Serena Williams