by Savannah
I think it's safe to say that tennis was not what Jerry Garcia had in mind when he penned those words but I don't know how else to describe this last week in the tennis world. Once again the Old Guard has been challenged and while there were some members of that circle who held on some who've been standing outside the gate are laying seige to the castle. An eighteen year old qualifier won Delray Beach, an event many tennis heads had conceded to
James Blake
. From all reports Blake was powned and had no answer for young
Nishikori Kei
of Japan who took one set from the veteran player 6-1.

Andy Murray
won over
Mario Ancic
in Marseille. Ancic is returning to the tour after a long illness and Murray skipped Davis Cup play for Britain due to a chronic knee injury.
In Brasil
Nicolas Almagro
of Spain pulled out a win over countryman
Carlos Moya
.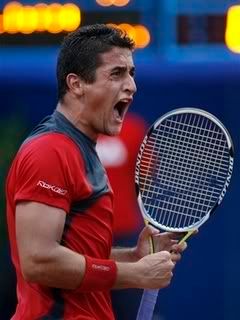 Chile saw WTA tour stalwart
Flavia Pennetta
win the first installment of the Cachantun Cup at Vina del Mar.
Karin Knapp
made it to her first final and while she didn't win she served notice on the already shallow WTA tour that she's not to be taken lightly. It was Justine Henin who won the Diamond Trophy but eyes are now on Knapp who has had a good season so far this year.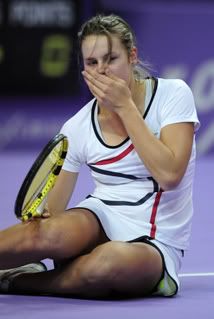 Men's Doubles should have been more of the same old same old right? Wrong.
Max Mirnyi
and
Jamie Murray
outplayed the Bryan twins. In Brasil the team of
Melo and Sa
of Brasil hoisted the winners trophy.
Congratulations to all the Winners!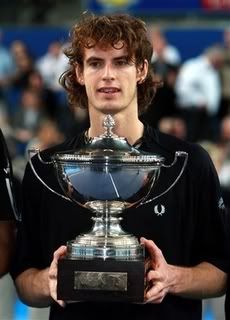 Andy Murray Champion Marseilles 2008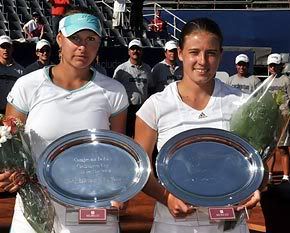 Liga Dekmeijere (L) and Alicja Rosolska Doubles Champions Vina del Mar 2008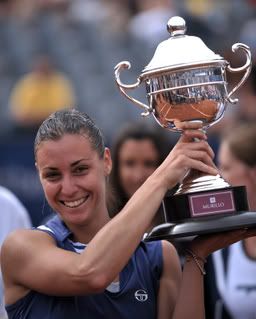 Flavia Pennetta Winner 2008 Cachantun Cup Vina del Mar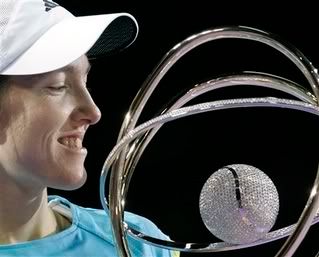 Justine Henin Winner Antwerp 2008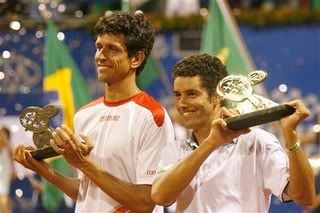 Marcelo Melo and Andre Sa Winners Men's Doubles Costa do Sauipe Brasil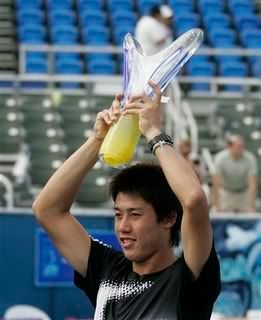 Nishikori Kei Winner Delray Beach 2008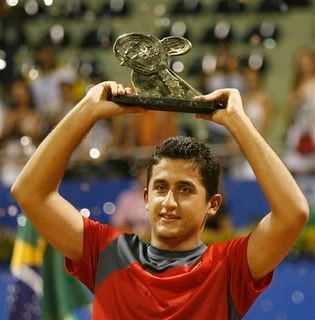 Nicolas Almagro Champion Costa do Sauipe Brasil 2008
Black History Month Profile of the Week
Paul Lawrence Dunbar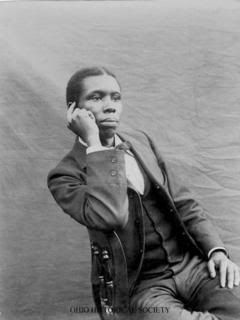 Dunbar was born in Dayton, Ohio to parents who had escaped from slavery; his father was a veteran of the American Civil War, having served in the 55th Massachusetts Infantry Regiment and the 5th Massachusetts Colored Cavalry Regiment. His parents instilled in him a love of learning and history. He was the only black student at Dayton Central High School and he participated actively as a student. During college, he was both the editor of the school newspaper and class president, as well as the president of the school literary society. Dunbar had also started the first African-American newsletter in Dayton.

He wrote his first poem at age 6 and gave his first public recital at age 9. Dunbar's first published work came in a newspaper put out by his high school friends Wilbur and Orville Wright, who owned a printing plant. The Wright Brothers later invested in the Dayton Tattler, a newspaper aimed at the black community, edited and published by Dunbar.

His first collection of poetry, Oak and Ivy, was published in 1892 and attracted the attention of James Whitcomb Riley, the popular "Hoosier Poet". Both Riley and Dunbar wrote poems in both standard English and dialect. His second book, Majors and Minors (1895) brought him national fame and the patronage of William Dean Howells, the novelist and critic and editor of Harper's Weekly. After Howells' praise, his first two books were combined as Lyrics of Lowly Life and Dunbar started on a career of international literary fame. He moved to Washington, D.C., in the Le Droit Park neighborhood. While in Washington, he attended Howard University.

His wife Alice Dunbar-Nelson was a famous poet as well. A graduate of Dillard University in New Orleans, her most famous works include a short story entitled "Violets". She and her husband also wrote books of poetry as companion pieces. An account of their love, life and marriage was depicted in a play by Kathleen McGhee-Anderson titled Oak and Ivy.[1]

He kept a lifelong friendship with the Wrights, and was also associated with Frederick Douglass and Booker T. Washington. Brand Whitlock was also described as a close friend.[2] He was honored with a ceremonial sword by President Theodore Roosevelt.

He wrote a dozen books of poetry, four books of short stories, five novels, and a play. His essays and poems were published widely in the leading journals of the day. His work appeared in Harper's Weekly, the Saturday Evening Post, the Denver Post, Current Literature and a number of other publications. During his life, considerable emphasis was laid on the fact that Dunbar was of pure black descent, with no white ancestors.

Dunbar's work is known for its colorful language and use of dialect, and a conversational tone, with a brilliant rhetorical structure.

Dunbar traveled to England in 1897 to recite his works on the London literary circuit. He met the brilliant young black composer Samuel Coleridge-Taylor who set some of his poems to music and who was influenced by Dunbar to use African and American Negro songs and tunes in future compositions.

After his return, Dunbar took a job at the Library of Congress in Washington. In 1900, Dunbar was diagnosed with tuberculosis, and moved to Colorado with his wife on the advice of his doctors. Dunbar died at age thirty-three on February 9, 1906, and was interred in the Woodland Cemetery, Dayton, Ohio.