By Savannah
ATP News
Hold a small tournament and the world beats a path to your door these days. Not only is
Roger Federer
going to play
Estoril
as part of his road to
Roland Garros
but he is also playing Stockholm later in the year. Needless to say the Swedish tennis authorities are as pleased as punch over this since David Nalbandian is also going to play there. Looks like James Blake, who is normally one of the top seeds here and won this event in 2006 is going to have some big league company. If the Swedish reports are true that would have Roger playing four weeks in a row.
Roger To Play Stockholm
In more Roger news he's said to be looking for a coach. The short list is rumored to include Paul Annacone and Darren Cahill. Annacone has dealt with Pete Sampras and Cahill just comes across as a man who will go toe to toe with you at the drop of a hat. I don't think either man would take well to being told to pick up the balls off the court while Roger chit chats with a hitting partner do you?
Belgian player
Dick Norman
is saying that another player will be suspended and fined for gambling next week.
Norman said the following on his website:
"Anyway, next week another player will be suspended. He already told me he won't agree with the suspension and the fines and will appeal against them. Next week you'll probably read his name in the papers."
The link is in Dutch but if you scroll down you will see a word that looks like "Italians". Using the Google translator it translates to the above statement.
Tennis Gambling
We'll all have to wait and see won't we?
Guillermo Coria
won his first round match at Costa de Sauipe in Brasil. It's his first tour win since 2006. Many fans have a very selfish motive for seeing Coria back to winning on the main tour and it has nothing to do with his tennis.
Gustavo Kuerten
bid an emotional farewell to his fans in Brasil after losing his first round match to Carlos Berlocq at Costa de Sauipe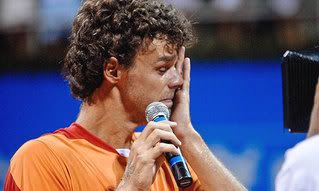 WTA News
Agnes Szavay
and
Alona Bondarenko
were both upset in their first round matches at Antwerp. Szavay lost to qualifier Alisa Kleybanova in straight sets while Bondarenko went down to Julie Ditty of the United States 4-6, 6-3, 6-4. Szavay didn't' appear to have much in the tank after her final against
Anna Chakvetadze
in Paris Sunday. Top seed Justine Henin doesn't play until Thursday when she'll face
Tsvetana Pironkova
of Bulgaria.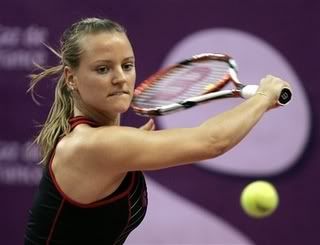 Three fans were thrown out of Antwerp for live betting on their laptops. If anyone has caught the live feed on
channelsurfing.net
you will know that this would make the cavernous arena more empty than it already is. But zero tolerance is zero tolerance.
Flavia Pennetta
is doing the WTA blog from the newly minted Vina del Mar women's event. I'm just sayin'…
Was
Sania Mirza's
decision to boycott events in her native India a result of all the criticism she's received there or poor advice from her managers? Indian fans say it was the result of tennis politics on the sub continent.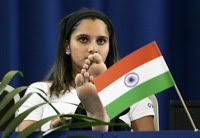 General Tennis News
Indian Wells and Miami will not be carried on ESPN. Fox News (FSN) will carry televised coverage of these important hardcourt events. Check your cable package now. I found out that I have a bunch of FSN channels. Who knew? Now to find out which one will be showing tennis.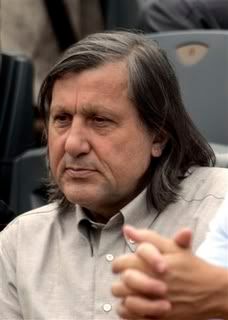 Ilie Nastase
resigned as head of the Romanian Tennis Federation after the press there reported suspicious overcharges to various vendors for providing services to the Romanian team during the recent Davis Cup tie against France. Romania failed to win a single rubber. Televised reports quote Nastase as saying he may leave his country for good.
Nastase Resigns
Pictures of the Week
Looks like Gasquet and Tsonga had big fun in Sibiu, Romania. Guess this puts all those innuendos about Gasquet to bed huh? I don't get the shirtless thing but maybe it's because I'm old and when I was hanging out guys kept their shirts on and had just as much fun?