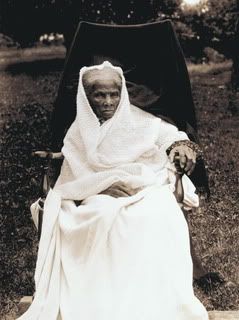 by Savannah
Pre Fed Cup Chit Chat
Why is it so easy to find pictures of the Russian team? I'm sure the Fed Cup site has pics of the other teams playing but Yahoo, a good source for pics, looks like
Maria Sharapova
central. I'm just asking you know?
Anyway here are some excerpts from an article on Eurosport's web site about all the pressure on the Golden Girl. I'm all teared up. I really am.
The Russian golden girl, the world's richest sportswoman, is spearheading her country's defence of its Fed Cup title which gets its first examination against Israel this weekend.

There is plenty at stake.

Sharapova, fresh from her first Australian Open title and third career Grand Slam crown, has never represented her country before but needs to demonstrate her commitment to the Fed Cup if she is to play in the Olympics.

Furthermore, her collection of blue chip sponsors desperately need to see their investment reap maximum rewards when the world's biggest sports event dominates for three weeks in China in August.

Sharapova knows too she needs to repair relationships with her teammates...

"The majority of us have a wonderful relationship. We do," said Sharapova who irked Svetlana Kuznetsova and Anna Chakvetadze when she was invited to cheer the team on from the sidelines in the 2007 Fed Cup final win over Italy in Moscow.
(...)

"I have my fingers crossed this will be the first time after a Grand Slam that I don't get sick or injured," said Sharapova after her Australian Open victory last weekend.

Tarpishchev, meanwhile, said he was pleased with what he saw of Sharapova in Australia and was expecting another impressive performance in Israel.

"Maria looked in command throughout the tournament due to her strong mentality," he said.

"I hope she will manage to keep her good form for the matches in Israel."
Source
You Have Got To Be Kidding!
A Serbian newspaper published an aricle on narcissism in sports. The original would be lost on me since I don't read Serbian but here is what a Fedtard got from readng it.
After this article,

Rafael Nadal

and


Novak Djokovic

would come out as being excessively narcissistic sportsman.

Nadal's and Djokovic's respective games, brutish and uninspiring on their own ground, show that the joy of playing is subdued (if existing at all) to some other aims. And that aim mostly seems to be fame and adulation.


Both Nadal and Djokovic show extreme sensitiveness on every (perceived) lack of adulation they receive, while being very envious towards the adulation others get. At that, they don't seem to be fully conscious - if conscious at all - of how the adulation is deserved, it is as if they don't see the source of admiration important - the skill and creativity coming from innate gifts and living for the game - but the admiration itself. This is so much emphasized that they seem happy to steal success and admiration - so Nadal doesn't seem troubled by numerous indications that his success is also an outcome of many outside factors and not only his game, neither is Djokovic by lack of ground for his habitual cocky claims.

Also like true narcissistic sportsman they see winning more as a matter of destroying the opponent than overcoming some imagined obstacles of theirs own. They are turned towards marketability and happy to reach towards half-interested audiences - at the place of Nadal this is seen through his on-court antics and emphasis on physical looks, while at the place of Djokovic through his 'impersonations' and outward image selling.

As a contrast, older generation of current players such as Roger Federer are not fitting this narcissistic sportsman frame. From the way Federer plays you see that the love for the game is the main driving force; he is motivated more with his own set aims and imagined obstacles than with destroying opponents, and is not striving to put up a show and become "marketable" but to build and perfect his own playing style. And while many Federer's detractors point out his burgeoning Ego ("Ego King"), this is just a try of blinding with words, in accordance with that aphorism "the world likes to talk, but it's true wishes does not express through words; what's more, through words it tries to hide them". What they actually mind is exactly Fererer's lack of bulging Ego, and probably the main reason for Federer being somewhat unfashionable today is his non- narcissistic appearance - in the age that craves for a narcissistic champion that will reflect it's own nature.
Djokovic's fans are pretty desperate to somehow paint Rafa with the same lack of class brush their favorite has been painted with don't you think? And to say Federer has no traits of narcissism when he said he had been severely ill prior to the AO and yet managed to "hang on" until the semi's knowing that all he had to do was reach the semi's and not win so that he would hold onto the number one spot. It's ironic that Berdych, who is known to dislike Rafa and vice versa, literally rolled over and played dead in his match against Roger isn't it? Again, no implication or insinuation of "malingering" but I'm just sayin' you know?
Someone needs to tell this fan that all athletes are narcissists. It's all about them because it has to be. If they're not looking after their health there will be no wealth and hence no happiness for them. I don't care if you're talking baseball, European or American football, cricket, or handball. An athlete is an athlete. When you see Rafa berate a crowd for "liking his opponent better" then you can throw him into the same pot with Djoke. I think if Rafa ever did that Tio Toni would give him a good smack upside his head.
The World According to Srdjan
The behaviour of the leading people at the Tennis Federation is unacceptable. It would have been natural if they had called us and discussed the matter with us. They never contacted us as they obviously don't wish to," says Djokovic.

Slobodan Zivojinovic and Dusan Orlandic have recently spoken about the possibility that Belgrade could host a major ATP or WTA event in the near future, while Srdjan Djokovic believes the current Federation policy will unlikely lead to a successful outcome.
- "It's terrible all of them keep hiding behind the wins and success of our players and even try to present them as their personal triumphs. Only the families of our top players know what kind of turmoil the boys and girl had go through to get where they are today. Can somebody tell me what credit the Federation deserves? They must have already forgotten what we achieved this year at Wimbledon, Roland Garos and in New York. If it weren't for these magnificent results all they would be able to organize is a backstreet tournament.
I won't let anyone steal Novak's thunder as long as I live."
Serbian Tennis
I think that's enough about the Djokovic family for one post. The fans of Djoke have just about taken over some websites. Not gonna happen here.
Fed Cup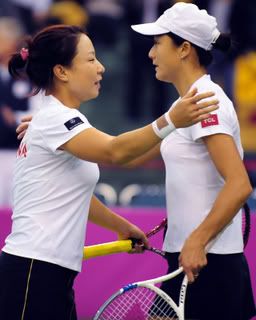 As I post this on Sunday morning China, P.R., has won it's tie over France. The surprising not so surprising result happened when the Chinese doubles team of
Yan Zi
and
Zheng Jie
defeated the French team of
Nathalie Dechy
and
Virginie Razzano
7-5, 7-6(5). With
Amelie Mauresmo
and
Marion Bartoli
sitting out this tie the French fielded the best team they could but they needed to win the singles outright. Razzano has limited doubles experience but seems to have done the best she could.
Japan has also advanced with
Nakamura Aiko
giving her country an insurmountable 3-1 lead over Croatia defeating
Nika Ozegovic
.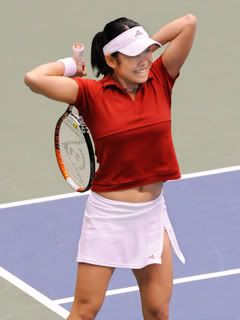 In a somewhat surprising turn of events Spain has taken a 3-0 lead over Italy advancing to the next round.
Anabel Medina Garrigues
defeated
Francesca Schiavone
to secure her country's win.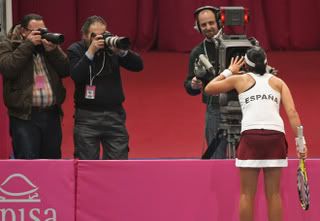 My cable provider does not think people in my area of NYC need to get Tennis Channel. We have Golf Channel though. I mention this because I haven't seen any Fed Cup matches live. This is important because of two things that happened during Fed Cup matches - one during the Serbia vs Romania tie and another during the Russia vs Israel tie.
During Serbia vs Romania Ilie Nastase, head of the Romanian Tennis Federation had a melt down and allegedly called the Serbian women a name before trying to storm the box where Snezana Jankovic and Miso Ivanovic were seated. It is reported that he also attacked the chair ump. I don't talk about what I haven't seen but he's said to have denied attacking the chair ump. Way to go Nasty.
As for the Russia vs Israel tie the infamous Mariana Alves was in the chair when a disputed call went in the Siberian Bansidhe's favor. The Israeli crowd voiced their displeasure it seems proceeding to ignore Ms Alves requests for silence and calm. It's also been reported that Ms Alves had made bad calls prior to this latest hand incident. The captain of the Israeli team made it clear to the crowd that their team would be penalized if they didn't calm down. That did the trick.
For a full report on
Fed Cup
see Craig's blog. He has Tennis Channel in the boonies where he lives. GRRRRRRRRRRRR.
End Notes
French journalists traveled to The Congo to speak with Jo-Wilfried Tsonga's grandfather and other relatives. Think the French are a tad excited about Jo?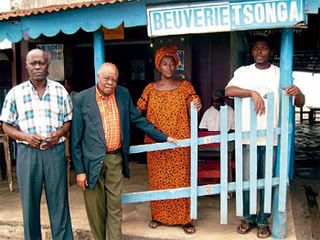 Meanwhile in France Jo was mobbed when he arrived home. Hope the elder statesmen of French tennis are prepared to protect their charge and help steer him through what's coming.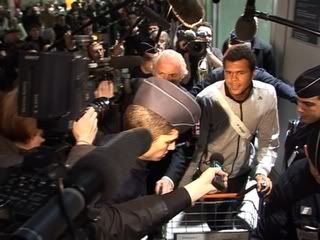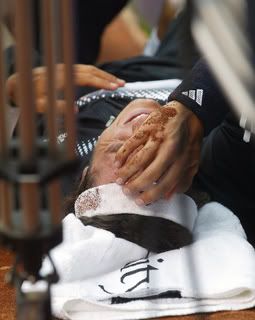 Juan Monaco
had to retire after severely injuring his ankle during a doubles match at Vina del Mar. This gave
Fernando Gonzales
the Championship of his home event. Congratulations Fena!
Matt Cronin
is reporting that
ESPN
has dropped all coverage of the Pacific Life Open(Indian Wells) and Miami.
Pete Sampras
and
Marat Safin
will play an exhibition at
San Jose
Maybe Marat watched Jo-Wilfried's play during the Oz Open and remembered that he used to play like that? Otherwise the outcome of this one is a no brainer.
I haven't seen any ratings for the United States but the Women's Final at Melbourne saw viewship drop 33% from last year. A big cricket match is being blamed for the ratings drop.
Last Looks
There is more to Fed Cup than one woman making her debut. Here are some pics of the women who played the best they could for their countries. Congratulations to all.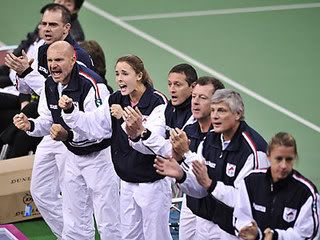 French Team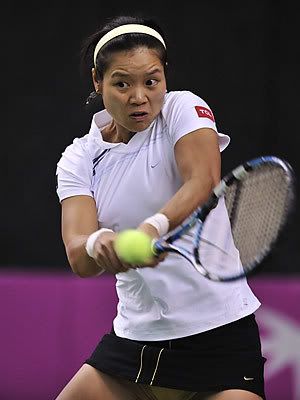 Li Na of China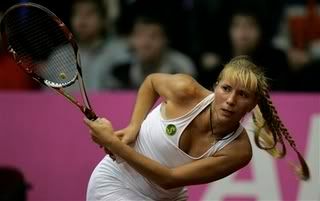 Alona Bondarenko of Ukraine
Lindsay Davenport of the United States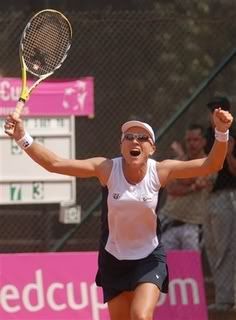 Catalina Castano of Colombia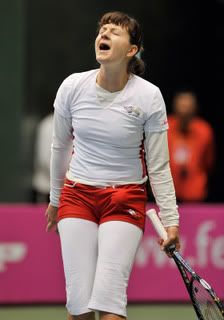 Nika Ozegovic of Croatia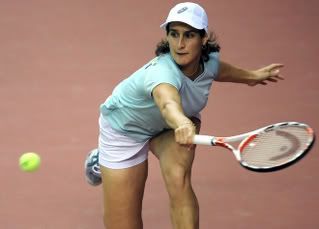 Virginie Razzano of France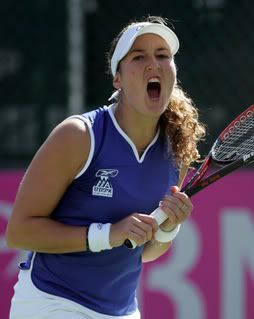 Shahar Pe'er of Israel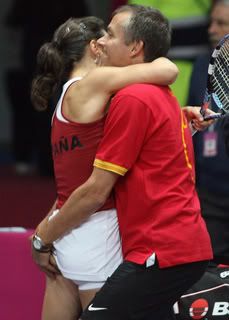 Nuria Llagostera Vives of Spain and Coach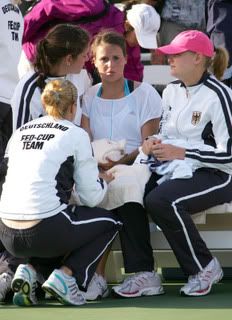 Tatjana Malek of Germany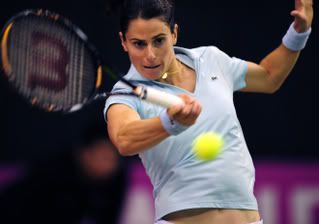 Nathalie Dechy of France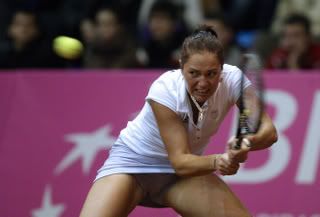 Kateryna Bondarenko of Ukraine
In the end Fed Cup is all about the fans. Some misbehave. Some don't. But at some point all of them get to see great women's tennis.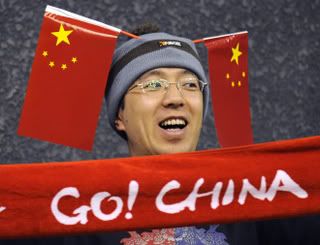 Black History Month
The month of February is Black History Month in the United States. This week I'm featuring Harriet Tubman.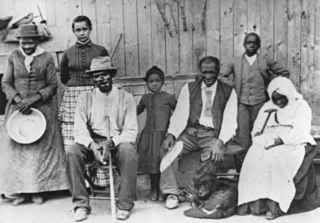 Here is a brief biography of this brave woman. For the complete biography please visit
Outlaw Women
Tubman, Harriet Ross (1820?-1913), an African American who fled slavery and then guided runaway slaves to freedom in the North for more than a decade before the American Civil War (1861-1865). During the war she served as a scout, spy, and nurse for the United States Army. In later years she continued to work for the rights of blacks and women.

Harriet Tubman, originally named Araminta Ross, was one of 11 children born to slaves Harriet Greene and Benjamin Ross on a plantation in Dorchester County, Maryland. She later adopted her mother's first name. Harriet was put to work at the age of five and served as a maid and a children's nurse before becoming a field hand when she was 12. A year later, a white maneither her overseer or her masterhit her on the head with a heavy weight. The blow left her with permanent neurological damage, and she experienced sudden blackouts throughout the rest of her life.

In 1844 she received permission from her master to marry John Tubman, a free black man. For the next five years Harriet Tubman lived in a state of semi-slavery: she remained legally a slave, but her master allowed her to live with her husband. However, the death of her master in 1847, followed by the death of his young son and heir in 1849, made Tubman's status uncertain. Amid rumors that the family's slaves would be sold to settle the estate, Tubman fled to the North and freedom. Her husband remained in Maryland. In 1849 Harriet Tubman moved to Pennsylvania, but returned to Maryland two years later hoping to persuade her husband to come North with her. By this time John Tubman had remarried. Harriet did not marry again until after Tubman's death.

In Pennsylvania, Harriet Tubman joined the abolitionist cause, working to end slavery. She decided to become a conductor on the Underground Railroad, a network of antislavery activists who helped slaves escape from the South. On her first trip in 1850, Tubman brought her own sister and her sister's two children out of slavery in Maryland. In 1851 she rescued her brother, and in 1857 returned to Maryland to guide her aged parents to freedom.

Over a period of ten years Tubman made an estimated 19 expeditions into the South and personally escorted about 300 slaves to the North. The Fugitive Slave Law of 1850 had created federal commissioners in every county to assist in the return of runaways and provided harsh punishments for those convicted of helping slaves to escape. Harriet Tubman was a likely target of the law, so in 1851 she moved to St. Catharines, a city in Ontario, Canada, that was the destination of many escaped slaves. By the late 1850s a number of Northern states passed personal liberty laws that protected the rights of fugitive slaves, so Tubman was able to purchase land and move with her parents to Auburn, New York, a center of antislavery sentiment.