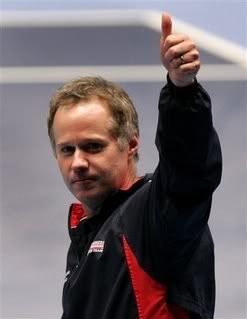 by Savannah
That Racism/Ethnic Thing
There have been several stories percolating around tennis fan boards since the end of the Australian Open that bear some mention. All involve some form of racial or ethnic insensitivity.
The behavior of the Djokovic Family during the Australian Open Final was called classless by many observers. This included Novak's behavior by the way. The discussion took a different turn when fans of Eastern European descent felt the attacks were part Western Europe's disdain for the people of Eastern Europe. These fans protested the classification of the family's behavior and deemed it at the least ethnic bias.
Israeli fans behavior during a Fed Cup tie between Israel and Russia where Israeli fans were a bit more "exuberant" than is usually seen during a tennis match was roundly condemned. When top Israeli player

Shahar Pe'er

seemed to be joining in the taunting of the Russian women her behavior was condemned as well. The Captain of the Russian team filed a complaint with the ITF over the entire situation. Conversation about the incidents degenerated into an Israel vs The World situation with Israeli fans saying the condemnations were anti Israeli not anti hooliganism.
Spanish players have pushed themselves to the forefront of questionable behavior.

Fernando Verdasco

was roundly criticized when during last years Roger's Cup, faced with boisterous fans, asked if he was in Africa. Within the last couple of days a picture of the Spanish Fed Cup team surfaced showing the players, families and friends tugging at their eyelids imitating the eyes of Asian people. Spanish tennis fans say the women meant no harm. Most Asian posters disagreed. That several fans showed up at a F1 event in Barcelona in black face with "Hamilton's Family" scrawled on their tee shirts didn't help.

Lewis Hamilton

has been at loggerheads with Spain's

Fernando

Alonso

for a year. As I write this it's unclear if Alonso stepped forward to condemn the "fans".
A widely read American tennis blogger Peter Bodo posted a column comparing what is characterized as the calm cool demeanor and play of Northern European

Roger Federer

to what he classifies as the thoughtless, animalistic play of

Rafael Nadal

. Nadal is described as not using too much strategy when on court while Federer is described as a clinician, someone who is always thinking. Guess this guy doesn't know much about clay court play where Nadal is a genius at constructing points, something American players seem to not be able to do too well. Someone who has made two Wimbledon finals, the latest after a three peat at the clay majors leading up to it, made the semi's of Australia and won Indian Wells last year is simply an instinctual player according to this blogger. When was the last time an American, or a Brit for that matter, has done so well? Last I checked most of the Americans, even the one of color, are blessed with the intellectual genes of Northern Europe. The blogger also included

Novak Djokovic

in his pantheon of great Northern European players thus bringing us full circle.
But I digress. I'm not posting pictures or links to this stuff since it can be googled and easily found by visiting any of the big tennis fan sites all of which have (or had) large discussion threads on these topics. These incidents are not just part of tennis.
A call by a broadcaster on the Golf Channel for young golfers to "lynch"
Tiger Woods
in an alley was dismissed as a poor choice of words by the golf establishment and said to be nothing by Mr. Woods himself. This was followed by Golf Magazine featuring a hangman's noose on its cover to push an article discussing the Golf Channel incident. The person responsible for that was fired. I don't know Mr. Woods feelings on the magazine cover.
The Soccer establishment is struggling with racial and ethnic issues.
Rafael Nadal
joined other athletes in condemning racism in his beloved futbol and sport in general last year. But is it enough for athletes to speak out about issues that highlight troubling social issues?
What is a fan to do when speaking out on the behavior of other fans treads on territory that he/she barely knew existed? Are the fans who condemned the Djokovic's behavior as well as the behavior of the Israeli fans ethnically biased or anti Semitic? What about the fans who, hearing that
Serena Williams
withdrew from Antwerp automatically assumed she was going to Super Bowl parties? Are they racially insensitive or just looking to stir up more anti Williams sentiment. Is there a difference in those motiviations?
Honestly I think people know when they're pushing it. When a discussion of horrible fan behavior (and officiating) leads to posts condemning the religion of the fans don't those people know what they're doing? When posts condemning the antics of one family say that it's "typical" behavior what are those "fans" trying to say? When a respected blogger posts about a players "animalistic" demeanor on court isn't he responsible for an alleged tennis fan posting that said player is a "wild animal"? The above incidents actually occurred. Again I reference you to the major fan sites and Mr. Bodo's blog for proof. I am not bringing this site down by linking to the posts or pictures.
Davis Cup
The men play Davis Cup this weekend. Funny how the pictures featuring the men are much more varied and don't focus on one player. For more in depth Davis Cup coverage please visit
Craig's
blog. I'm doing the purty pictures.
Team Argentina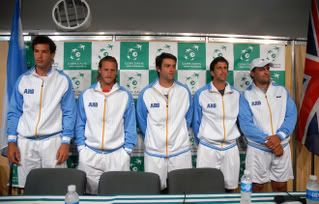 David Nalbandian and British Captain John Lloyd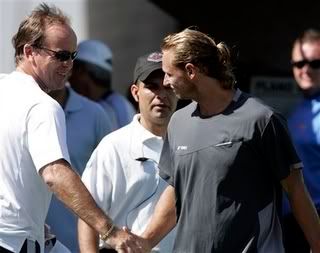 Original Russian Team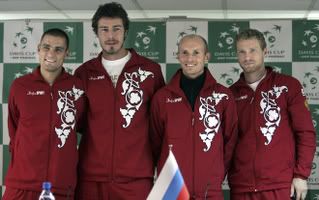 Marat and Shamil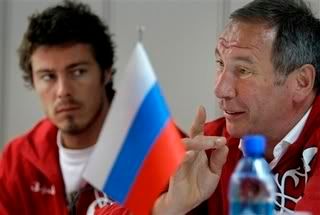 Team Britain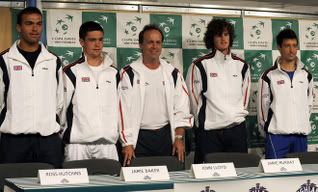 Peter Lundgren and Alex Bogdonovic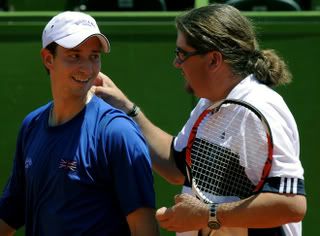 Team Spain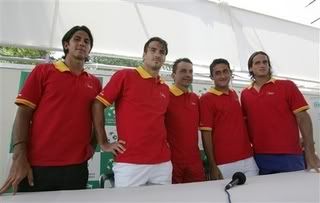 Tommy Robredo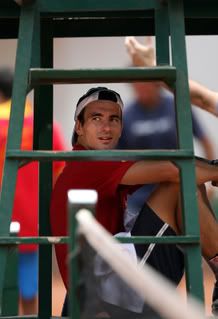 Kristof Vliegen and Steve Darcis of Belgium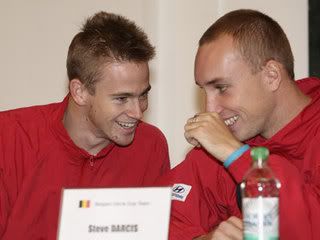 Team Romania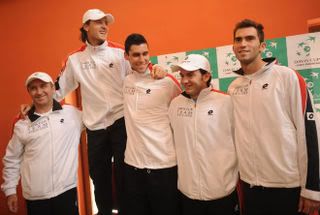 Team France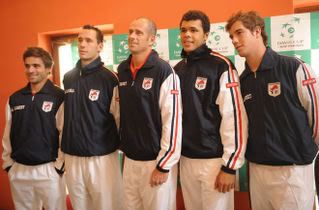 Team Austria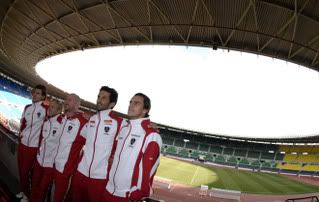 Team USA(Minus Bob Bryan)