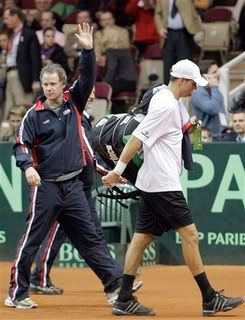 by Savannah
Is there ever a Davis Cup weekend that doesn't bring the drama? Teams from every eligible country take the court to try and cement the victory that will make their country legendary or put their country into the conversation. There are always heroes and villains and as usual we have a motley crew.
One can be forgiven if they thought an up and coming Israeli team would pull out their tie against an aging Team Sweden. One would have been wrong.
Jonas Bjorkman
took the court in the fifth rubber against
Harel Levy
. Youth vs age. Easy call right? Wrong. Bjorkman, in a fifth set tiebreaker won it over the younger Mr. Levy. Youth was not served.
Jonas Bjorkman
Shamil Tarpishev
brought in a team that originally featured
Marat Safin
against the team many thought would knock the Russians from their aerie. As it turned out the Russians didn't need their fan favorite. The Serbian men were decimated by flu like symptoms. While fans threw macchiata jokes around the Russians went about their business. Sunday saw
Novak Djokovic
taking the court against
Nikolay Davydenko
in a match that was predicted to be a tour de force for the young Serbian against the Russian man who has played under a cloud of controversy since last year.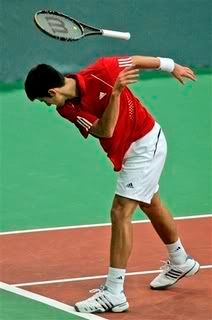 It turned out not to be a match for the ages.
Djokovic turned out to be too sick to play and left the court giving the tie to Russia in what was a shocking turn of events for his fans.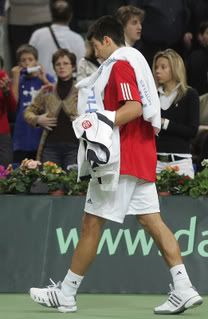 Davydenko, the man who gets no respect for what he's done over the last few years by staying in the top five appears to have modestly accepted his, and ultimately his country's victory.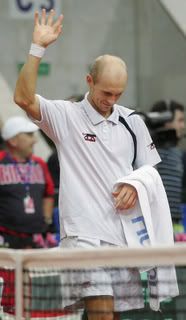 I guess this time luck was with Team Russia.
I must make special mention of
John Lloyd
and Team Britain.
Andy Murray's
stunning withdrawal at the eleventh hour left the Brits overwhelming underdogs against an Argentine team featuring
David Nalbandian
along with other Argentinian top players. The British team kept their heads up and fought as best they could. By the way Andy Murray has said he's available for the next round.
The Davis Cup Quarter Finals look like this. Good luck to everyone.
France vs United States
Russia vs Czech Republic
Argentina vs Sweden
Germany vs Spain
WTA - Gaz de France and Pattaya City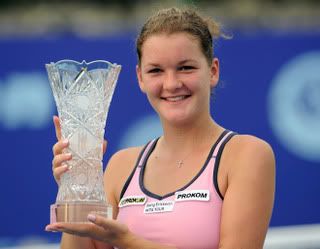 Aga Radwanska 2008 Pattaya City Champion
Chuang Chia-Jun and Chan Yung-Jan 2008 Pattaya City Doubles Winners
Anna Chakvetadze 2008 Open Gaz de France Winner
Black History Month
George Washington Carver

George Washington Carver (1864-1943), a former slave, botanist, agricultural chemist, artist, and member of the Royal Society of Arts, was dedicated to the advancement of Southern agriculture.

After overcoming the significant odds of growing up black after the Civil War, Carver managed to obtain a high school education, proceeded to Simpson College, Iowa, then attended Iowa Agricultural College (now Iowa State University) where he received a degree in agricultural science in 1894 and a master's degree in 1896.

The brilliant scientist was shortly recruited at Booker T. Washington's Tuskegee Institute (now Tuskegee University). Here Carver developed a crop rotation method which alternated soil-depleting cotton, corn, and tobacco crops with enriching ones such as peanuts, peas, soybeans, sweet potatoes, and pecans. His experiments with these crops led to worldwide improvements and applications numbering in the hundreds in the form of foods (including peanut butter!), dyes, paints, adhesives, fuels, plastics, and many more.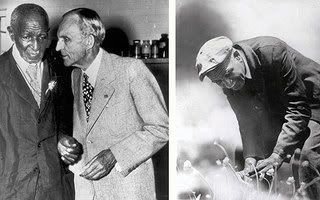 Carver With Henry Ford 1930
A collaboration with Henry Ford produced synthetic rubber from goldenrod and automobile interiors and body panels from soy. Thomas Edison even tried to establish a partnership, leading to an offer of a handsome yearly salary, which Carver declined in order to continue to teach and carry out research at Tuskegee.

Had the petroleum industry not conspired to monopolize the basis for most industrial chemistry in the U.S., Carver's low-impact and sustainable applications would be in more widespread use. As bio-based products gain greater prominence today in the face of heightened environmental awareness, Carver's efforts may well lead the way back again - and away from petroleum dependency.
Source