by Savannah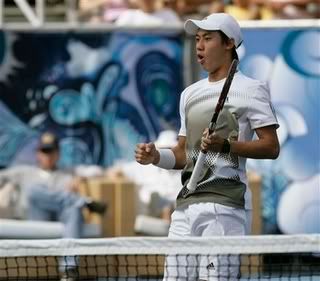 ESPN did an interview with 2008 phenom Nishikori Kei of Japan. Kei has a tough draw in San Jose but from reading this I'm sure he'll do his best. I love that the questions were sensible and that tennisheads acquitted themselves well. By the way it seems his name is pronounced "Kay".
SportsNation Buzzmaster:

We've got Kei right here! Send in those questions!



Art, San Francisco:

Congrats, Kei! What is your new goal for this year, now that you've won a tournament?


SportsNation Kei Nishikori: My goal was to make the top 100 by the end of this year. But I'm already 131 right now. I would like to get a main draw for the French Open and the top 50 by the end of this year. That's my goal.



Brad (Gadsden,Alabama):

Kei, Who was your fav. tennis player growing up?



SportsNation Kei Nishikori:

Roger Federer. He's so talented. I like to see him in his prime. He's fun to watch.



Yuko Watanabe, Yokohama, Japan:

Do you miss Japan? Do you miss your friends and family?



SportsNation Kei Nishikori:

So much. Yes. But when I first came here, I was so home sick. But right now it's OK. Sometimes I still get homesick but I have friends here in the U.S.



Laurelin (Boston):

I really enjoyed watching you play in Delray. What do you consider your best shot? I liked the flying forehand!!



SportsNation Kei Nishikori:

My forehand, but everyone tells me my backhand is better.



Shaun, Little Rock, Arkansas:

What effect will your success in Tennis have in getting more people involved in tennis in Japan?



SportsNation Kei Nishikori:

It's that famous in Japan, but right now I'm No. 1 in Japan. I hope tennis gets more popular.



Satoru, Tokyo:

Many Japanese sports-shimbun cerebrate your brave challenge! Congratulations!



Lisa, Boynton Beach, FLA:

Kei, I saw in the paper you don't call your parents during a tournament. Why not?



SportsNation Kei Nishikori:

Yeah, I used to call my parents after a big match. But the next day I lose every time. That's bad luck. So I don't call them if I'm still winning.



Shaun, Little Rock, Arkansas:

I saw you play last year at the St. Vincent tournament in Little Rock. Back then, it looked like your conditioning was high enough yet to compete on the big stage, what or who has been the biggest contributor to your improved stamina?



SportsNation Kei Nishikori:

I didn't get tired last week. These last two months I was working very hard. I was using weights and more training. I feel so much stronger now.



Fred (Houston):

Do you train here in the States or back home in Japan? Did you go to high school? Do you have a fallback plan if this tennis thing doesn't work out?



SportsNation Kei Nishikori:

Here, in the Florida.



A. Fitch (San Jose):

How do you feel about becoming a Japanese superstar overnight? You are like the Roger Federer of Japan!!



SportsNation Kei Nishikori:

I still can't believe it that I won an ATP tournament. I don't feel like a superstar yet.



John Eisner, San Francisco, CA:

What is your favorite food?



SportsNation Kei Nishikori

: Sushi or the Japanese food.



Mika, San Jose california:

Did you eat Asian food in San Jose?



SportsNation Kei Nishikori:

I'm trying to get Japanese food tonight.



Carrie (Austin, Texas):

One of the most noticable aspects about your game is your jumping forehand. How did you start doing that motion and what advantages do you think it brings? Thanks and good luck in the future!



SportsNation Kei Nishikori:

I used to do it when I was young. Sometimes on the return, I can lift it and the shot just feels good.



Jacob Eifir, Fort Wayne, IN:

Kei, what other pros have inspired you at the Bollitteri Academy?



SportsNation Kei Nishikori

: Tommy Haas. Xavier.



Nik, San Francisco:

Congratulations on your first title Kei. How would you describe your style of game and what is your favorite surface to play on?



SportsNation Kei Nishikori:

I say an all-around player. I like to use more forehand. And I like clay courts.



Yuki, Tokyo:

I heard you hit with Rafael Nadal before his Roland Garros final in 2006. What did you learn from the experience?



SportsNation Kei Nishikori:

Yeah, it was right after I won junior doubles. I was more nervous doing that than playing the doubles final. He hit every ball heavy. It's tough to play against a guy like him.



Mike in Seattle:

Are you a baseball fan? Do you follow Ichiro and the other Japanese stars over here?



SportsNation Kei Nishikori:

No, actually. I know Ichiro and all the guys from Japan, but I don't follow them.



Jacob Eifir, Fort Wayne, IN:

Why do you like red clay so much? What about the clay that suits your game?



SportsNation Kei Nishikori:

I have to be stronger mentally and physically. It's fun to play on clay, because I have to use all the shots - drop shots, top spin. It's fun to play on the clay.



Robert (Orlando):

Is there anything in particularly different about last week regarding the way you played that helped you to win the tournament?



SportsNation Kei Nishikori:

My serve was better. It was good. And mentally, I was stronger than before.



Alice (Phoenix, Arizona):

I heard you played soccer as a kid. How popular is that sport in Japan?



SportsNation Kei Nishikori:

I think it's No. 1 or 2. When I was 12, but the tennis was more fun, so I chose tennis.



SportsNation Kei Nishikori:

Thank you for all the support. It was fun to play last week. A lot of people were cheering me. It was fun.
Someone who likes playing in the dirt. Let's see what happens for this young man the rest of the year.
In Other News
So how did the press know to camp out in front of
Goran Ivanisevic's
place? I mean if the mother of your children is throwing you out over an affair with another woman would you expect papparazzi on your doorstep? Goran is said to have broken one press person's camera.
ProTennis live scores has been the pits so far this week. It got so bad that it showed
Karin Knapp
had retired in a match she was winning when in fact she had won the match. Guess that crack IT team that put together the Doha site is working overtime.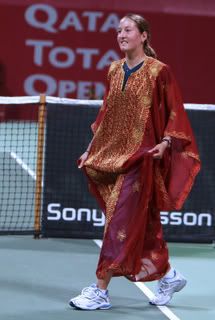 Shahar Pe'er
made history this week by being the first Israeli athlete to play in an Arab country. She was photgraphed in traditional garb along with the rest of her peers in a great series of pictures taken during the opening ceremony in Doha.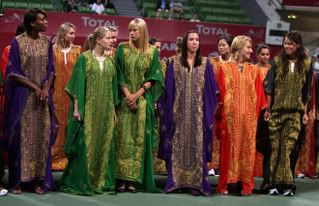 Justine Henin
and
Roger Federer
won Laureus Awards. No surprise about either player winning but it is jarring to see sportsmanship and Justine in the same sentence.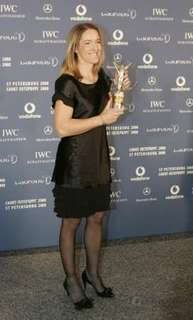 The French Fed Cup team lost it's appeal and China is the official winner of their tie. The controversy came about when the French Captain said that Peng Shuai, who left for France to play the tournament she was entered in, did not do her drug testing prior to leaving. Peng, who it seems has never turned pro, did her drug test in France.
China will play Spain in Beijing in April.