by Savannah
The BNP Paribas Open at the Indian Wells Tennis Garden has started. The women qualifiers started play on Monday. The men begin today. Main Draw play begins Thursday and Friday respectively. The new online service TennisTV begins it's coverage on March 14 when the men's seeds commence play.
High School Drama
Colette Lewis
is reporting on some news out of Miami regarding the men's draw and the Sony Ericsson event.
India's Yuki Bhambri, the world's top-ranked junior and the reigning Australian Open Junior champion has received a main draw wild card into the Sony Ericsson Open, which begins on March 25. That news, first reported by The Hindu, was confirmed by IMG Vice President Olivier Van Lindonk. The 16-year-old had earned a qualifying wild card by virtue of his victory at the Orange Bowl, on the site of the Sony Ericsson, but IMG, who owns the tournament, has decided to upgrade him. He'll join Marcos Baghdatis and Lleyton Hewitt, who have already been announced as wild card recipients.

Bhambri recently came in for some criticism for choosing to play in this week's Pro Circuit event in Texas rather than serve as a practice partner in India's Davis Cup tie with Chinese Taipei this weekend, according to this story from DNA. (University of Virginia's Sanam Singh, who is mentioned here as a part of the Davis Cup team, is not participating). Bhambri, using a junior exemption gained by finishing in the Top 10 of the ITF Juniors last year, lost in the first round of the Futures event to Lester Cook 6-4, 6-2. He also lost, in three sets, to Singh in the first round of qualifying for the ATP's Chennai Open back in January. I

MG needs to use some caution in handing out a wild card to such a big tournament--it worked fine with Michelle Larcher de Brito, who last year used hers to win two Sony Ericsson matches before losing to Shahar Peer, but Bhambri is well behind her in terms of physical maturity. No one wants to see the Donald Young scenario repeated with another precocious and talented teen who is being viewed as the best hope to improve his country's tennis fortunes.



I recently spoke with Chris Woodruff, the associate head coach at the University of Tennessee (this is a teaser for my Tennis Recruiting Network article next week) and he made it very clear to me the danger of playing at the wrong level--and this was as an NCAA champion who felt in over his head.

The occasional wild card is generally not harmful, but as Woodruff said, word gets around that you haven't earned your way in and there's not much sympathy from professionals for that circumstance

.
The highlighted section regarding Donald Young is especially relevant since Donald, once the great American hope, was passed over for a Main Draw wild card at Indian Wells while lower ranked
Ryan Sweeting
and
John Isner
got in. Boys grow at a different rate than girls do as indicated above. I hope that someone somewhere slows young Bhambri's roll so that he grows both mentally and physically into his game.
Speaking of juniors
Bernard Tomic
of Australia has been fined and suspended from ITF sponsored events until April 6, 2009. Rumors were that he was looking at a life long suspension after following his father's instructions and walking off the court during a Challenger event so I guess this relatively light sentence will be accepted with grace by the Tomic clan. Bernard is also sixteen by the way. He also won a Challenger event last week.
Coaching News
Brad Gilbert
will be working at Nick's place. With the USTA working hard to put in place a team that will teach an all court surface, thinking form of tennis to the best and brightest the United States has to offer this has to be a step backwards. It's one thing for Brad to try and hone an already developed mature player. It's another thing to have him shaping young minds.
David Nalbandian
has hired
Juan Monaco's
coach. We all know how David likes to share. Lets see how this works out.
Davis Cup/Fed Cup News and Talk
Fed Cup semi finals take place April 25-26, 2009. Italy vs Russia will take place on clay at the Castellaneta Marina in Puglia, southern Italy. The Czech Republic vs United States will take place indoors at Brno in the Starobrno Rondo Arena.
The Fed Cup World Group Playoffs take place the same weekend.
As for Davis Cup the World Group Quarterfinals take place in July. The draw will be done May 12, 2009 in London.
Will Croatia choose clay even if it's not their players best surface? Will Captain Patrick McEnroe go with
James Blake
or will we see someone like
Sam Querrey
or
Robby Ginepri
if the surface chosen is indeed clay?
Does anyone remember the Fed Cup tie between Russia and Israel in Israel and how the crowd behaved? People said it was because they're not used to the rules of tennis. They know the rules in Argentina and that's never stopped them there. I'm just sayin'.
Apples and Oranges
Why is there so much virtual ink being spilled over the continued boycott of the tennis tournament at Indian Wells by Number One in the world Serena Williams and Number Five in the world Venus Williams? Why is almost all of it negative? These postings started appearing last week and have increased in vitriol as the time for the tournament to begin approaches. Here are excerpts from
Martin Rogers Blog
on Yahoo that are in wide circulation.
It's bad enough for a professional sports tour to implement a toothless, useless and self-defeating piece of legislation. To make sure that its idiocy generates a flurry of media attention and overshadows one of the biggest tournaments of the year, however, takes a special brand of ineptitude.
The WTA Tour tried to get tough at the start of this season by attempting to force leading players to compete in "premier" events or risk penalties of ranking points or suspension.
But as soon as Venus and Serena Williams stood up for themselves on a point of principle, the Tour cowered into submission and rendered its own "Roadmap" program utterly ineffective.
(...)
While the actions of some fans all those years ago can never be condoned, i

t is time for Venus and Serena to either forgive and forget, or be prepared to face the consequences of a continued boycott.



Under "Roadmap" rules, any top player skipping Indian Wells should receive zero ranking points and be ineligible for the following two tournament weeks. If WTA Tour chairman Larry Scott was serious about making his policy work, he had the ideal opportunity to lay down the law.
Instead, he has allowed the Williamses to exploit a loophole that permits them to avoid suspension by performing promotional duties for the tournament.
What is Mr. Rogers saying here? Yes the situation seven years ago was allowed by the powers that be to get out of control. Yes the Williams family has stood on principle and boycotted the event ever since. BUT the Williams family should abide by the WTA rules and either forgive and forget or accept the penalty of 0 points for the IW event and not be able to play in Miami. That insolent Williams family is being allowed to "exploit a loophole" and get away with thumbing their noses at the tour.
I wonder where Mr. Rogers, and all the other pundits, outrage was when one
Maria Sharapova
announced publicly last year that she couldn't be bothered doing some p.r. work for the tour, pulled out of a tournament late, and was -gasp- allowed to do promotional work for the tournament involved by one Mr. Larry Scott. And just to show it's not just the WTA that bends over backwards for it's superstars
Mr. Roger Federer
pulled out of Dubai just because and avoided the 0 points for that event by attending the players party while the injured
Rafael Nada
l and
Fernando Verdasco
received 0 points for that week.
Andy Roddick
also withdrew from Dubai. Let's just say he didn't attend the players party.
I know how old I am and there are days I feel like I'm up to the "h" in Alzheimer's but I try not to cherry pick what I remember and what I don't remember. I'm not paid to write this blog. It's something I do because I love tennis. Mr. Rogers is being paid to write his blog and it would behoove him to mention, even in passing, that exceptions have been made and continue to be made for certain players. It doesn't matter if it's Roadkill or Brave New World. Those of us who criticized the WTA in the Sharapova situation were vilified. No one dares mention the get out of jail free card Roger got regarding Dubai nor the statement by his trainer that there wasn't really anything wrong with Roger's back and that the withdrawal was precautionary. I wonder what the reaction would've been if any other coach or trainer came out with something like that?
At no point did the Willams family say they were unwilling to accept the rules of Roadmap. They simply restated their position that they will not step foot on the premises again. No one has ever said differently on either side. In this case I think the tour did the right thing and all the "pundits" need a big cup of the stuff the guy in the picture is offering. It seems he's going to be quite busy this year.
It should be stated that I'm not singling Mr. Rogers out. He's not the only one who's pushing this. It's just that the selective outrage of the tennis press is mind boggling at times.
End Notes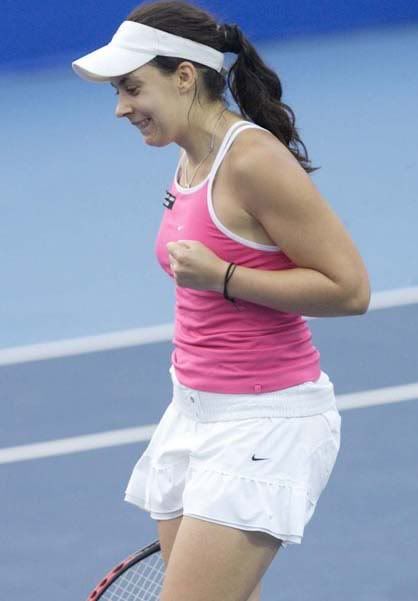 Congratulations to
Marion Bartoli
who won the only tournament last week in Monterrey Mexico. Marion is newly svelt and getting moreso. It's Marion's first title in three years.
The doubles at Monterrey were won by
Nathalie Dechy
and
Mara Santangelo
.
Remember her? Kim Clijsters is working on her tennis six hours a day four days a week according to a report by
The Times Online
. Her fans are ecstatic. If she returns can the other Belgian be far behind?
With Serena not playing at IW
Dinara Safina
is poised to become Number One. Is she ready for what that means? Somehow I can't see her and
Ana Ivanovic
having a girlfriend chat but Ana is Exhibit A for not being ready for the demands on the top player.