by Savannah
Wonder what's going on at Nicky B's?
Management shake-up hits Bollettieri academy
By Anthony Cormier
Published: Tuesday, January 13, 2009 at 11:23 a.m.
Last Modified: Tuesday, January 13, 2009 at 11:39 a.m.
BRADENTON - There has been a major shakeup at the top of IMG Academies, the world class sports training facility where four executives were fired or encouraged to resign in the last few weeks.

The deepest impact has come at the Bollettieri Tennis Academy, leaving some of the facility's founders out of work.

Since December, tennis academy director Gabriel Jaramillo, vice presidents Ted Meekma and Greg Breunich and chief financial officer Jeff McNeil were asked to leave.

Each man was given severance pay, according to Jaramillo's attorney, and signed nondisclosure and no-compete contracts that prohibit them from coaching tennis or speaking publicly about the changes.

IMG officials would not comment.

Lynn Berenbaum
first posted this story.
Colette Lewis
brought it to my attention on her blog. Guess it's film at 11.
Berlin Bites the Dust
The rumors have proven to be true.
Craig
reports that the Berlin Open is no more. They say the global financial crisis has nothing to do with it.
News from the frontlines
Tennis.com.
posts the following statement from
Roger Federer
on new ATP chief
Adam Helfant
.
"I had contact when he came to Dubai and saw me in December. I know him from Nike because he was working there, so I knew him before that as well. But Rafael, and I think Novak, had never met him, so he came to Monaco to see them which I thought was important, obviously, and it was important that the board also got to meet him and talk to him.

"His view is great. He has been in sports big time. He deals with Brazil and FC Barcelona and all the basketball players. I even had something going on with him at Nike when I was negotiating my Nike contract, so I saw what kind of a man he was. He is very honest, and I think that is a very good thing."
We can all rest easy now can't we?
Svetlana Kuznetsova
has pulled out of Sydney with an abdominal strain. She says that she is going to rest the next four days and see how things are. I have two words for you Sveta.
Venus Williams
.
Every seed at Hobart is out. I wonder if it has anything to do with the Australian Open starting on January 19th? No? Of course not.
Richard Gasquet
beat
Gilles Simon
at Sydney four and four. Let's see how his part of the draw shapes up at Melbourne.
Another Frenchman,
Paul-Henri Mathieu
went down in flames to a revived
Novak Djokovic
1 and 2. Guess that new racquet isn't so bad after all huh Novak?
Ti-Ali, aka
Jo-Wilfried Tsonga
rolled over
Simone Bolelli
. French media is reporting Tsonga's chronic back problem is flaring up. Not good news at all.
Stan Wawrinka
beat
Marcos Baghdatis
at Kooyong. Marcos says he feels great, that his tennis is fine. Wonder if he's still using soccer as his sole training preparation for matches? The score was 2 and 2.
Dispatch From the Twlight zone
UK Eurosport
reports the following.
Ana Ivanovic has taken a page out of Roger Federer's training manual and will be going it alone at next week's Australian Open.

After collecting 13 Grand Slam titles, Federer has set the benchmark of how to succeed without having a full-time coach by his side and it is a strategy Ivanovic hopes will work for her at Melbourne Park.
"I already do know a lot about tennis and about other players (and) I think I'm very young and maybe a full-time coach could still be very helpful," the Serbian said as she looked ahead to the start of the Open on Monday.
"(But) at this moment, I think I can handle it the way it is."
She's obviously having too much hot sauce with her meals.
Think it's not hot in Australia?
The heat and
Dinara Safina
brought
Alize Cornet
to tears.
Fernando Verdasco refused to discuss his personal life with reporters. Where was the mob when Andre Agassi was courting Steffi Graf? Seems they had a lot of privacy for some time. Just sayin'.
Mark Philippoussi
s went down to defeat at the hands of
Taylor Dent
at the Adelaide exhibition 6-2, 6-3.
Gael Monfils
lost to the returning
Joachim Johansson
.
I'll leave you with these pictures.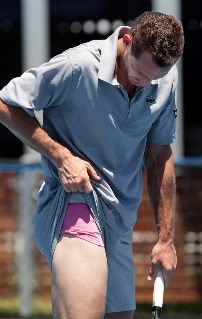 Michael Llodra gives us La Vie En Rose.
Ivan Ljubicic and his wife Aida show us what la vie is all about.