by Savannah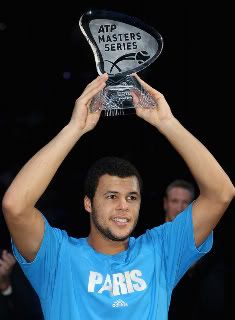 The French must be over the moon.
Jo-Wilfried Tsonga
continued his great play this week and beat defending champion
David Nalbandian
in three very good sets of tennis. Jo came out like a house on fire the first set but Nalbandian played his way back to avoid the breadstick and lose 6-3. The second set saw David play better than he did in the first. His movement was less sluggish and won the set 4-6. I thought that a third set would favor David but Jo did not get tight and won going away 6-4 in the third. Jo will now play one more tournament and goes in as the number seven seed. Congratulations to Jo and his many many fans. 2009 is going to be one hell of a year in men's tennis.
TMC Shanghai
Speaking of that other tournament here are the final eight and the two alternates.
01 (01) Rafael Nadal (ESP) 1335 (15)
02 (02) Roger Federer (SUI) 1041 (--)
03 (03) Novak Djokovic (SRB) 929 (03)
04 (04) Andy Murray (GBR) 684 (15)*
05 (05) Nikolay Davydenko (RUS) 463 (22)
06 (06) Andy Roddick (USA) 394 (22)
07 (12) Jo-Wilfried Tsonga (FRA) 390 (05)
08 (07) Juan Martin Del Potro (ARG) 369 (08)*
09 (08) Gilles Simon (FRA) 356 (20)
10 (10) James Blake (USA) 355 (15)
Muchos Gracias to "El Burro" over on
Mens Tennis Forums
for keeping track of The Race to Shanghai since March of this year.
As for the players
Antoni Nadal
has made it sound as if his nephew
Rafael Nadal
will not play in Shanghai due to a sore right knee. Rafa has nothing else to prove this year and this fan hopes he'll listen, rest up and be ready for the Argentine fans.
Roger Federer
withdrew from Bercy with a bad back. If those two withdraw then
Gilles Simon
and
James Blake
will be in. David Nalbandian will become first alternate. He's already said he's not going to Shanghai as an alternate. Here are the rankings of the men after the top ten.
11 (14) David Nalbandian (ARG) 345 (20)
12 (09) David Ferrer (ESP) 339 (15)
13 (11) Stanislas Wawrinka (SUI) 302 (03)
14 (13) Fernando Gonzalez (CHI) 284 (12)
15 (15) Fernando Verdasco (ESP) 283 (15)
Film at eleven as they say.

WTA YEC - Doha
The draw for Doha was released late this morning Eastern Standard Time in the United States. The groups are as follows.
WHITE GROUP
1. Jelena Jankovic (SRB)
4. Ana Ivanovic (SRB)
6. Svetlana Kuznetsova (RUS)
8. Vera Zvonareva (RUS)
MAROON GROUP
2. Dinara Safina (RUS)
3. Serena Williams (USA)
5. Elena Dementieva (RUS)
7. Venus Williams (USA)
I'm not going to do the obvious and rant about this being one of the most lopsided draws I've seen in quite sometime. Instead I'll discuss how the players are coming into Doha and make some predictions.
The White Group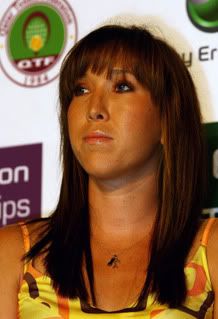 It's a good thing that this is Round Robin. The weakest link in the group is
Vera Zvonareva.
I could've said
Svetlana Kuznetsova
since she hasn't won a tournament this year but I can see her coming in and doing what she normally does, play well for a couple of rounds and then lose when the chips are on the table but that would lead to having to question how the hell she's in Doha with her record in majors. That would lead to a discussion of how a slamless wonder is the top woman for 2008 which would then lead to the argument closer that both women have the points to be there. Until or unless the WTA changes it's ranking process we're going to see more of this sort of thing. I don't think Roadkill is going to make it any better but that's a rant for another time.
That said I think Vera can go 0-3 in her group.
Ana Ivanovic
closed out her regular season squeaking to a win but up until then she'd disappeared, her French Open points keeping her ranking high enough to qualify for the YEC. Don't forget she was the one predicted to be the next greatest thing since sliced bread in the WTA. The pressure, and what was said to be a wrist cyst kept her from playing her best tennis.
I would pick her over
Jelena Jankovic
but Jelena is coming in with a lot of confidence and that is a big, big factor in how someone plays in a high profile event. Jelena has secured the year end number one ranking and I'm sure she'd like to win this to show she can win the big one. She's reached a lot of quarters and semi's but don't forget that in many events she begins play in the second round which means she's playing two or three matches to make the semi's. The true test of your mettle is having to win those four matches before hitting the quarters, semi's and finals of tournaments. Despite her not winning a Slam this year I'm going to pick her to come out of her group. Ana will have to take it from her. Then again Sveta could go on one of her tears...
The Maroon Group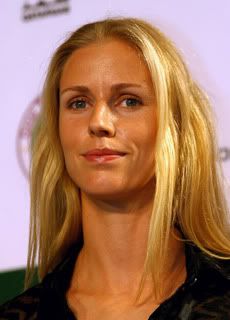 The WTA loves it's blood and guts section of a draw doesn't it? I mean you have
Dinara Safina
,
Serena Williams
,
Elena Dementieva
and
Venus Williams
playing round robin? Would anyone in their right mind even try and call this section? I like to think I'm sane although they say that's the first sign of being insane but moving on I don't see anyone going 0-3. I don't see anyone skating through. I see some very good tennis, some very tough tennis being played. If this was a steel cage match it would really be very very bloody. And I would not count Elena Dementieva out.
WTA Bell Challenge
Nadia Petrova Champion Quebec 2008
Doubles Winners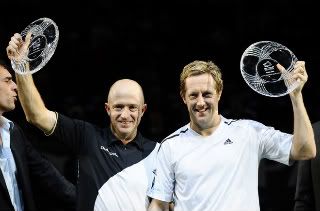 Kevin Ulyett and Jonas Bjorkman Doubles Winners Bercy 2008
Anna-Lena Groenefeld and Vania King Doubles Champions 2008 Bell Challenge
The ATP Awards
These are not to be confused with Craig's "Gonad Awards". I'm going to use the same categories the ATP uses. Don't forget that everyone has an opinion. These are mine.
Player of the Year
- Rafael Nadal
Doubles Team of the Year
- Daniel Nestor and Nenad Zimonjic
Stefan Edberg Sportsmanship
- Rafael Nadal
ATPtennis.com Fans' Favorite (Singles)
- Rafael Nadal
ATPtennis.com Fans' Favorite (Doubles)
- Daniel Nestor and Nenad Zimonjic
Most Improved Player of the Year
- Juan Martin del Potro
Newcomer of the Year
- Nishikori Kei
Comeback Player of the Year
- Jo-Wilfried Tsonga
ATP Masters Series Tournament of the Year
- Monte Carlo

International Series Gold Tournament of the Year
- Barcelona
International Series Tournament of the Year
- Chennai
For the WTA, using the same categories:
Player of the Year
- Dinara Safina
Doubles Team of the Year
- Yung-jan(Latisha) Chan and Chuang Chia-Jung
Sportsmanship
- Svetlana Kuznetsova
WTAtennis.com Fans' Favorite (Singles)
- Venus Williams
WTAtennis.com Fans' Favorite (Doubles)
- Cara Black/Liezel Huber
Most Improved Player of the Year
- Vera Zvonareva
Newcomer of the Year
- Alize Cornet/Caroline Wozniacki
Comeback Player of the Year
- Zheng Jie
WTA Tier I Tournament of the Year
- Miami
WTA Tier II Tournament of the Year
- Amelia Island
Remember this is my opinion. Please feel free to contribute yours.
Images of the Last Week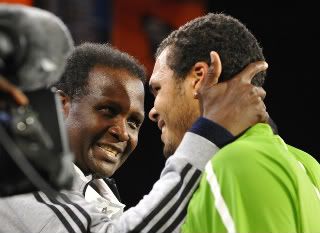 Didier and Jo-Wilfried Tsonga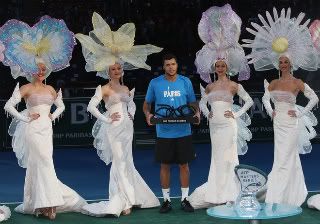 Only the French
The Top Eight of the WTA
James Blake vs Jo-Wilfried Tsonga
David Nalbandian vs Nikolay Davydenko
Rafa leaving to the boos of the crowd after retiring against Davydenko.