by Savannah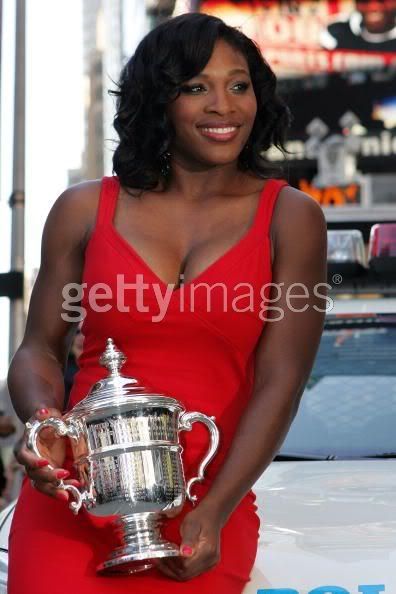 Why Serena and not someone else? Let's look at Serena's record for 2008.
Overall Record
Four Singles Titles
Two Doubles Titles
Won/Loss Record 44-8
The stand outs are the Wimbledon Final where she lost to her sister
Venus Williams
and the victory, after the doubles win at the Olympics, at the US Open over Jelena Jankovic. Let's not forget that she and her sister won the Doubles at Wimbledon after playing one of their best, and one of the best women's matches of the year.
Serena also won Miami, often called the Fifth Slam. Along the way she beat
Justine Henin
2 and 0,
Svetlana Kuznetsova
in three sets, and
Jelena Jankovic
in the final 6-1, 5-7, 6-3. She followed that up by winning the Family Circle Cup overcoming
Maria Sharapova
in the quarters 7-5, 4-6, 6-1, up and comer
Alize Cornet
in straights in the semis, and
Vera Zvonareva
6-4, 3-6, 6-3 in the final.
Serena did attain the number one ranking and finished the year ranked second in the world. For a complete list of Serena's stats please go
HERE
Some will ask why I didn't pick the women's number one as the Player of the Year. Did she play the best tennis? Not in my opinion. She did play the most with an overall won/loss record of 65/19. I said before that Jelena played as many tournaments as she can physically stand and that that is what gives her the cushion to get to number one.
What about Venus, winner of Wimbledon and the YEC with a won/loss record of 40/11? Or
Dinara Safina
who finished third in the world with four singles titles and two doubles titles and a won/loss record of 55/20?
The amount of tennis Dinara played over the year caught up with her at the end. She is more fit and I think that next year she is going to challenge both Serena and Jelena with a less stressful but more competitive schedule.
Venus seemed to regain her focus at the YEC and if she carries that positive attitude into 2009 she too stands a chance to challenge the top two women.
But this is about Serena. Her schedule this year worked very well for her. I'm sure she wanted to end the year at the top but playing less tennis than the women above and behind her she still made it to number one and ended the year ranked second.
So go on and enjoy your vacations Serena. Dare to have a life. The pundits are finally admitting that you and your sister will probably leave tennis as the most mentally balanced of them all. And congratulations for having the best year of them all.